Learning and Development Coordinator Career Guide
How to Become a Learning and Development Coordinator
A learning and development coordinator plans and implements training programs for companies both large and small. This can include training for everyone from company leaders, such as executive-level managers, to entire departments throughout an organization. With a stronger-than-average job outlook over the next decade, there's plenty of demand for learning and development coordinator jobs. 
And even those in entry-level positions can earn a large salary, making it a highly desirable position. Here's everything you need to know about getting into this career.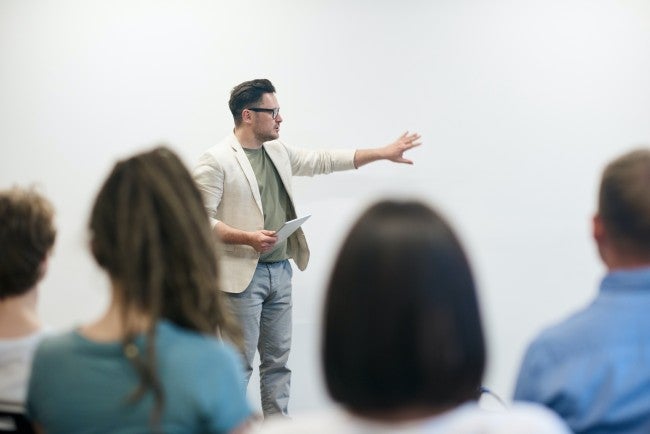 What is a Learning and Development Coordinator?
A learning and development coordinator job description revolves primarily around identifying and planning training programs for businesses. Typically, it's a position found in larger corporate companies with hundreds, if not thousands, of employees scattered across different departments. However, there are smaller companies that hire these professionals as well. The main purpose behind this career is to match companies with the right training so their workforce can continually build new skills and develop to become an industry leader. 
To do this, a learning and development coordinator examines the unique training needs of their company and determines which programs, educational platforms, and instructional style will give their workforce the best chance of success. This could involve, for example, holding seminar-style presentations for large or small groups. Or, it could include digital learning where educational programs are done remotely.
They then communicate this information to management, find relevant training programs, and oversee the implementation process. Beyond that, they also handle logistics, including:

Maintenance
User support
Software updates
Platform security 
Note that training can be done in-house. Or, it can be done through a third party. Therefore, it's a learning and development coordinator's job to figure out which route is most effective and oversee training from conception to completion. It's a full-time position, with most learning and development coordinator jobs requiring at least 40 hours per week. Some, however, may demand more during peak times of training. 

Most employers require at least a bachelor's degree, typically in education, human resources, or a related field for an entry-level position. They also prefer candidates with hands-on experience with employee training or human resources. That's usually the bare minimum education and experience required to break into this career. However, having a master's degree and more advanced experience can often help you land a higher-level position in this profession. 
What Does a Learning and Development Coordinator Do?
Although the specific types of training programs a learning and development coordinator is involved in will vary by industry, their day-to-day responsibilities are virtually the same across the board. 
These include:

Assessing the current needs and educational gaps within their organization
Communicating with managers and recommending potential programs based on those needs
Designing and developing innovative training programs that are specifically targeted at helping their workforce reach their maximum potential
Overseeing program implementation while tracking the results and maintaining detailed records
Making new recommendations as new data is unearthed for continual training improvement and refinement.
What Education Does a Learning and Development Coordinator Need?
Again, most employers require you to have at least a bachelor's degree for entry-level positions, as well as some level of experience with teaching or training. Hands down, one of the best types of bachelor's degrees for launching your career as a learning and development coordinator is a B.S. in Human Resource Management.    
For more advanced careers in this profession and the potential for higher earnings, it's ideal to have a master's degree in curriculum & instruction, as this can make you an extremely desirable candidate to companies. This type of degree program will help you gain additional knowledge and insight into educational development, training strategy, and more.
Best Degree for Learning and Development Coordinators
Curriculum and Instruction – M.S.
An online master's degree for those who have educational...
An online master's degree for those who have...
An online master's degree for those who have educational experience and are looking to further their careers with a graduate program focused on curriculum development and design.
Time: 72% of grads earned this degree within 18 months.
Tuition and fees: $3,635 per 6-month term.
Coursework in this program covers the following areas of study:

Curriculum theory and development
Instructional theory
Research fundamentals
Help schools create engaging, meaningful, and memorable learning experiences to improve learning outcomes for all students with this M.S. degree.
Teachers College
---
Our Online University Degree Programs Start on the First of Every Month, All Year Long
No need to wait for spring or fall semester. It's back-to-school time at WGU year-round. Get started by talking to an Enrollment Counselor today, and you'll be on your way to realizing your dream of a bachelor's or master's degree—sooner than you might think!

---
What Skills Does a Learning and Development Coordinator Need?
There are a distinct set of learning and development coordinator skills needed in this industry, including the following:
A deep understanding of learning theory: You must comprehend how people learn, along with the methods and best practices for effectively teaching them.
Research and analysis: You need the ability to effectively research potential educational systems and analyze the impact training programs have on a workforce.
The ability to synthesize and make sense of complex data: A big part of this profession is generating valuable insights based on a large pool of data and being able to connect the dots.
Superb communication and speaking abilities: You'll collaborate with key decision-makers daily and frequently speak to small and large groups.
Technology support: You'll be responsible for overseeing digital training platforms and handling user support. 
How Much Does a Learning and Development Coordinator Make?
$115,640
According to the U.S. Bureau of Labor Statistics (BLS), the median annual salary for a learning and development coordinator was $115,640 in mid-2020, which comes out to $55.60 per hour. Those in the top 10% of this profession earned significantly more at $200,210 annually, while those in the bottom 10% only earned $66,270.  The two biggest factors for determining how much you'll make are education and experience. Most top earners, for example, have a master's degree rather than a bachelor's, and the BLS notes that having five years or more experience gives you an edge over those with less experience.
What Is the Projected Job Growth?
7%
The job outlook is quite promising, with data from the BLS predicting a 7% increase in the number of jobs from 2019-29, which is faster than average. As of 2019, there were 42,300 learning and development coordinator jobs, and that's expected to keep growing over the next decade. "Job prospects should be favorable due to the continuing need for workplace training and education," the BLS writes. 
Where Do Learning and Development Coordinators Work?
Varies
As we mentioned earlier, learning and development coordinator jobs are usually found in larger companies where they have a person dedicated solely to this position. However, there are some cases where smaller companies have someone who fulfills this role, but they're more of an HR generalist, and it's one of many hats they wear. 
By and large, a learning and development coordinator works in a corporate setting, with some common industries being:
Technology where managers and employees need ongoing training to stay up-to-date on application and software systems.

Manufacturing where departments must coordinate seamlessly with one another and maintain cutting-edge production standards.

Education that emphasizes continual staff development.

Finance to handle the usage of a learning management system.

Security to ensure staff are always on top of industry standards.