How to Become a Librarian
As an advocate in a wide variety of print and online media settings, librarians help leverage information to serve the public's research needs. Librarians maintain responsibility for a comprehensive variety of resources—from encyclopedias to digital archives—and are trained to preserve materials and help visitors find them.
The role of a librarian can vary, as duties change based on the location of the library itself. For example, the role of a university or school librarian might vary considerably from that of a public librarian, all depending on the needs of their guests. Anyone proficient in information science, with a love for communication and the preservation of timeless resources, should consider a rewarding career as a librarian. 

Fulfilling the role of a librarian means far more than returning books to shelves and organizing books by an author's last name. Rather, it's a role that means helping library visitors effectively use a library's resources, while at the same time protecting those resources for future use.
What Does a Librarian Do?
Librarians are primarily responsible for helping visitors effectively find, and use, a library's resources. They also play pivotal roles in protecting these resources, so that they are made continually available for all library visitors. The specific responsibilities of a librarian can include:
Maintaining library archives for personal and professional use.
Assisting library visitors in finding, and using, all library media.
Directing researchers to resources that will aid in academic and professional project completion.
Processing and cataloging library media for easy reference whenever needed.
Handling manuscripts and assorted documents of importance.
Troubleshooting issues with electronic databases or online connectivity.
Interpreting online archives and library catalogs for visitors searching for specific materials.
These responsibilities make librarians primarily responsible for some of the most important books, documents, and electronic resources available worldwide.
Where Do Librarians Work?
Except in rare cases, librarians will work onsite at the library which employs them. A majority of their job duties require an onsite presence, especially when it comes to appropriately cataloging resources for helping library visitors find materials that interest them.
Depending on a librarian's specialization, they might find themselves working in a variety of different applications. These locations can include:

Hospitals

Medical schools

Universities
Middle schools
Public and private libraries
State or federal archives
A librarian's title is often indicative of their place of work. For example, a medical librarian will often work in a hospital or medical library, whereas a school librarian frequently finds employment in an academic setting.

What Education Does a Librarian Need?
The career of a librarian represents a specialized position requiring a high level of associated schooling. This includes either a degree in library science or a closely related field, to familiarize the student with basic aspects of library research and functionality.
Librarians employed in an academic setting may require further schooling, often satisfied by an online teaching degree. Students can further improve their chances for hire as a school librarian by earning a master's degree in education technology and instructional design. These degrees familiarize aspiring librarians with important educational components of the role, especially for librarians that will be regularly interpreting resources for younger students.
Best Degrees for Librarians
Educational Studies – B.A.
These online, non-licensure educational studies degrees prepare...
These online, non-licensure educational studies...
These online, non-licensure educational studies degrees prepare you to make a difference in a field that interests you.
Based on your career goals and interests, you can choose an educational studies program in one of 10 content areas that meets your needs while working toward employment in school settings, corporate training, or instructional design. These programs do not lead to a teaching license.

Time: Completion time varies depending on the specialty track you choose.
Tuition and fees: $3,825 per 6-month term.

Candidates for this special education degree program often include:

Elementary Education
Elementary and Special Education
Mild to Moderate Special Education
Secondary Biology Science Education
Secondary Chemistry Science Education
Secondary Earth Science Education

Secondary Physics Education
Middle Grades Science Education
Secondary Mathematics Education
Middle Grade Mathematics Education
Students in this program will be prepared for careers including:
Instructional support
Community outreach
Training
Education staff (museums, learning centers, etc.) 
K-12 opportunities that do not require a teaching license
Teachers College
Education Technology and Instructional Design – M.Ed.
The M.Ed. in Education Technology and Instructional Design from...
The M.Ed. in Education Technology and...
The M.Ed. in Education Technology and Instructional Design from WGU is for instructional designers tasked with creating engaging and immersive virtual learning experiences that can substitute for on-ground instruction.
No teaching license required.
Time: 73% of grads finish similar programs in 18 months
Tuition: $3,975 per 6-month term
This program includes two tracks for students:
The K-12 pathway
The Adult Learner pathway
Careers you will be prepared for after earning this degree include:
Instructional coordinator  
Instructional designer 
Curriculum developer
Instructional technologist
Learning engineer
Learning architect
Instructional design coordinator
Academic technologist
Learning experience designer  
Distance education administrator 
Director of instructional design 
Online course designer
Online course developer
Corporate training
Develop training and instruction expertise to help you in the classroom, in educational settings, or in corporate world.
Teachers College
---
Our Online University Degree Programs Start on the First of Every Month, All Year Long
No need to wait for spring or fall semester. It's back-to-school time at WGU year-round. Get started by talking to an Enrollment Counselor today, and you'll be on your way to realizing your dream of a bachelor's or master's degree—sooner than you might think!
---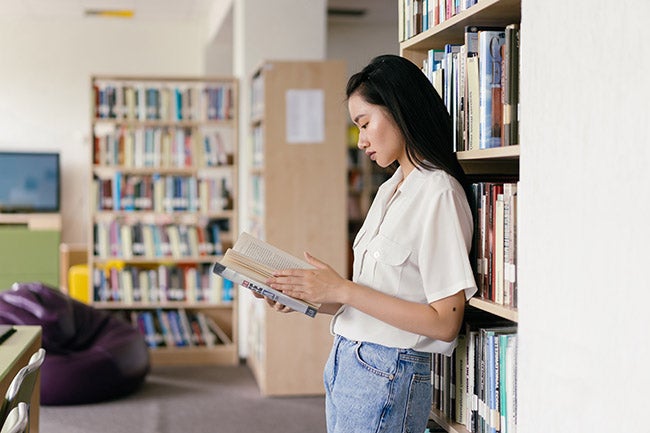 What Skills Does a Librarian Need?
Librarians depend on a variety of skills each day, to help library visitors find the resources they need. These skills can include:
Critical thinking. The ability to comprehend the needs behind a visitor's request, and locate resources to help them further their research efforts.

Information science. The ability to create and implement processes for storing and retrieving library media.
Basic mathematical skills. The ability to do basic addition, subtraction, multiplication and division to track inventory and such.
Computer usage. The ability to use all library databases, relevant search engines, internet resources, and content processing tools.
Effective communication. The ability to correspond efficiently with fellow librarians, library volunteers, students, and any other library visitors.
Library programming. The ability to implement and participate in library services and programs that engage community members and foster a love for library resources.
Librarians regularly put the above skill set to work, combining a love for library resources with the capacity to connect visitors with any materials they're looking for.

How Much Does a Librarian Make?
$60,820
Total librarian earnings will vary based on factors that include their years of experience, the library of employment, specific information science skills, and other influences. The average librarian salary is $60,820 per year, with a range of roughly $34,820 to $97,460, according to data from the BLS.
The exact salary of a librarian can also depend on their field. For example, a librarian employed by a college or university earned an average of $65,120 per year as of May 2020. A medical librarian's salary averaged $54,890 during the same timespan.

What Is the Projected Job Growth?
5%
As communities continue to rely on libraries not only for media, but for a wide variety of programs and services, the outlook for a librarian remains positive. The BLS projects that demand for librarians will see a 5% growth rate from 2019 to 2029.
The continued demand for librarians comes as the position itself experiences change. The increase in technology-based resources and materials has required librarians to familiarize themselves with an increasingly wide range of electronic platforms. Despite the newfound popularity of online media and databases, library visitors still require help finding and using these materials, making the position of librarian as indispensable as ever.

Do I Need Certification for this Position?
Depends
While certifications are not always required, some states may require them before a librarian can be hired. If you're seeking employment as a librarian in any of the 12 states that require regional licensure, additional state-specific certifications might also be needed.