Preschool Teacher Career Guide
How to Become a Preschool Teacher
Would you like to make a real difference in shaping the lives of children? Do you enjoy being a role model and teaching kids about the world around us? Then you should consider becoming a preschool teacher.
Preschool teachers enjoy great flexibility in where they work—from public schools to daycare centers to churches and beyond. They also have days that are unique and centered on learning and fun.  But most importantly these teachers are able to impact their students' personal, social, and academic well-being at such a crucial stage in their brain development. Early childhood education is crucial for these students, and teachers in a pre-k setting are able to help their students thrive.
As a teacher of pre-K students, you truly impact your students' future, which is why it's such a rewarding profession. Read this guide for a complete preschool teacher job description, including core responsibilities, how much these teachers are paid, and how you can transition into this respected and meaningful career.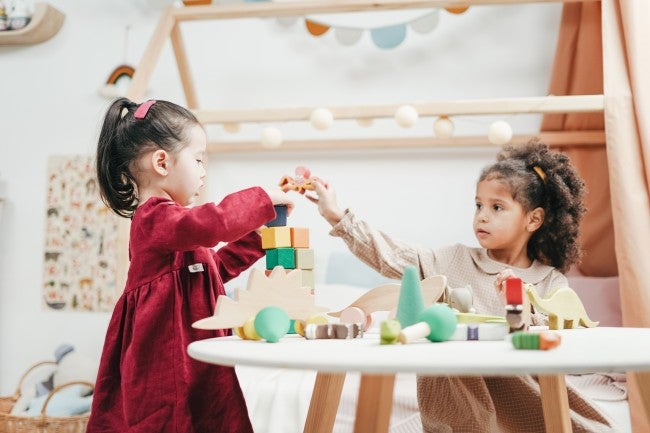 What Is a Preschool Teacher?
Preschool teachers use imaginative methods to encourage early childhood education, engage their young audience, and prepare them for the structure of their K–12 education. They employ a seemingly simple curriculum to assess the mental and social development of their students, and they help these children and their parents prepare for the school years ahead. Most preschool teachers work with kids ages three to five, but they can be trained to work with children from infancy up to the age of eight. This early childhood education is critical, which is why the job description of this kind of teacher focuses on helping develop their minds.
Some of the ways preschool teachers differ from K–12 educators are:
They can work earlier or later than traditional K–12 school hours.
They follow a basic learning curriculum, but they don't assign or grade homework.

They use arts and crafts to progress academic skills instead of textbooks.

They use story and play time to teach problem-solving and encourage social development.
Essentially, being a preschool teacher requires more tactical, hands-on learning. And it also necessitates more patience—which is why many pre-K educators teach mindfulness in their classrooms.
What Does a Preschool Teacher Do?
A good job description for a preschool teacher is that you'll teach critical language, social, and motor skills to children who have yet to enter kindergarten. Early childhood education focuses less on specific knowledge levels, and more on overall skills that children need.
Kids under the age of six learn best from playing, experimenting, and problem-solving. So you'll need to work fun into your daily lessons. Some creative ways preschool teachers do this is through using rhyming games or sing-alongs to teach vocabulary, building blocks to introduce basic math skills, and group projects to develop social IQ.
Your day-to-day duties and responsibilities can include:
Implementing a curriculum covering the many areas of child development, including both educational and behavioral skill sets.
Teaching colors, shapes, letters, and numbers recognition.

Introducing children to the wonders of the world around them through activities that explore varying interests and develop investigative skills.

Working with students one-on-one or within groups, depending on the subject matter and your students' needs.

Using schedules and routines to give students structure, and making sure to incorporate sufficient physical activity and rest.

Monitoring students for any emotional or developmental warning signs and notifying their parents.

Reporting on each child's development, including their interests, routines, aptitudes, and overall progress.
As with all teachers, you'll interact with kids from diverse socioeconomic, religious, and cultural backgrounds. Thus, it is beneficial to teach and incorporate tolerance so your students can learn how to value one another's differences.
How Do I Become a Preschool Teacher?
Although some facilities require only an associate degree, most preschool teachers today have their bachelor's in educational studies, early childhood education, or a related teaching discipline. Many states also require pre-K teachers to complete a teacher prep program, pass state or national exams, and earn their teaching licensure or certification.
If you're currently working and can't afford to take time off to earn a bachelor's degree, getting your teaching degree online is a great option. Accredited universities like WGU enable you to complete coursework when and where you have the time. WGU's respected teachers college also prepares you for taking teaching exams and getting your licensure.
Other credentials that are helpful to have if you'd like to work in early childhood education include:
Child Development Associate (CDA)—This credential must be renewed every three years and requires experience in the field, a written exam, and an in-practice observation with children.
Certified Childcare Professional (CCP)—This accreditation typically takes one year to complete, but it includes a self-study process where you can work at your own pace and potentially finish it faster.

Work experience—In some states, you'll need work experience in a childcare setting to get hired as a preschool educator. This can include working as a teacher assistant or within a childcare or daycare environment. Time spent as a professional nanny or au pair can be helpful, too.
Best Degree for Preschool Teachers
Educational Studies – B.A.
These online, non-licensure educational studies degrees prepare...
These online, non-licensure educational studies...
These online, non-licensure educational studies degrees prepare you to make a difference in a field that interests you.
Based on your career goals and interests, you can choose an educational studies program in one of 10 content areas that meets your needs while working toward employment in school settings, corporate training, or instructional design. These programs do not lead to a teaching license.

Time: Completion time varies depending on the specialty track you choose.
Tuition and fees: $3,575 per 6-month term.

Candidates for this special education degree program often include:

Elementary Education
Elementary and Special Education
Mild to Moderate Special Education
Secondary Biology Science Education
Secondary Chemistry Science Education
Secondary Earth Science Education

Secondary Physics Education
Middle Grades Science Education
Secondary Mathematics Education
Middle Grade Mathematics Education
Students in this program will be prepared for careers including:
Instructional support
Community outreach
Training
Education staff (museums, learning centers, etc.) 
K-12 opportunities that do not require a teaching license
Teachers College
Elementary Education – B.A.
An online teacher certification program for aspiring elementary...
An online teacher certification program for...
An online teacher certification program for aspiring elementary teachers.
Leads to teacher licensure. Specific grade levels will vary depending on teaching certification in your state.

Time: 60% of grads earned this degree within 36 months.
Tuition: $3,575 per 6-month term.
Candidates for this program often include:

Aspiring elementary school teachers who currently lack a teaching license
Substitute teachers
Career-changers
School paraprofessionals

Others who feel the call to teach
This elementary education degree program includes courses in the foundations of teacher education, instructional planning and presentation, assessment, and classroom management. Core teacher education courses focus on diversity, disciplinary literacy, elementary education methods, and pedagogy. It requires in-classroom observation and a term of full-time demonstration teaching. This online teaching degree program helps you to be eligible for teaching certification in any of the 50 states.
Teachers College
---
Our Online University Degree Programs Start on the First of Every Month, All Year Long
No need to wait for spring or fall semester. It's back-to-school time at WGU year-round. Get started by talking to an Enrollment Counselor today, and you'll be on your way to realizing your dream of a bachelor's or master's degree—sooner than you might think!

---
What Skills Does a Preschool Teacher Need?
In addition to your degree and on-the-job experience, you should have the following soft and hard skills to be an effective pre-K or preschool educator:
Calm, friendly, and relaxed temperament. School can be a new nerve-racking experience for young preschoolers. They need a safe, calming environment to feel comfortable learning. Creating a stress-free learning zone can help students rise above anxiety and focus on learning and social skills.
A balance between being a creative and critical thinker. It can be difficult to keep preschoolers engaged. Creativity combined with critical thinking is key.

Excellent communication, instructional, and mediation skills. A lot of your job as a preschool teacher will be maintaining order in the classroom and helping children when they get frustrated with each other. Be patient and help them communicate.
Solid knowledge of child development principles and preschool education methods. Knowing the right teaching methods for a younger age group can help you reach each student where they are in terms of their development and attention spans. You should be familiar with best teaching practices for the ages of the children in your class. 

Familiarity with classroom safety and sanitation guidelines. Kids spread germs. And unlike adults, their immune systems aren't always as developed or strong. Keep your classroom clean and sanitized.

CPR/AED certification. It's not uncommon for younger children to have medical issues or allergic reactions. They may be too young or frightened to ask what's in certain foods. Be certified to help if a student has a medical emergency.

Exceptional patience and stamina. Though it's incredibly rewarding, being a preschool teacher can also stretch you mentally and emotionally. Be patient and take some time for yourself so you can stay fresh and present for your students. 
The ability to be both organized and flexible. Things won't always go as planned, so you should be able to think on your feet and make adjustments on the fly. Stay calm, stay organized, and roll with the punches.
How Much Does a Preschool Teacher Make?
$31,930
According to the Bureau of Labor Statistics (BLS), the median annual salary for a preschool teacher is $31,930 in May 2020. Your education and where you work greatly influence your pay. For example, working as a pre-K teacher in a private elementary or public school pays, on average, over $18,000 more per year than working at a daycare center.

What is the Projected Job Growth?
18%
The demand for preschool teachers is set to grow at an astounding rate of 18% from 2020 to 2030 according to the Bureau of Labor Statistics. This is much faster than the rate of growth for most other occupations. Interest in early childhood education is on the rise and parents are looking for good preschool options for their children.
Do I Need a Degree to Be a Preschool Teacher?
Yes
You will most often need at least an associate degree and the proper licenses and certifications to be a preschool teacher. Check with your local state for the most accurate information on requirements. Many teachers today hold a bachelor's degree in elementary education, particularly if they work at a private school or elementary school.