Health Informaticist Career
How to Become a Health Informaticist
With so much healthcare data being generated every day, there's a growing need for people who can manage and make sense of it all. That's where health informaticists come in.
Health informaticists are both technology and healthcare experts. They collect and analyze data to determine how well healthcare operations are performing, then use that information to track and improve patient care. Although health informaticists don't work directly with patients, their job can directly impact a patient's well-being.
If you've been thinking about a job in healthcare and want to put your tech skills to work to help improve patient care, then a career in health informatics could be for you. Here's what you need to know if you want to start down this career path.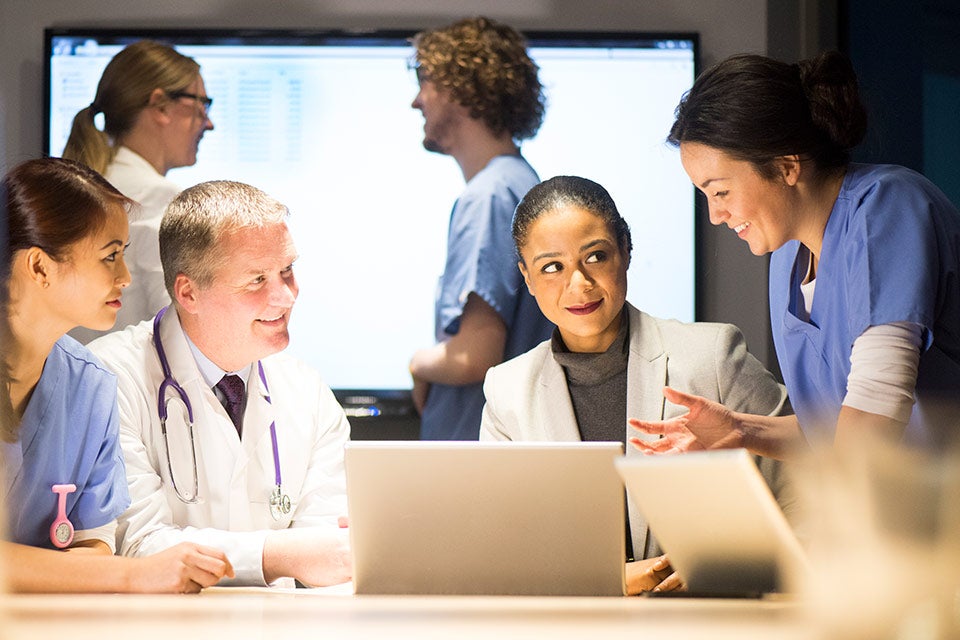 What Is a Health Informaticist?
Health informaticists are IT professionals who work on the technical side of healthcare. They use their skills to organize and manage data used in hospitals and medical facilities in order to increase efficiency and reduce error. 
Unlike other healthcare roles, health informaticists don't work directly with patients. Instead, their work is focused on the data created by patient interactions. As a health informaticist, you'll be in charge of collecting and analyzing this data and using it to make improvements to your healthcare organization. 
Some job titles you might see associated with health informatics include: 
Clinical Informatics Specialist 
Database Administrator

Data Integrity Specialist

Health Information Specialist

Information Management Coordinator
Medical Records Technician

Director of Health Informatics

Health Data Scientist

Health Informatics Consultant

Health IT Project Manager 
What Does a Health Informaticist Do?
Health informaticists tap into many different devices, methods, and resources to get the data they need to better understand patients, nurses, administrators, insurers, and more. 
Since health informatics is such a broad field, the exact job duties can vary depending on your job title and the type of healthcare setting you work in. In general, health informaticists are responsible for seeking out insights into healthcare operations and outcomes by analyzing patient data.
Your day-to-day duties might look like:
Managing and safeguarding patient data.
Creating programs to track patient data.

Measuring and evaluating healthcare information. 

Implementing systems to ensure that patient communication is effective.

Testing trends in data to see how organizations perform.

Training clinical staff in technology and programs.
Performing statistical reviews and analyses to make patient data useful.
What Education Does a Health Informaticist Need?
Earning your bachelor's degree is the first step to becoming a health informaticist. Completing a health information management degree program will give you a glimpse into how the business and technology side of healthcare works. You'll study topics such as medical terminology, healthcare data management, medical coding, IT systems, and more, which will all help you on your way to becoming a health informaticist. 
After completing a bachelor's degree program, you should consider earning your Registered Health Information Administrator (RHIA) certification. This certification shows future employers that you have a valuable skill set to help them follow regulatory guidelines, minimize errors, and identify efficiencies. Only students with a bachelor's degree or higher can earn this certification. But as part of WGU's health information management degree, you'll be eligible to apply for the RHIA credentialing exam. 

Health Information Management – B.S.
A program designed for future leaders in HIM:...
A program designed for future leaders in HIM:...
A program designed for future leaders in HIM:
Time: 60% of grads earned this degree in 36 months or less.
Tuition and fees: $3,795 per 6-month term, plus a Health Professions Student Fee of $350.
Some careers and jobs this degree will prepare you for:

Director of informatics
HIMS chief
Information systems auditor
Outpatient coder
Health records manager
This CAHIIM-accredited program makes you eligible for the RHIA exam. 
College of Health Professions
---
Our Online University Degree Programs Start on the First of Every Month, All Year Long
No need to wait for spring or fall semester. It's back-to-school time at WGU year-round. Get started by talking to an Enrollment Counselor today, and you'll be on your way to realizing your dream of a bachelor's or master's degree—sooner than you might think!

---
What Skills Does a Health Informaticist Need?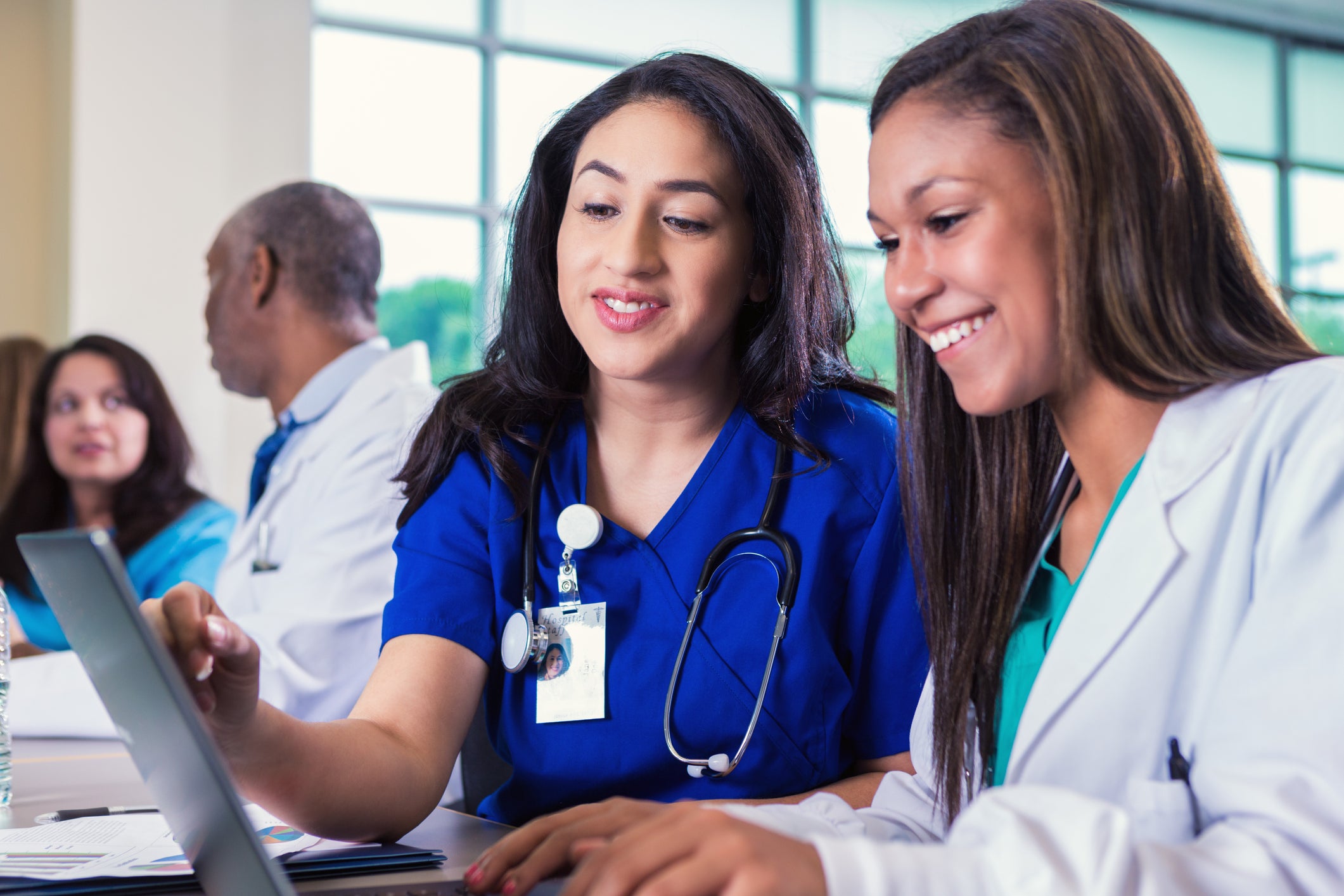 Health informatics merges three different fields: healthcare, technology, and business. This means you need a diverse set of skills and knowledge to succeed in this role. Some of these include:  
Tech savvy: Computer skills are key for any health informaticist as they're responsible for designing and maintaining electronic records systems and securing important patient data.  
Critical thinking skills: Every day, health informaticists must process information to make sound decisions. These decisions are often complex and require multiple levels of decision-making.

Communication skills: In this role, you'll be interacting with all kinds of healthcare professionals across multiple departments to inform them of healthcare outcomes and medical information related to the quality of patient care.
Data analysis skills: Health informaticists must be able to gather and interpret data in order to use that data to improve patient outcomes. You'll also need to stay up to date on the latest data protection regulations and database management trends.
In addition to these skills, technical and medical knowledge is necessary to ensure that you're handling patient data correctly. Here's a short list of what you'll need to know to work in health informatics. 
Compliance laws: One major responsibility of health informatics professionals is ensuring that all data collection and recording is in legal compliance with federal, state, and regulatory groups. To be successful in this role, you'll need to have a solid understanding of these laws.
Medical terminology: Proper use of medical terms is key for accurate and clear communication between health informaticists and medical staff, patients, and other health professionals.

Electronic health records (EHRs): EHRs are digital files that contain patients' medical histories, medications, treatments, test results, and more. Health informaticists are responsible for ensuring that the data in an EHR is correct and stored in a way that doesn't compromise patient privacy. 
How Much Does a Health Informaticist Make?
$66,000
The average salary of health informaticists is $66,000, according to PayScale. However, salaries can range from $46,000 to $157,000 depending on your degree and experience. Location can be a factor, too. California, New York, Massachusetts, and Virginia are some of the top-paying states for health informaticists.
What Is the Projected Job Growth?
9%
Health informatics is a fast-growing field, and it looks like that growth will continue through the next decade and beyond. According to the U.S. Bureau of Labor Statistics (BLS), job demand for medical records and health information specialists will increase by 9% from 2020 to 2030. About 34,000 openings for this profession are projected each year, on average, over the next 10 years. 
The fast growth of the health informatics industry is largely due to the implementation of EHRs. Many healthcare facilities use EHRs to transfer patient data quickly and accurately from one place to another. 

Where Do Health Informaticist Work?
Varies
Health informaticists are found in many settings: local and private hospitals, outpatient care centers, doctor's offices, insurance companies, nursing and residential care facilities, and even in government.
Frequently Asked Questions
How much do health informaticists make?
The average health informaticist salary is $66,000, according to PayScale. Salaries can range from $46,000 to $157,000 depending on your degree and experience. 

Do I need a health informaticist certificate?
Technically, no. However, it's a good choice if you want to boost your health informaticist résumé and increase your chances of getting hired. 

What are the different areas of health informatics?
The field of health informatics is broad and includes several subdisciplines, including: 
Clinical informatics 
Medical informatics

Nursing informatics

Public health informatics

Biomedical informatics

Healthcare informatics