Healthcare Manager Career Guide
How to Become a Healthcare Manager
If you have a passion for healthcare and want to spend your career making a positive impact on the lives of thousands of patients, then a career as a healthcare manager might be the perfect choice for you. The healthcare industry employs millions of professionals across the country. With advancements in medical technology, an aging population, and shifting healthcare regulations, there's a growing need for highly skilled professionals who can lead and manage healthcare organizations effectively.
Healthcare managers play an integral role in overseeing various departments within hospitals, outpatient clinics, medical practices, and other healthcare institutions. They're responsible for facilitating the smooth operation of these facilities, making strategic decisions, and organizing with different stakeholders to deliver high-quality patient care. 
Understanding the distinction between a healthcare administrator and a healthcare manager is important. While the two terms are often used interchangeably, there are subtle differences. Healthcare administrators primarily focus on healthcare organizations' overall management and strategic planning. Healthcare managers do retain administrative duties, but more specifically, they oversee departments and areas such as nursing, finance, and patient records.
There are many reasons to consider this career path. Healthcare managers have a direct effect on the improvement of healthcare services. Additionally, this profession offers a chance to work in a fast-paced and intellectually stimulating environment, where no two days are the same. Healthcare management can provide long-term income stability and growth opportunities as the demand for skilled professionals in this field continues to increase. 
If you're determined to make a meaningful difference in the healthcare industry, keep reading to learn the educational requirements, necessary skills, and practical steps you can take to begin your career as a healthcare manager.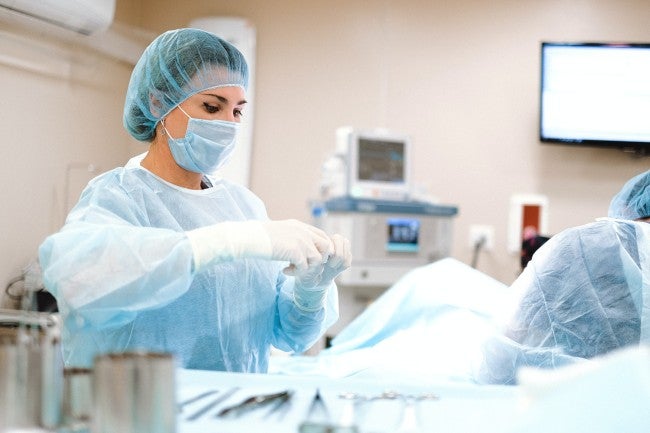 What Is a Healthcare Manager?
Healthcare managers are responsible for overseeing and coordinating the administrative and operational aspects of healthcare facilities. They play a crucial part in maintaining the efficient and effective delivery of care to patients.
Healthcare managers are the backbone of healthcare organizations, taking on a wide variety of tasks to ensure that hospitals and other facilities run smoothly. One of the most important aspects of being a healthcare manager is keeping current with changes in the medical field. This includes knowing the ins-and-outs of healthcare laws, policies, procedures, and protocols to make sure the facility stays compliant. With healthcare regulations and standards constantly evolving, healthcare managers help implement necessary changes. 
On top of administrative responsibilities, healthcare managers handle the interviewing, hiring, and training of healthcare providers who will work directly with patients. The managers collaborate with human resources departments to find and recruit qualified medical professionals who align with their organization's goals and values. Healthcare managers then facilitate the training for these providers, equipping them with the skills and knowledge necessary to provide exceptional patient care.
What Does a Healthcare Manager Do?
The role of a healthcare manager encompasses a diverse range of responsibilities that are essential to the efficiency and success of healthcare facilities. From managing daily operations to ensuring quality care for patients, healthcare managers are at the center of shaping the future of healthcare. Their main responsibilities include:
Managing the daily operations of a clinic, office, or hospital department.
Screening, interviewing, and hiring new employees.
Training new or current employees on new regulations, policies, and protocols.
Ensuring quality care for patients and their families in different units.
Making sure nursing units and departments are compliant and stay up to date with legal policies and laws.
Attending board meetings regularly.
Overseeing the progress of programs.  
Guiding various teams through individual projects.
Communicating with insurance agents.
Establishing a vision for a facility with long- and short-term goals.
Devising plans for different departments and planning for potential challenges.
How Do I Become a Healthcare Manager?
To start a career as a healthcare manager, aspiring professionals should earn the necessary education and certifications, which are designed to provide all the knowledge and skills to succeed in this role. While specific requirements may vary depending on the organization and position, here are the general steps to becoming a healthcare manager:
1. Obtain a bachelor's degree in healthcare administration.
A healthcare administration degree will provide the solid footing needed to get a job in this field. A program like this will have courses in delivery systems, regulations, compliance, finance, values and ethics, management and strategy, and leadership. Coursework may also cover technology applications in healthcare, operations management, quality improvement, and research and statistics.   
2. Pursue industry certifications to differentiate yourself from the competition.
Several professional organizations offer certifications specific to healthcare management, such as the Fellow of the American College of Healthcare Executives (FACHE), Certified Professional in Healthcare Risk Management (CPHRM), or Certified Medical Manager (CMM). These certifications normally require a combination of education, professional experience, and passing an exam.
3. Advance your career with a master's degree in healthcare administration.
While a bachelor's degree will get you through the door to entry-level healthcare management positions, earning a master's degree in healthcare management can give you the competitive edge needed to secure more advanced and higher-paying positions. A Master of Healthcare Administration (MHA) or Master of Business Administration (MBA) with a healthcare concentration can offer a deeper understanding of healthcare management principles, strategic planning, financial management, healthcare policy, and leadership.
4. Apply for healthcare management jobs. 
Once you've completed the relevant education and certifications, you can begin applying for healthcare management positions. Search for job openings in hospitals, healthcare systems, clinics, long-term care facilities, or other healthcare organizations. 

Best Degrees for a Healthcare Manager
Healthcare Administration – B.S. Business Administration
You can become a healthcare industry leader:...
You can become a healthcare industry leader:...
You can become a healthcare industry leader:

Compare with B.S. Health Information Management
Time: 73% of graduates finish within 30 months.
Tuition: $3,755 per 6-month term.
Sample careers and jobs this business degree will prepare you for:

Health information manager
Community service manager
Clinical manager
Medical records manager
Social service manager
The online courses in this career-focused business degree program will prepare you with management-level skills and an up-to-date understanding of our healthcare delivery system.

College of Business
MBA Healthcare Management
Prepare for a career leading private or public healthcare...
Prepare for a career leading private or public...
Prepare for a career leading private or public healthcare organizations.
Time: Graduates can finish within 12 months.
Tuition: $4,755 per 6-month term.
Some careers and jobs this business degree will prepare you for:

President and CEO
Vice president
Administrative director
Chief financial officer
Other executive-level roles
Healthcare is big business in today's complex economy.  Steer your career with this specialty MBA.
Compare online business degrees

This program is not the only online business degree WGU offers that is designed to create leaders in the field of healthcare. Compare our health leadership degrees by clicking the button below.

Compare Similar Degrees
College of Business
Master of Healthcare Administration
A master's focused on managing comprehensive, value-based care,...
A master's focused on managing comprehensive,...
A master's focused on managing comprehensive, value-based care, directly in line with innovations in health and healthcare.
Time: 78% of grads finish within 18-24 months. 
Tuition and fees: $4,755 per 6-month term.
Examples of careers and jobs this degree will prepare you for:
Managed care executive
Director of integrated care management
Health center manager/clinic manager
Director of integrated facilities
Your rich experience in a health-related field can mean more when you bring a master's level of understanding to the problems that organizations need to solve.
Compare degrees
This program is not the only degree WGU offers designed to create leaders in the field of healthcare. Compare our health leadership degrees by clicking the button below.

Compare Similar Degrees
College of Health Professions
---
Our online university degree programs start on the first of every month, all year long.
No need to wait for spring or fall semester. It's back-to-school time at WGU year-round. Get started by talking to an Enrollment Counselor today, and you'll be on your way to realizing your dream of a bachelor's or master's degree—sooner than you might think!

---
What Skills Does a Healthcare Manager Need?
Becoming an effective healthcare manager requires a range of skills that include medical know-how and management expertise. With the following skills, healthcare managers can successfully lead healthcare organizations through the ever-changing healthcare landscape.
Acute care: Acute care is immediate medical treatment provided for urgent and severe health conditions administered to stabilize patients whose conditions would otherwise worsen.
Analytical skills: Healthcare managers must be able to analyze financial reports, operational metrics, and patient outcomes to assess the effectiveness of programs and find areas for improvement.
Budgeting: Healthcare managers must possess budgeting skills, including developing and managing budgets, monitoring expenses, and identifying cost-saving opportunities without compromising the quality of care.
Relationship-building skills: Healthcare managers must be able to effectively communicate and collaborate with healthcare professionals, staff, patients, and stakeholders across different departments and organizations.
Business administration and development: Successful healthcare managers are skilled at strategic planning, resource allocation, risk management, and compliance with regulations and policies.
Care management: Healthcare managers must have a complete understanding of care management principles, which involve coordinating care, promoting interdisciplinary collaboration, and optimizing care pathways.
Clinical experience: Although healthcare managers are primarily responsible for administrative and managerial tasks, having clinical experience is helpful.
Clinical research: Healthcare managers should always stay updated on health information, advancements in medical treatments, evidence-based practices, and clinical trials.
How Much Does a Healthcare Manager Make?
$101,340
The median annual salary for medical and health services managers was $101,340 in May 2021, according to the U.S. Bureau of Labor Statistics (BLS). Healthcare management salary varies significantly, with the lowest 10% earning less than $60,780 and the highest 10% earning more than $205,620. These figures will vary depending on experiences, location, and type of healthcare facility, among other factors. 
What Is the Job Outlook for a Healthcare Manager?
28%
The job outlook for healthcare managers is very promising. As the healthcare industry continues to expand, driven by factors such as technological advancements and an aging population, the job outlook for healthcare managers remains promising. For these roles, the BLS projects a growth rate of 28%, or about 56,600 new job openings, from 2021 to 2031. This is significantly higher than the average for all professions. 
Where Does a Healthcare Manager Work?
Varies
Healthcare managers can work in many different settings in the healthcare industry, including medical facilities, hospital network systems, public health systems, physicians' offices, clinics, nursing homes, outpatient care centers, and hospitals. Because of the essential nature of this job title, healthcare managers are extremely useful in just about every healthcare setting