HIM Compliance Officer Career Guide
How To Become a HIM Compliance Officer
As the healthcare field continues to grow and automate alongside technology, the need for compliance-minded industry professionals grows with it.
Healthcare outpaces every other industry in terms of growth and projected demand. It's a complex industry, full of government, state, and industry regulations. Those regulations keep us safe, and the following of those regulations comes down to an essential position you may not have heard of—a health information management (HIM) compliance officer.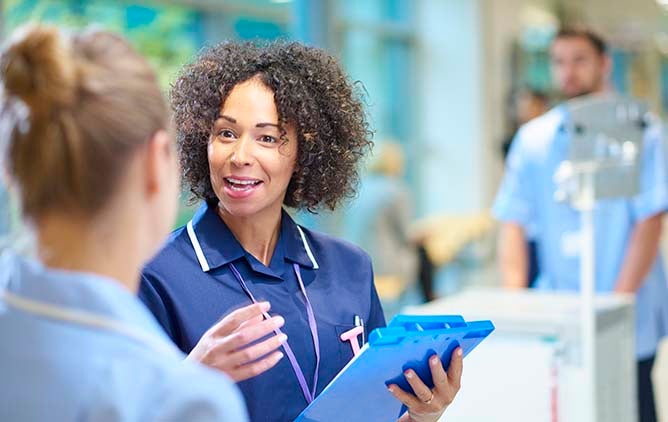 What is a HIM Compliance Officer?
A HIM compliance officer is a highly detail-oriented healthcare professional, who combines healthcare industry knowledge, technology experience, and compliance expertise to ensure that their organization is following all laws that govern healthcare information. 
A HIM compliance officer's number one priority is the observance and correct execution of laws and accreditation standards by every department or unit. This includes JCAHO and HIPPA compliance. 
HIM compliance officers are educators in the sense that they are responsible for teaching their respective workplaces the ins and outs of healthcare legal requirements and setting up procedures that keep their organization within legal parameters. 
What Does a HIM Compliance Officer Do?
A HIM compliance officer is the connecting link between a healthcare organization and the government relations they are required to meet. They ensure patient information is safeguarded to the letter of the law, and carry an immense responsibility for the legal functioning of an organization.
Typical responsibilities include:
Creating and implementing a corporate compliance program
Reviewing and relaying all required regulatory documents
Securely overseeing consent procedures and form signing 
Developing policies, procedures, and processes that comply with federal and state regulations
Providing departmental guidance to healthcare units regarding their specific compliance requirements
How Do I Become a HIM Compliance Officer?
A bachelor's degree in health information management, or a related field, and some level of accreditation is required in order to become a HIM compliance officer. A bachelor's degree in this field is critical in giving you needed experience and training in healthcare software systems, regulations and laws, business practices, and more.
Typical work experience requirements include a minimum of 5 years of healthcare industry experience, ideally with some sort of leadership role. There is also an expectation that candidates have a demonstrated understanding of healthcare compliance program operations, fraud and abuse laws and regulations, and federal regulatory compliance requirements, such as Medicare and Medicaid.
Do I need a certification for this position?
AHIMA, the American Health Information Management Association, is the leading voice of health information and data. They note that in addition to your bachelor's, healthcare, and/or master's degree in a health-related field, HIM compliance officers are likely to need a certification in healthcare compliance designation. Some of those include: 
Best Degrees for a HIM Compliance Officer
The best degree for a HIM compliance officer is a bachelor of science in health information management. 92% of students who enroll in our program pass with their full accreditations, and are ready to enter the healthcare workforce immediately, with the majority finishing their program in just 36 months.
Health Information Management – B.S.
A program designed for future leaders in HIM:...
A program designed for future leaders in HIM:...
A program designed for future leaders in HIM:
Time: 60% of grads earned this degree in 36 months or less.
Tuition and fees: $3,795 per 6-month term, plus a Health Professions Student Fee of $350.
Some careers and jobs this degree will prepare you for:

Director of informatics
HIMS chief
Information systems auditor
Outpatient coder
Health records manager
This CAHIIM-accredited program makes you eligible for the RHIA exam. 
College of Health Professions
---
Our online university degree programs start on the first of every month, all year long.
No need to wait for spring or fall semester. It's back-to-school time at WGU year-round. Get started by talking to an Enrollment Counselor today, and you'll be on your way to realizing your dream of a bachelor's or master's degree—sooner than you might think!

---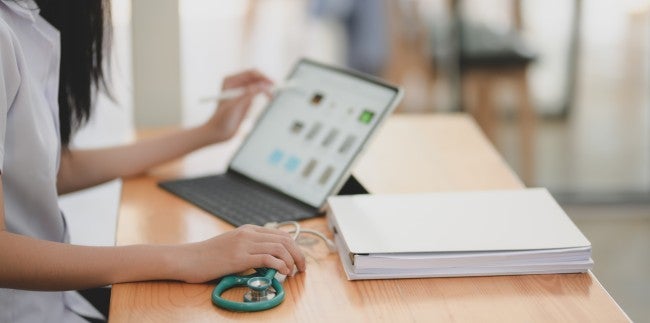 What Skills Does a HIM Compliance Officer Need?
A HIM compliance officer needs a rounded-out set of technical, compliance, medical, and communication skills to be successful in their field. Some of those skills include: 
High-level knowledge of healthcare ethics, morals, and compliance
Excellent listener with a high level of attention to detail
Confidentiality and trustworthiness
Mentoring, teaching, and training capabilities
Technology proficiency with a willingness to learn new systems
Willingness to learn new software as the industry continues to change
Familiarity with healthcare administration, coding, billing, etc.
Confident in decision-making
Interpersonal skills with an interest in conversing with different people from unique backgrounds
An ability to set and maintain an expectation of compliance in the workplace
How Much Does a HIM Compliance Officer Make?
$81,431
In 2021, the average annual salary for a HIM compliance officer was $81,431, according to ZipRecruiter. The field is very active, and top earners average closer to $100,000 annually. It can be an extremely lucrative and rewarding profession with great opportunity for advancement.
What is the Job Outlook for a HIM Compliance Officer?
32%
According to the BLS, medical and healthcare service managers are projected to grow 32% from 2019 to 2029. As the healthcare system continues to lean on new and upcoming technological advances, there is a particular demand for managers with knowledge of healthcare information technology and tech-informed backgrounds.
Where Does a HIM Compliance Officer Work?
Hospitals
The largest percentage of employers for HIM compliance officers are hospitals. This is followed by a need in doctor's offices, nursing and residential care facilities, government agencies, and outpatient care centers. HIM compliance officers should expect some non-traditional hours, particularly early in their career, as is typical with any healthcare professional.