Nurse Practitioner Career
How to Become a Nurse Practitioner
Job stability. A good salary. A sense of fulfillment and purpose. The opportunity to help others. These are elements that everyone wishes for in a career. And for nurse practitioners, these elements are exactly what their career has in store.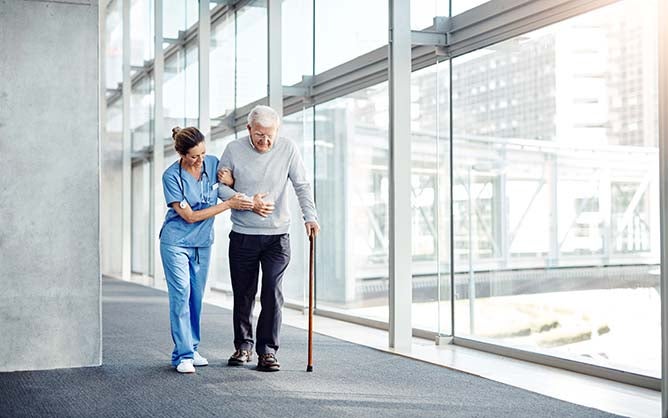 What is a Nurse Practitioner?
NPs are advanced practice registered nurses or APRNs who have skills that go above those of a registered nurse (RN). NPs will have various responsibilities based on the specific career path they have chosen, the state where they live, and the practice where they work. Nurse practitioners or NPs have the opportunity for a high salary and great job security. Their position in the healthcare field means they are able to help others and find fulfillment in caring for patients. If you're considering a future in the medical field, a career as an NP could be the perfect fit for you.
While a highly sought after position, it's not necessarily easy to become an NP. You'll have to become educated and licensed as a nurse, and then get experience in the field before you are able to become a nurse practitioner. 

In the medical field there are many different and important job titles, and it's crucial to understand the different pathways you can take. Learn more about what it takes to become a nurse practitioner in the guide below, or see your path to other advanced practice roles.

What Does a Nurse Practitioner Do?
Nurse practitioners have specific and important roles in the healthcare industry, so it's vital to understand how their role differs from other jobs in healthcare. Before you consider becoming a nurse practitioner, you'll really need to understand what it is they do and if it's the right fit for you. Some of the typical duties of an NP include:
Perform yearly physicals
Perform advanced physicals
Diagnose acute and chronic health problems
Develop treatment plans for patients
Order diagnostic tests and provide referrals
Prescribe medications (the state where an NP live will determine if there are restrictions for medication prescription)
Order certain types of treatments
Perform in-office procedures
Educate patients
Make referrals where needed
Increasingly, healthcare leaders, state governments, and the federal government are acknowledging the safety, efficacy, and cost-effectiveness of nurse practitioners by granting what is known as full practice authority for nurse practitioners. Full practice authority allows nurse practitioners to practice within their full scope of practice, or what they were trained and credentialed to do, without needing to seek permission from another profession. Twenty-two states, the District of Columbia, and the U.S. Department of Veterans Affairs (VA) currently allow nurse practitioners full practice authority, according to the American Association of Nurse Practitioners, and more states are looking at eliminating burdensome scope of practice regulations and allowing family nurse practitioners full practice authority. Regulatory changes allowing full scope of practice lead to increased access to healthcare, decreased wait times for that care, increased numbers of family nurse practitioners serving rural residents, decreased healthcare costs, and most importantly, better patient outcomes. A study published in the Journal of General Internal Medicine found that when nurse practitioners have greater autonomy, teamwork in the facility improves—and so does patient care.

How Do I Become a Nurse Practitioner?
Before you can become a nurse practitioner, you'll have to start with a bachelor's degree and be a registered nurse. If you're already a registered nurse, WGU has simple nursing program options for you to obtain your RN-BSN degree while you are still working full-time as a nurse. Nursing education is key to ensure you're prepared for success in this health care field. Nursing practice and experience goes hand in hand with nursing education, and both are key to your success.
RNs need to have some nursing practice experience in order to be ready to take the next step towards becoming a nurse practitioner. It's important to work in the field and if you are leaning toward an NP specialty like a family nurse practitioner, work in that area so you will be able to have experience as you move down your career path.
An MSN Nurse Practitioner degree is the next nursing program step on the way to a nurse practitioner career. A master's degree in nursing with a nurse practitioner focus will give you additional training and credentials that are key to being successful as a nurse practitioner in the health care field. Many nurse practitioner hopefuls are finding that a doctoral degree is a huge asset to their career going forward. Whichever advanced degree you choose, it's important that you find a program that can help you prepare for a successful NP career. In this type of program you will learn more about the scope of NP practice, get clinical experience that is vital to success, and have training on the specific daily requirements of nurse practitioners. 
Do Nurse Practitioners Need Licenses?
After obtaining the advanced degrees, the final step to becoming a nurse practitioner is to get licensed. Candidates need to earn a national NP certification from a specialty nursing board, like the American Nurses Credentialing Center (ANCC), American Academy of Nurse Practitioners Certification Board (AANPCB), American Association of Critical-Care Nurses (AACN), Pediatric Nursing Certification Board (PNCB), American Association of Nurse Practitioners (AANP), and National Certification Corporation (NCC). 
These certifications will often require clinical hours and experience, application fees, and a comprehensive test to make sure you are prepared.

Advanced Practice Registered Nurse Licensing

Different states will have different requirements for nurse practitioners. Wherever you hope to practice as a nurse practitioner, you'll likely need your RN license in that state. You'll need to ensure the nurse practitioner certification you pursue licenses you in your state, and work with your state agency to ensure you have met all clinical or other requirements. 
Best Degree for a Nurse Practitioner
Family Nurse Practitioner (BSN-to-MSN) – M.S. Nursing
This program for BSNs who have an active, unencumbered RN...
This program for BSNs who have an active,...
This program for BSNs who have an active, unencumbered RN license prepares you to become a board-certified Family Nurse Practitioner.
Locations: This degree program is offered in only the following states: Arizona, Arkansas, Colorado, Delaware, Florida, Georgia, Idaho, Illinois, Indiana, Kentucky, Maine, Michigan, Mississippi, Missouri, Montana, New Jersey, Nevada, New Mexico, North Carolina, Pennsylvania, South Carolina, Tennessee, Texas, Utah, Vermont, and West Virginia.
Time: 2½ years.
Tuition and fees: $4,250 plus $1,395 in fees, per six-month term.
College of Health Professions
---
The FNP program has limited space. If admitted, WGU will grant a start date based on a variety of factors.
Our Online University Degree Programs Start on the First of Every Month, All Year Long
No need to wait for spring or fall semester. It's back-to-school time at WGU year-round. Get started by talking to an Enrollment Counselor today, and you'll be on your way to realizing your dream of a bachelor's or master's degree—sooner than you might think!

---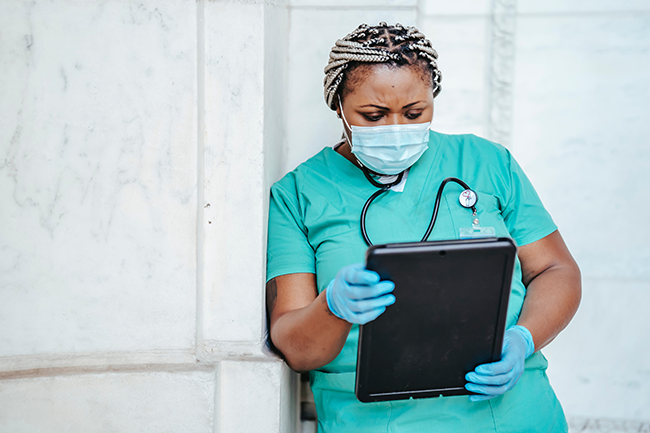 What Skills Does a Nurse Practitioner Need?
In order to be successful in their role, nurse practitioners need to have several skills. There are both hard skills and soft skills that NPs need in order to do their jobs well. Those skills include:
Strong communication. Nurse practitioner are directly responsible for patients and have to be able to communicate well what their medical diagnosis and treatment courses are.
Leadership. Nurse practitioners are leaders in their clinic or practice and need to be able to step up into that management and leadership role.
Analytical understanding. Nurse practitioners are often diagnosing problems and deciding on treatment courses, so they need to be able to use analytical reasoning to help them.
Patience. Medical professions are often high-stress, with intense situations. Nurse practitioners need to be able to be patient amid stress and confusion.
Policy adherence. Nurse practitioners have specific regulations and policies they must meet, and it's important that they understand those requirements well.
Ethics. Nurse practitioners need to have high ethical standards that ensure they will do their best work to help patients.
How Much Does a Nurse Practitioner Make?
$109,820
Nurse practitioners can expect a high salary, the average nurse practitioner earns a yearly annual salary of $109,820 according to the BLS. The bottom 10% of nurse practitioners make $81,000 per year, and the top 10% earn more than $152,000. This is nearly twice the yearly annual salary for RNs. Nurse practitioners with different specialties may earn a little more or a little less, and salaries will depend on where you are located and the specific hospital or clinic where you are working.
What Is the Projected Job Growth?
11%
Career opportunities for nurse practitioners are expected to grow at least 11% by 2028, much faster than the national average. These nurse practitioner specialties have been quick to respond to market needs, and together have more than doubled between the years 2007 and 2018, from 120,000 to 270,000 total nurse practitioners. With an expanding nurse practitioner workforce, nurse practitioners are able to deliver healthcare services to an increasing number of consumers. In fact, nurse practitioners deliver care through more than 1 billion patient-visits per year, according to the American Association of Nurse Practitioners. Importantly, the patient care delivered by nurse practitioners is of high quality. More than 50 years of research on clinical outcomes, safety, and cost-effectiveness of nurse practitioner care support its safety, efficacy, and cost-effectiveness.
Where Do Nurse Practitioners Work?
Varies
Nurse practitioners may work anywhere that medicine is practiced, which can include clinics, hospitals, private practices, managed care organizations, community health centers, college campuses, and more.