Patient Educator Career Guide
How to Become a Patient Educator
When patients have questions, patient educators have answers. Patient educators monitor a patient's progress as treatments are implemented while advocating for the best possible care.
As a patient educator, you will spend time communicating directly with both care providers and patients. You will inform doctors, nurses, and specialists about patient needs and preferences while teaching patients exactly what they can expect from upcoming treatments or procedures.
If you are someone who enjoys providing high levels of patient care, while empathizing with patients and implementing treatment modalities, this role is ideal for you.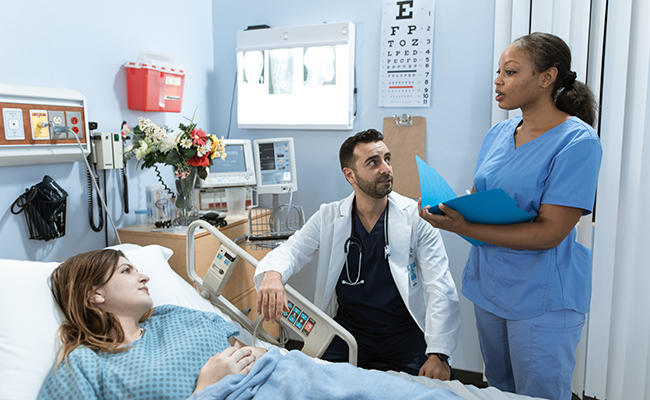 What Is a Patient Educator?
A patient educator works with treatment providers and patients to coordinate treatment programs and address questions from patients and their families. As a patient educator, you will represent a patient's needs — and any of their concerns — during and after treatment plans are implemented.
Patient educators are also commonly known as "health educators," though the responsibilities remain the same regardless of job title.
In some healthcare organizations, patient educators might also be registered nurses. Other patient educators can employ individuals solely in a patient education capacity. Typically, patient educators require at least an undergraduate degree, along with at least a few years of experience in a patient education capacity. Some patient educators also require one or more certifications.
What Does a Patient Educator Do?
The responsibilities of a patient educator can vary widely. On some days, you might spend time communicating directly with patients, informing their understanding of all treatment types. On other days, you might implement those same treatment modalities to improve patient outcomes.
The exact responsibilities of a patient educator can include:
Educating patients regarding upcoming treatments, procedures, and expected outcomes.
Developing treatment plans that address a patient's needs.

Implementing treatment modalities that can help guide patients to recovery.

Communicating with other care providers to familiarize them with a patient's needs, preferences, and concerns.

Corresponding with patient families to provide updates on a patient's treatment or recovery path.

Collaborating with patient care providers to provide high-quality patient care, especially during more complicated procedures.

Tracking a patient's continual reactions to treatment.
These and other responsibilities keep patient educators busy on a day-to-day basis as they communicate with and provide treatment for all patients.
What Education Does a Patient Educator Need?
You can begin your pursuit of a patient educator career with a bachelor's degree in health care services, where you'll develop skills in medical technology, health equity, and patient management. This type of degree program is key to preparing you for a role in patient education, giving you key knowledge, experience, and credentials that will help you succeed. The courses you will take help improve upon a foundation in patient care, contributing to effective communications once your patient education role begins.
Best Degree for a Patient Educator
Health Services Coordination – B.S.
An online health degree program for students passionate about...
An online health degree program for students...
An online health degree program for students passionate about value-based care and dedicated to helping others.
Time: 60% of graduates of similar programs finish within 3 years.
Tuition and fees: $3,795 per 6-month term, plus a Health Professions Student Fee of $350.
Sample careers and jobs this degree will prepare you for:
Care coordinator
Patient advocate
Health services coordinator
Patient educator
Community health educator
This degree allows you to work inside the healthcare industry, while also directly working with patients who need help.
College of Health Professions
---
Our Online University Degree Programs Start on the First of Every Month, All Year Long
No need to wait for spring or fall semester. It's back-to-school time at WGU year-round. Get started by talking to an Enrollment Counselor today, and you'll be on your way to realizing your dream of a bachelor's or master's degree—sooner than you might think!

---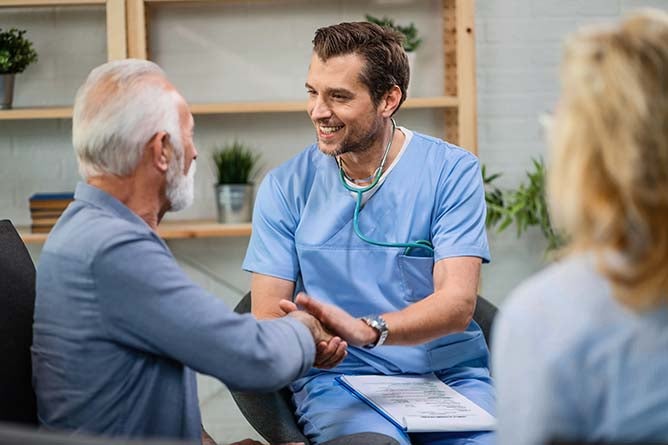 What Skills Does a Patient Educator Need?
Patient educators implement a variety of skills in their healthcare environment. Their well-developed skillsets help them communicate with patients, implement treatment plans, and gauge how well patients respond to individual treatment modalities.
The individual skills that a patient educator needs can include:
Patient education: The ability to answer patient questions, address patient concerns, and familiarize patients with details on upcoming treatment modalities.
Patient treatment: The ability to implement effective treatment modalities, in tandem with other patient care providers, to improve patient outcomes.

Interpersonal communication: The ability to communicate with nurses, doctors, and other patient care providers, to inform them of a patient's needs and preferences.

Technological proficiency: The ability to correctly use all necessary pieces of healthcare technology, including any medical devices, online platforms, and databases.

Empathy: The ability to share a patient's feelings toward their circumstances, and then implement strategies that help patients remain comfortable and anxiety-free while receiving care.
These and other skills allow patient educators to enjoy success each day in a healthcare environment while communicating with patients and implementing specific treatment strategies.
How Much Does a Patient Educator Make?
$49,356
The exact income of a patient educator can vary based on several different influences. These factors include your employer, employer's location, employer's public or private funding, years of experience, education, and active certifications. The salary of a patient educator can average $46,356, with a range of roughly $34,000 to $64,000 earned each year.
What Is the Projected Job Growth?
13%
The job outlook for patient educators is expected to remain positive over the next decade. From 2019 to 2029, employment for health education specialists is projected to grow by 13%. This forecasted growth rate is much faster than the average across all occupations. One reason behind the expected demand increase for patient educators is their overall usefulness. Patient educators can help healthcare organizations improve the quality of their treatment programs, while reducing total costs. At the same time, patient educators can help to improve the reputation of their employing medical centers, helping patients feel heard and valued as they work toward improved outcomes.
Where Do Patient Educators Work?
Varies
Patient educators can work in a wide variety of locations, depending on the nature of their employer. Some patient educators will work in large-scale hospital environments, while others provide specialized care in individual physician offices.
Patient educators can work in some, or all, of the following locations:
-Hospitals
-Inpatient or partial hospitalization care facilities
-Outpatient care facilities
-Individual physicians' offices
-Medical research companies
-Emergency clinics
-Nursing home and long-term adult care centers