Pharmacy Tech Career Guide
How to Become a Pharmacy Tech
Interested in joining the rapidly growing field of healthcare? Looking to work with patients in a non-clinical setting and help improve lives? If so, then a career as a pharmacy technician could be for you.
Pharmacy technicians perform a vital role in providing patients with safe and effective medication therapy. They handle all aspects of the prescription-fulfillment process and assist pharmacists with daily operations. By demonstrating excellent customer service, administrative, and communication skills, pharmacy technicians act as a bridge between the patient and the pharmacist. 
A pharmacy technician is a trained professional who works under the leadership of a pharmacist to support and manage a pharmacy. They spend most of their time inputting data, processing requests, billing insurance companies, filling prescriptions, maintaining inventory, and interacting with customers.
Technicians don't just work in drug stores, though. They can work in hospitals, specialty clinics, research labs, outpatient care centers, and more. To further develop their knowledge and hiring potential, many pharmacy technicians choose to specialize in a specific area, like compounding, procurement, or sterile products. Many technicians also continue on in their educational journey to become pharmacists.  
What Does a Pharmacy Tech Do?
Technicians perform a variety of important tasks to support patient care. A typical workday may involve:
Collecting information from clients or patients: Pharmacy technicians spend most of their workdays interacting directly with the public. Strong computer skills and customer awareness skills are needed to navigate the collection of personal health information.
Quantifying medications for prescriptions: Technicians assist pharmacists in fulfilling prescriptions by correctly counting or measuring the amount of medication needed per prescription. As many clients or patients require life-altering medication to maintain and manage their health, a pharmacy technician must maintain accuracy when calculating medications. 

Packaging and organizing medications for easy disbursement: A main responsibility of pharmacy technicians is to pack, label, and organize medications within the pharmacy. This allows for the pharmacist and other team members to quickly and easily access medications when needed. 

Processing payments from customers: Prescription payments are made with cash, debit cards, credit cards, health savings account (HSA) cards, flexible spending account (FSA) cards, and various other payment methods. Technicians need to be able to manage and process a variety of payment options within their pharmacy's point of sale system. 

Communicating with customers, prescribers, and insurance companies: Pharmacy technicians communicate daily with customers, doctors, hospitals, and insurance companies. Patience and empathy are necessary traits to develop as many healthcare systems have delayed response times. Additionally, a customer's medical information can be sensitive, and communicating with consideration and confidentiality is highly important. 

Arranging meetings with pharmacists and patients: Patients often have questions or concerns about their medications, and the pharmacy technician is responsible for managing the pharmacist's schedule to meet for pharmacy consultations.  

Notifying staff of inventory counts for drugs and materials: Assessing and updating inventory is an important aspect of maintaining a successful and efficient pharmacy. Technicians work collaboratively with other pharmacy team members to ensure that medication stock and supplies are accounted for and reordered as needed. 
How Do I Become a Pharmacy Tech?
To become a pharmacy technician, you'll need at least a high school diploma and on-the-job training. The length of training often varies depending upon your employer's requirements. You can also choose to complete a post-secondary education program accredited by the American Society of Health-System Pharmacists (ASHP) that will prepare you to become a Certified Pharmacy Technician (CPhT) within a year or less. Whether you train on-the-job or complete a post-secondary program, gaining relevant experience as a pharmacy intern or part-time employee will give you the ability to work closely with customers, doctors, prescribers, insurers, and pharmacists.
Most states and employers require technicians to be certified and to pass an exam. The two organizations that offer certifications are the Pharmacy Technician Certification Board (PTCB) and the National Healthcare Association (NHA). Pharmacy technicians are required to recertify every two years. Recertification involves completing at least 20 hours of continuing education and passing an exam.
Additionally, earning a bachelor's degree in health and human services or healthcare management will provide a strong foundation in medical terminology, pharmacology, health literacy, community management, and more. And since many pharmacy technicians continue on in their careers to become pharmacists, they pursue a bachelor's degree, which is a prerequisite to receive a Doctor of Pharmacy (PharmD) degree. 
Health and Human Services – B.S.
An online health degree program for students who are committed...
An online health degree program for students who...
An online health degree program for students who are committed to making a difference for patients in a variety of ways.
Time: 95% of students finish similar programs faster than the traditional 4 years.
Tuition and fees:

 $3,650 per 6-month term, plus a one-time Health Professions Student Fee of $350.



Sample careers and jobs this degree will prepare you for:
Care coordinator
Patient advocate
Health services coordinator
Patient educator
Community health educator
This degree allows you to work inside the healthcare industry, while also directly working with patients who need help.
College of Health Professions
Healthcare Management – B.S. Business Administration
You can become a healthcare industry leader:...
You can become a healthcare industry leader:...
You can become a healthcare industry leader:

Compare with B.S. Health Information Management
Time: 73% of graduates finish within 30 months.
Tuition: $3,575 per 6-month term.
Sample careers and jobs this business degree will prepare you for:

Health information manager
Community service manager
Clinical manager
Medical records manager
Social service manager
The online courses in this career-focused business degree program will prepare you with management-level skills and an up-to-date understanding of our healthcare delivery system.

College of Business
---
Our Online University Degree Programs Start on the First of Every Month, All Year Long
No need to wait for spring or fall semester. It's back-to-school time at WGU year-round. Get started by talking to an Enrollment Counselor today, and you'll be on your way to realizing your dream of a bachelor's or master's degree—sooner than you might think!

---
What Skills Does a Pharmacy Tech Need?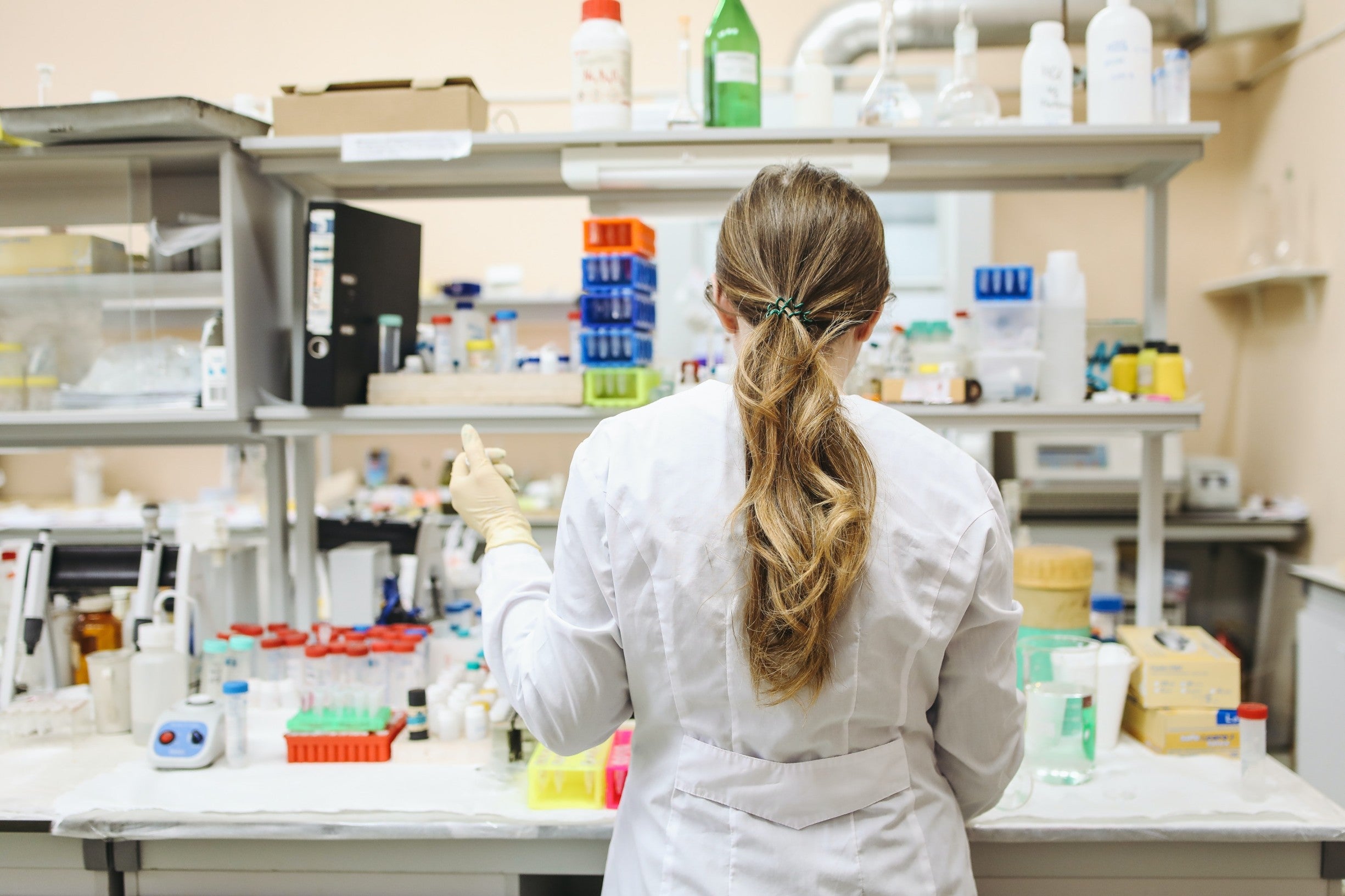 Pharmacy technicians require a range of skills to succeed, most importantly:
Pharmaceutical literacy
Customer service

Attention to detail 

Ability to listen and retain information 

Written and verbal communication 

Mathematics
Organization

Problem-solving
How Much Does a Pharmacy Tech Make?
$36,740
According to the Bureau of Labor Statistics (BLS), the median salary for pharmacy technicians is $36,740 per year, with the top 10% earning $47,580 per year and the bottom 10% earning $28,740. 
What Is the Projected Job Growth?
4%
The employment of pharmacy technicians is expected to increase by 4% from 2020 to 2030. With the rise of chronic diseases and a growing elderly population in the U.S., the demand for medication therapy will continue to rise. As a result, more pharmacies will need the skills and support of pharmacy technicians to meet the number of prescription requests. 
Where Do Pharmacy Techs Work?
Varies
Pharmacy technicians work closely with pharmacists and healthcare professionals in a variety of settings. Over 50% of technicians work in pharmacies and drug stores, with the remaining portion working in hospitals and grocery retailers. Given the nature of the job, technicians spend most of their workday on their feet and, if employed by a hospital or community pharmacy, can be required to work nights, weekends, and holidays. 
Frequently Asked Questions
Why is a Pharmacy Tech Needed on a Pharmacy Team?
Pharmacy technicians are critical members of a pharmacy team. They support pharmacists in their day-to-day responsibilities through organizing and managing the large volume of customers, requests, and medicines involved in pharmaceutical care.