How to Become a Registered Nurse
Registered nurses are essential caretakers for those in hospitals. They work directly with doctors and physicians to manage patients, administer medications, and schedule procedures and operations.  
Nurses are caring individuals with a passion for the healthcare industry. Although historically nurses could enter the field with less education, modern clinical standards are increasingly requiring a bachelor of science in nursing (BSN) at minimum.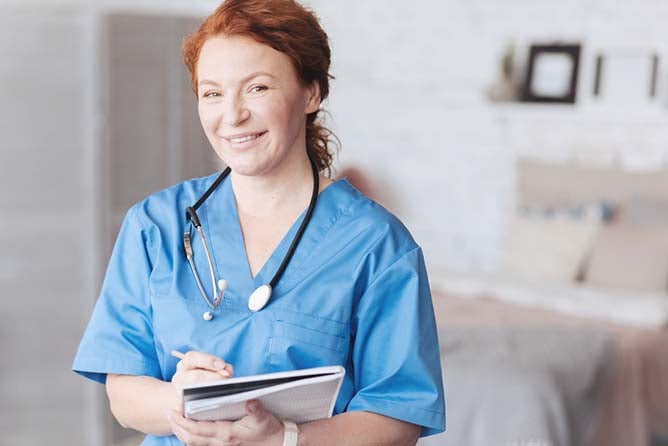 What Is a Registered Nurse?
Registered nurses carry the healthcare system. They work directly under the direction of lead doctors and enable doctors to care for more patients. 
A registered nurse (also called RN) is an individual who has a nursing diploma and has passed the NCLEX-RN exam administered by the National Council of State Boards of Nursing (NCSBN). Nurses undergo intense education to ensure they understand the best health practices and know the best care for their patients.  

According to the American Association of Colleges of Nursing (AACN), there are over 3.8 million RNs in the United States. Nearly 58% of RNs work in general medicine and surgical hospitals. They also work in private practices, clinics, military hospitals, and healthcare research. 

The AACN also reports that there are nearly three times as many RNs than physicians in the United States. Because there are three nurses per doctor, nurses perform a majority of services within healthcare.

What Does a Registered Nurse Do?
The daily responsibilities of a nurse will change, depending on their industry. A trauma nurse or critical care nurse working in the ER will provide emergency care and manage pain. For comparison, a pediatric nurse is trained to work directly with children to make them feel more comfortable in a potentially stressful setting. 
Some of the most common nursing fields include: 

Cardiac nurse 
Mental health nurse 
Although specific responsibilities vary for different nursing fields, many of the most important responsibilities overlap. In general, RNs can expect the following job responsibilities: 

Observing patient behavior

Collecting patient health history 
Counseling with patients 
Administering medications and treatments 
Discussing treatment methods with other nurses and physicians 
Performing physical exams 
Preparing patients to meet with doctors
Registered nurses are vital to the healthcare industry. They provide essential services to patients across a wide variety of fields.
What Education Does a Registered Nurse Need?
Registered nurses have three education options: a nursing diploma, an Associate Degree in Nursing (ADN), or a Bachelor of Science in Nursing (BSN). Nurses who choose to get a diploma or associate degree will be qualified to become RNs after taking the NCLEX exam. However, nurses with a diploma or associate degree are less competitive candidates than those who choose to graduate from a bachelor's degree program. It is increasingly common for hospitals and other employers to state "BSN preferred" on job postings, or even to require diploma or ADN nurses to earn their BSN within a certain amount of time after being hired. Nationally, there is a growing shift to make the BSN degree the standard for RNs, and many states and employers are moving toward adopting this, making it important for prospective nurses to consider attaining their BSN as part of their journey to nurse certification. 
Current RNs without a bachelor's degree can expand their careers by taking an RN to BSN program. RN to BSN programs are designed for registered nurses who want to progress further in their careers. 

What Certifications Does a Registered Nurse Need?
After earning your diploma or degree, there are additional steps to becoming a licensed nurse. Different states will have unique requirements for registered nurses, so it's important to research the requirements in your state. In general, however, nurses must meet the following requirements:
Obtain their education. Nursing candidates will need to find a diploma program, associate degree program, or BSN program that meets the requirements of their states. In their program they will learn vital skills and gain experience in nursing.

Complete clinical hours. In order to be prepared for the rigors of being an RN, nurses must gain experience with patients in hospitals and other settings. These clinical hours are vital to success in nursing. 
Pass the NCLEX exam. All RNs must take the NCLEX exam offered through the National Council of State Boards of Nursing (NCSBN). The test is offered to entry-level nurses. 
RN licensure. Each state requires nurses to get an RN license in their state. Most states have their own Board of Nursing. For example, RNs in Alabama are licensed by the Alabama Board of Nursing. 
Nurse Licensure Compact (NLC). Nurses who plan to travel from state to state can earn an NLC, which is a multi-state nursing license. The NCSBN provides information on which states accept the NLC. 
You should also check with your state board to ensure that you're receiving the proper certifications and licenses to practice in your state.
Best Degrees for a Registered Nurse
Nursing (Prelicensure) – B.S.
A one-of-a-kind nursing program that prepares you to be an RN...
A one-of-a-kind nursing program that prepares you...
A one-of-a-kind nursing program that prepares you to be an RN and a baccalaureate-prepared nurse:
Locations: offered in FL, IN, TX, MO, and UT only.
Tuition and fees: $6,575 per 6-month term.
WGU offers the prelicensure program in areas where we have partnerships with healthcare employers to provide practice sites and clinical coaches to help teach you and inspire you on your path to becoming a nurse.
If you don't live in one of our prelicensure states or don't qualify to apply, consider getting our Bachelor's Degree in Health Services Coordination instead. This degree allows you to work inside the healthcare industry, while also working directly with patients who need help.
College of Health Professions
Nursing (RN-to-BSN Online) – B.S.
An online BSN degree program for registered nurses (RNs) seeking...
An online BSN degree program for registered...
An online BSN degree program for registered nurses (RNs) seeking the added theoretical depth, employability, and respect that a bachelor's degree brings:
Time: 66% of graduates finish within 18 months.
Tuition and Fees: $3,795 per 6-month term, plus a Health Professions Student Fee of $350.
Transfers: On average, students transfer 81 credits.
With over 35,000 BSN alumni, this is one of WGU's most popular online degree programs. View our RN to BSN degree guide.
If you don't currently have an RN and don't qualify for your nursing prelicensure program, consider getting our Bachelor's Degree in Health Services Coordination instead. This degree allows you to work inside the healthcare industry in a unique way.
College of Health Professions
---
Our Online University Degree Programs Start on the First of Every Month, All Year Long
No need to wait for spring or fall semester. It's back-to-school time at WGU year-round. Get started by talking to an Enrollment Counselor today, and you'll be on your way to realizing your dream of a bachelor's or master's degree—sooner than you might think!
---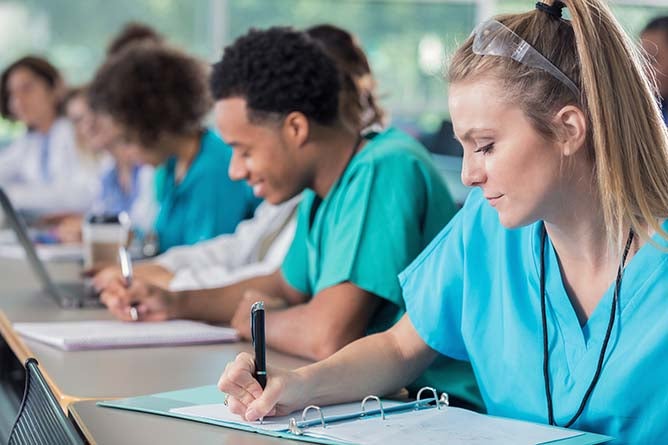 What Skills Does a Registered Nurse Need?
Registered nurses are hardworking and dedicated individuals. Many have on-call positions and work extended shifts to meet the needs of their hospitals. RNs needs to have the following skills if they want to excel in their positions: 
Stress management. RNs work long hours in stressful situations. ER nurses must maintain constant vigilance while controlling their stress levels, even while working amid a constant emergency. 
Organizational skills. In some settings, there are six patients per nurse. To ensure that all patients are getting the help they need, nurses must be able to keep their schedules organized. 
Communication skills. A large part of a nurse's job is communication. They must be able to communicate with doctors and other nurses as well as their patients. 
Alertness and observance. A mandatory requirement for nurses is to stay alert and observant. If a nurse delays or panics, the patient's life could be endangered. 
Physical and mental endurance. Nurses without physical and mental endurance may experience "nurse burnout" from working long shifts with understaffed teams. 
Registered nurses should also possess critical thinking skills and be responsible in their care and precision.

How Much Does a Registered Nurse Make?
$75,330
According to the U.S. Bureau of Labor Statistics (BLS), registered nurses earn an average of $75,330 per year, or $36.22 per hour. Yearly wages vary depending on location, field, and years of experience. Nurses often work nights, weekends, and holidays to cover the demand when working in hospitals and other high-demand facilities.
What Is the Projected Job Growth?
7%
The BLS predicts trends in nursing careers through 2029. Registered nursing careers are expected to grow by 7% by 2029, which is faster than the average job growth. 
Nurses are always in high demand. As the U.S. population continues to age, there will be more health conditions related to age, such as arthritis, dementia, diabetes, and obesity. 

Where Do Registered Nurses Work?
Varies
Registered nurses work in almost every facility that offers healthcare services or healthcare education. Some of the most common places include hospitals, doctor's offices, nursing homes, care facilities, prisons, homes, remote, and military bases.
There are many locations for registered nurses to find long-term positions. No matter which field nurses decide to work in, they always provide essential and life-saving care.

Registered Nurse FAQ's
Is a registered nurse a good career?
Nursing is a long-respected profession, and becoming a registered nurse tops polls regarding job satisfaction and career quality. Nurses spend more time than other healthcare professionals and become the face of the healthcare institution that they represent. It's widely considered a good career.
How many years does it take to be a RN?
It varies based on a number of factors including the state where the individual is seeking licensure, and the program that they choose to pursue. The educational portion of the certification can be completed as part of a nursing diploma program, an associate's degree, or a bachelor's degree. Once the educational requirement is met, the applicant must pass the NCLEX examination and apply for licensure from the state's nursing board. Typically it takes around 2-3 years to become a registered nurse.
What are occupations for registered nurse?
Some of the career options available for registered nurses include:
Perioperative nursing 
Cardiac nurse 
Certified registered nurse anesthetist 
Surgical nursing 
Mental health nurse
You can learn more about career options for registered nurses here: https://www.wgu.edu/career-guide/healthcare.html 
What is the highest paying job RN?
The highest paying nursing position is as a Certified Registered Nurse Anesthetist, however this position requires additional education and training which includes a master's degree in nursing and passing the NBCRNA examination.