Respiratory Nurse Career Guide
How to Become a Respiratory Nurse
Respiratory nurses, also called pulmonary nurses, specialize in helping patients who are battling acute and chronic respiratory problems. These nurses care for patients who suffer respiratory illnesses such as bronchitis, pneumonia, asthma, emphysema, and lung cancer. On top of general nursing care, they're responsible for assessing patient conditions, making plans for recovery, assisting in preparing patients for surgery, and implementing treatment plans. If you feel passionate about this area of nursing, keep reading to learn everything you need to know—from job responsibilities and education requirements to salary and job outlook—to pursue a career as a respiratory nurse.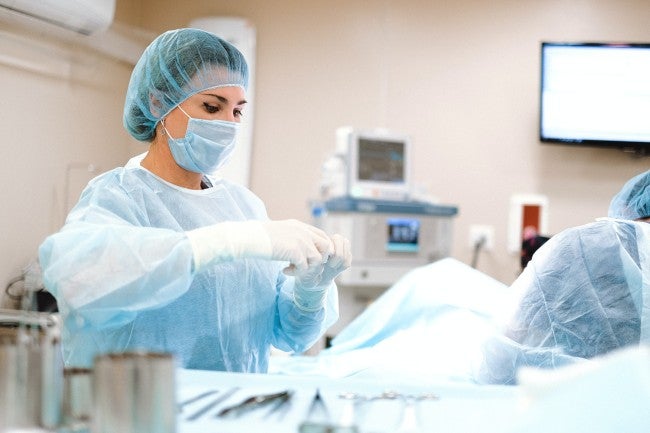 What Is a Respiratory Nurse?
Respiratory nurses work closely with patients of all ages to address an array of respiratory health issues. Through patient assessment, physical examinations, reviewing patient medical histories, monitoring and recording vital signs, and discussing symptoms, nurses in this specialty can treat and cure a myriad of conditions. Respiratory nurses are skilled at assessing, planning, and implementing treatments for respiratory disorders. These nurses provide unique value to the healthcare system through their expertise in evaluating patient conditions and responses to different respiratory therapy methods, including oral, nasal, or liquid forms.
What Does a Respiratory Nurse Do?
The responsibilities of a respiratory nurse span from urgent response to ongoing care for chronic conditions. They're trained to provide critical care during emergencies, but it's more common that they help patients learn how to live with sometimes lifelong respiratory conditions. Some of the most important responsibilities of respiratory nurses include:
Conducting diagnostic tests to assess lung capability and capacity.
Administering treatments such as oxygen therapy, aerosol medications, and chest physiotherapy.

Educating patients and their families about respiratory health.

Teaching patients how to administer treatment at home.

Assisting in preparing patients for surgery.

Performing respiratory auscultation, which allows them to listen to sounds from patients' lungs with a stethoscope.

Analyzing sputum and blood in a lab.

Maintaining accurate, up-to-date charts and records.

Assisting and collaborating with physicians, respiratory therapists, and other healthcare professionals.
How Do I Become a Respiratory Nurse?
There are a few essential steps to becoming a working nurse. If you're interested in pursuing a nursing specialty, such as oncology nursing, cardiac nursing, or respiratory nursing, you'll have to complete an additional requirement. Here is a step-by-step guide to efficiently starting your career as a pulmonary nurse. 
Step One: Become a registered nurse
The first step to becoming a respiratory nurse is earning your RN. This can be done in an associate degree program or a bachelor's degree program. WGU offers an excellent prelicensure program that will put you well on your way to working professionally in your specialty by helping you earn your RN and BSN in one program. (This program is available in limited areas. Learn more here.) 

Step Two: Take the NCLEX
The National Council Licensure Exam (NCLEX) is required of all aspiring RNs. A passing result on this test provides states with confirmation of your nursing knowledge and ensures that you can effectively and safely practice nursing. 
Step Three: Earn a bachelor's degree in nursing if you haven't already
If you've already earned your RN but did not earn your BSN, a bachelor's degree program is a great next step. WGU's nursing bachelor's degree is designed to provide the essential academic foundation for your future nursing career. This program is perfect for current RNs who are eager to join the healthcare workforce and begin improving the lives of patients and the overall health of their communities. This is also a great résumé enhancer for working nurses who want to reach higher salaries and stronger job security. After completing your BSN, you're one step closer to becoming a respiratory nurse.
Step Four: Consider getting a Certified Pulmonary Function Technologist (CPFT) credential
While you're not required to earn a specific certification for respiratory nursing, you should consider taking the Pulmonary Function Technology (PFT) Examination, which measures the essential tasks required of pulmonary function technologists. This certification will make you more competitive in the job market, especially if you're serious about working exclusively with respiratory patients. You can also seek a Critical Care (Adult) Registered Nurse (CCRN) certification, which is the most common certification for adult critical care nurses. This is offered through the Association of Critical Care Nurses. However, if you're interested in providing care specifically to younger populations, there are other certifications for pediatric critical care nurses.
Step Five: Begin applying to respiratory nurse jobs
Once you have your degree, have passed the NCLEX, and have earned additional certification(s), you're ready to plunge into the job market. Now, you can successfully apply for entry-level jobs in your state of licensure.
Best Degrees for a Respiratory Nurse
Nursing (Prelicensure) – B.S.
A one-of-a-kind nursing program that prepares you to be an RN...
A one-of-a-kind nursing program that prepares you...
A one-of-a-kind nursing program that prepares you to be an RN and a baccalaureate-prepared nurse:
Locations: offered in FL, IN, TX, MO, and UT only.
Tuition: $6,430 for the first term, $7,616 for the remaining 4 terms. Each term is six-months. Prelicensure students can not accelerate and the program takes 2.5 years to complete.
WGU offers the prelicensure program in areas where we have partnerships with healthcare employers to provide practice sites and clinical coaches to help teach you and inspire you on your path to becoming a nurse.
If you don't live in one of our prelicensure states or don't qualify to apply, consider getting our Bachelor's Degree in Health Services Coordination instead. This degree allows you to work inside the healthcare industry, while also working directly with patients who need help.
College of Health Professions
Nursing (RN-to-BSN Online) – B.S.
An online BSN degree program for registered nurses (RNs) seeking...
An online BSN degree program for registered...
An online BSN degree program for registered nurses (RNs) seeking the added theoretical depth, employability, and respect that a bachelor's degree brings:
Time: 66% of graduates finish within 18 months.
Tuition: $3,998 per 6-month term, plus a Health Professions Student Fee of $350.
Transfers: On average, students transfer 81 credits.
With over 35,000 BSN alumni, this is one of WGU's most popular online degree programs. View our RN to BSN degree guide.
If you don't currently have an RN and don't qualify for your nursing prelicensure program, consider getting our Bachelor's Degree in Health Services Coordination instead. This degree allows you to work inside the healthcare industry in a unique way.
College of Health Professions
---
Our online university degree programs start on the first of every month, all year long.
No need to wait for spring or fall semester. It's back-to-school time at WGU year-round. Get started by talking to an Enrollment Counselor today, and you'll be on your way to realizing your dream of a bachelor's or master's degree—sooner than you might think!

---
What Skills Does a Respiratory Nurse Need?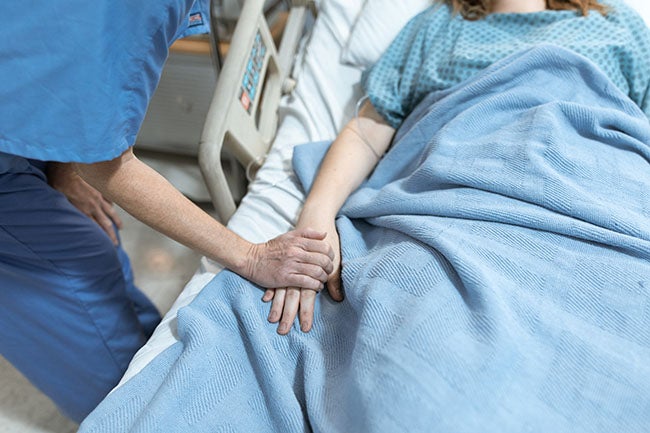 An excellent respiratory nurse possesses both an expert knowledge of the human respiratory system and its diseases as well as superior interpersonal and communication skills. These healthcare professionals are talented in many areas, but their most important skills include:
Significant technical knowledge about the respiratory system.
Ability to detect aberrant respiratory function through auscultation.

Knowledge of the various ways respiratory conditions present themselves in humans.

Knowledge of how to use medical equipment.

Knowledge of how to manage and update patient records, as well as how to maintain confidentiality.

Strong communication and interpersonal skills.
How Much Does a Respiratory Nurse Make?
$65,870
According to Glassdoor.com, respiratory nurses make an average annual salary of $65,870. That said, data from other sources shows that there is ample room for salary growth. Based on active postings to local job boards across the United States, ZipRecruiter estimates that respiratory nurses earn salaries as high as $165,000, but a majority of top earners who fall between the 75th and 90th percentile will earn $142,000 to $158,000 annually.
What is the Projected Job Growth?
23%
The employment of respiratory therapists is projected to grow by 23% from 2020 to 2030, significantly faster than other professions. This growth rate will produce an average of 10,100 new job openings per year over the course of the decade. This means that a career in respiratory nursing provides professionals excellent job security, so even when job scarcity strikes, you likely won't have to worry about finding or maintaining a job.
Where Does a Respiratory Nurse Work?
Varies
Respiratory nurses can work anywhere a general nurse works, but also in some additional respiratory-specific settings. The work hours for these facilities can go around the clock; this is especially true in hospital settings. Respiratory nurses should expect to potentially work overnight shifts, long shifts, weekends, holidays, and other non-traditional schedules. Most commonly, you'll find respiratory nurses working in:
-Hospitals
-Cardiopulmonary rehabilitation centers

-Cardiopulmonary diagnostic labs

-In-home care settings

-Long-term nursing care facilities

-Sleep disorder centers