Speech-Language Pathologist Career
How to Become a Speech-Language Pathologist
Knowing how to communicate is critical to living a fulfilling life. Unfortunately, some individuals have difficulty speaking and processing language. Those who struggle with language obstacles may find it hard to reach their full potential and live the life they want. Thankfully, speech-language pathologists are there to help. These professionals work to prevent, assess, diagnose, and treat speech, language, social communication, cognitive communication, and swallowing disorders in children and adults. If you have a passion for working one-on-one with individuals to give them the tools to improve their quality of life, then speech-language pathology can be a rewarding career. 
What Is a Speech-Language Pathologist?
A speech-language pathologist specializes in treating various speech impediments and addressing language comprehension difficulties. They also teach social skills to people with developmental disabilities, provide guidance to individuals with cognitive disorders, and intervene when someone struggles to swallow food or beverages. For those who cannot hear well, speech-language pathologists teach skills for understanding others and expressing themselves through other means like picture boards or technological devices.
What Does a Speech-Language Pathologist Do?
A speech-language pathologist can have several responsibilities and daily tasks. Some of them may include:
Evaluation and diagnosis. Often, the first job of a speech-language pathologist is to evaluate individuals to determine a diagnosis. Discovering whether the person has speech, language, communication, or swallowing disorders, or a combination of these, is a crucial first step to determining a treatment plan.
Treating disorders. Once disorders are diagnosed, speech-language pathologists can work on treating them. One method may work well for a child struggling to swallow, while a quite different one may serve an adult struggling with communication.

Providing training. Speech pathologists have an important responsibility to train family members and caregivers to assist the individual in specific ways. An individual's support group plays a key role in helping them improve. 

Working with other professionals. It's common for speech-language pathologists to work closely with an individual's care team. This team may consist of school counselors, physicians, and others. Being skilled at working with these professionals to gain insight and provide the best care plan for each client is key.

Educating future pathologists. Speech-language pathologists often train younger aspiring pathologists. They must be prepared for students who will shadow them and be willing to provide education and lectures if asked by local universities or interested groups.

Running a clinic. It's common for speech-language pathologists to have their own clinic or private practice. Knowing what this entails and being on top of the aspects of running a business is important. Most clinics have office staff and accountants, so the speech-language pathologist whose clinic it is must be able to supervise them effectively.

Working with agencies. Speech pathologists should maintain strong relationships with associations and government agencies that advocate for those with speech, language, and hearing impairments. One such agency is the American Speech-Language-Hearing Association (ASHA).

Supervising school programs. Often, elementary schools will provide speech lessons for young students who are struggling with communication or pronunciation. Speech-language pathologists supervise these sessions and sometimes provide speech therapy themselves.

Conducting research. Our understanding of speech disorders and the ways to treat them is expanding. Thanks to research carried out by speech-language pathologists, we discover new treatments and gain needed knowledge to improve care and enhance progress. As a speech-language pathologist, you should plan to keep up on the latest research and even engage in your own research.

Providing counseling. Speech-language pathologists may provide guidance and exercises to improve speech in a counseling setting. In addition to assigning drills and tasks, they may provide support and counsel.
How Do I Become a Speech-Language Pathologist?
There are several steps to becoming a speech-language pathologist. Here is the typical path from speech-language pathologist schooling to fellowship and examination.
There are several steps to becoming a speech-language pathologist. Here is the typical path from speech-language pathologist schooling to fellowship and examination.
Earn a relevant bachelor's degree. Prospective speech-language pathologists often pursue undergraduate degrees in communication sciences and disorders, healthcare and nursing, or special education. 

Earn a master's degree in speech-language pathology. After earning a bachelor's degree, you must also earn a master's degree to become a speech-language pathologist. Here is a list of these types of accredited graduate programs in each state.

Complete a clinical fellowship. To become a speech-language pathologist, you must complete 1,260 hours and gain at least 36 weeks of full-time clinical experience. ASHA has a helpful fellowship guide.

Pass the Praxis exam. The Praxis examination in speech-language pathology is commissioned by ASHA. In general, to pass the exam, you must achieve a score of at least 162 on a 100 to 200 scale. That said, certain states may require different scores, so be sure to understand the specific requirements where you live. 

Get certified. To become a licensed speech-language pathologist, you must be certified by both ASHA and the state you'll be practicing in. ASHA provides links to state-specific requirements here.

Apply for speech-language pathologists jobs. ASHA offers career development resources and a virtual career fair to help you find a job. Sites like Indeed, LinkedIn, and ZipRecruiter may also have job postings. 
Health and Human Services – B.S.
An online health degree program for students who are committed...
An online health degree program for students who...
An online health degree program for students who are committed to making a difference for patients in a variety of ways.
Time: 95% of students finish similar programs faster than the traditional 4 years.
Tuition and fees:

 $3,650 per 6-month term, plus a one-time Health Professions Student Fee of $350.



Sample careers and jobs this degree will prepare you for:
Care coordinator
Patient advocate
Health services coordinator
Patient educator
Community health educator
This degree allows you to work inside the healthcare industry, while also directly working with patients who need help.
College of Health Professions
Special Education and Elementary Education (Dual Licensure) – B.A.
An online teaching degree and teacher certification program for...
An online teaching degree and teacher...
An online teaching degree and teacher certification program for aspiring K–12 special education teachers. Leads to dual teaching license in elementary education and K–12 special education.
 Specific grade levels will vary depending on licensure in your state.

Time: 62% of grads earned this degree within 3½ years.
Tuition: $3,575 per 6-month term.
Candidates for this program often include:

Aspiring special ed teachers who currently lack a teaching license
Substitute teachers
Career-changers
School paraprofessionals

Others who feel the call to teach
This special education teaching degree program prepares you to teach students with mild-to-moderate disabilities, with courses in the foundations of teaching, instructional planning and presentation, assessment, and classroom management. Core elementary and special education courses focus on diversity, disciplinary literacy, elementary education methods, and special education topics such as law, assessment, and behavioral management. This program requires in-classroom observation and a term of full-time demonstration teaching.
Teachers College
---
Our Online University Degree Programs Start on the First of Every Month, All Year Long
No need to wait for spring or fall semester. It's back-to-school time at WGU year-round. Get started by talking to an Enrollment Counselor today, and you'll be on your way to realizing your dream of a bachelor's or master's degree—sooner than you might think!

---
What Skills Does a Speech-Language Pathologist Need?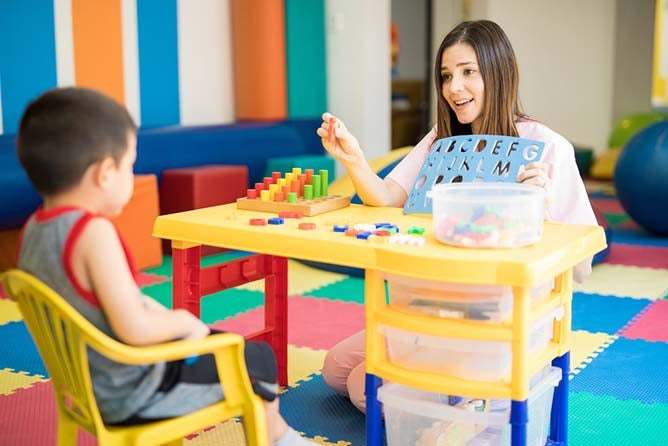 It takes a specialized set of hard and soft skills to excel as a speech-language pathologist. They should be skilled in the following areas:
Active listening. Knowing how to listen is crucial for speech-language pathologists, as understanding sounds and knowing how to improve speech is a key job function. They must know how to listen to concerns as well as incorrect speech patterns.
Adaptability. Every individual is different. Speech-language pathologists must be able to adapt to meet the needs of every person they meet with.  

Leadership. Speech-language pathologists often orient others in their field, as well as caregivers and family members. They should have strong leadership skills and have a presence that inspires confidence.
Creativity. It's not always easy to help someone improve their speech. Sometimes, speech-language pathologists must find creative ways to teach language skills, especially if they're working with children.
Verbal and written communication. Communication is key, especially since speech-language pathologists are teaching this very skill. Getting messages across succinctly and accurately to both individuals and their caregivers is critical.

Critical thinking. Finding solutions to complex speech problems is rarely easy. Speech-pathologists must be able to think critically through difficult issues to find solutions.

Decision-making. To be a speech-language pathologist, you must be skilled at making decisions and shifting gears. An approach that works for one client may not work for the next, so be ready to make the decision that's best for the individual.

Time management. There's high demand for speech-language pathologists, which means their schedules fill up quickly. To serve each client well, you must be intentional with your time and spend it on exercises that will best serve the client.

Enthusiasm. It's much easier to work for someone who is positive and excited. The best speech-pathologists are optimistic and enthusiastic as they motivate and support the individuals they work with.

Compassion. Working through a speech or language difficulty can be challenging and embarrassing for individuals. Speech-language pathologists should have compassion and show kindness as they're working with people.
How Much Does a Speech-Language Pathologist Make?
$79,000
According to the U.S. Bureau of Labor Statistics (BLS), the national average annual salary for speech-language pathologists in 2021 was $79,060. The higher percentile earners can make more than $100,000, but salary can vary by state. For instance, a pathologist working in New Jersey may make a different salary than one in West Virginia.
What Is the Projected Job Growth?
29%
The BLS projects the number of speech-language pathologist jobs to grow by 29% from 2020 to 2030. They expect 15,200 job openings each year.
Where Does a Speech-Language Pathologist Work?
Varies
Some of the most common employment settings for speech-language pathologists include:
-Educational facilities
-Hospitals
-Non-residential health care facilities
-Residential health care facilities
-Private practice locations