Automation Architect Career Guide
How to Become an Automation Architect
Automating a business requires a specialist. Questions that no one seems to ask can set back an automation project for months, costing a company millions of dollars. 
Automation architects are problem solvers. Their role is to see what others don't anticipate and to address obstacles before they arise. Automation architects ask crucial questions before an automation process starts, saving time and money. 

They are anticipatory, creative thinkers who understand both the business and technology sides of their work environment.

What Is an Automation Architect?
An automation architect's main goal is to design and develop strategies that will allow an organization to automate its processes. They work with company leadership, departmental stakeholders, and IT departments to see the holes in an automation process before it starts. 
Automation architects need to be familiar with technology, but they also need an understanding of workflow, industry, and business parameters. Their goal is to streamline systems and make them more effective, oftentimes under tight budget and timeline restrictions. 

If you are a lover of technology, an effective problem solver, and have a keen eye for details that others often miss, then automation architecture may be a natural and fruitful career path for you.

What Does an Automation Architect Do?
Automation architects face technical and non technical challenges every day. They work as the linking tool between an automation system and the human workforce. 
Paul Delory, a research director at Gartner, the world's leading research and advisory company, said, "To appoint an automation architect is to recognize that automation has become its own discipline within the enterprise IT organization, one that entails making fundamental architectural decisions." 
Automation architects work within an organization to answer these questions: 
Which tools will be used, and for what purposes?
What is the best way to implement the tools?

Who will be in charge of maintaining each tool?

How will corporate policies be decided and enforced?

To what extent should technical requirements drive business decisions, and vice versa?

How can the IT organization best collaborate with the business it serves?

The day-to-day might look like assessing various departmental requirements, ensuring that processes are testable, validating expectations and ensuring that they are achieved during testing processes, and monitoring ongoing tests.
How Do I Become an Automation Architect?
Step 1: Earn a bachelor's degree. Automation architects will need a bachelor's degree in order to get started in their career. A bachelor's degree in data management and data analytics is an ideal starting place for this career. This type of degree will give you important IT fundamentals and skills, experience with software, and potentially certifications. It will also give you insight into business processes and settings that are crucial for automation success.
Step 2: Gain experience. An automation architect will need some experience in data management and automation processes in order to move forward in their career. Take opportunities to learn more about automation in order to gain the experience you need for this type of career.
Step 3: Earn a master's degree. An advanced degree is preferred and usually necessary for advanced automation positions. A master's degree in data analytics can be crucial in helping you have the skills to understand raw data and help businesses make key decisions based on the information you uncover. Continued career growth goes hand-in-hand with the advanced training that a master's degree can offer.
Best Bachelor's Degrees for an Automation Architect
Data Management/Data Analytics – B.S.
Lean into data, and walk away with a cutting-edge online degree:...
Lean into data, and walk away with a cutting-edge...
Lean into data, and walk away with a cutting-edge online degree:
Employer approval: 69% of graduates finish within 24 months.
Tuition: $3,625 per 6-month term.
Certifications: CIW and CompTIA certs, all included.
Unique to WGU's program is the incorporation of a Udacity Nanodegree—a highly recognized credential designed to prepare you for a career in data science.
Certified Internet Web certification included:
CompTIA certifications included:
CompTIA A+ (Parts 1 and 2)
CompTIA Network+
CompTIA Project+
CompTIA IT Operations Specialist

College of I.T.
Lead businesses with strong analysis skills:...
Lead businesses with strong analysis skills:...
Lead businesses with strong analysis skills:
Time: 72% of graduates finish within 18 months.
Tuition and fees: $3,940 per 6-month term.
Master data mining, visualization, and SQL—and lead analytics at the business of your choice.

College of I.T.
---
Our online university degree programs start on the first of every month, all year long.
No need to wait for spring or fall semester. It's back-to-school time at WGU year-round. Get started by talking to an Enrollment Counselor today, and you'll be on your way to realizing your dream of a bachelor's or master's degree—sooner than you might think!
---
Top Certifications for Automation Architects
Top industry certifications, along with a degree, are often required by employers of automation architects. That is why WGU offers valuable certifications with degree programs, at no extra cost. Learn more about certifications and how they add value to your résumé.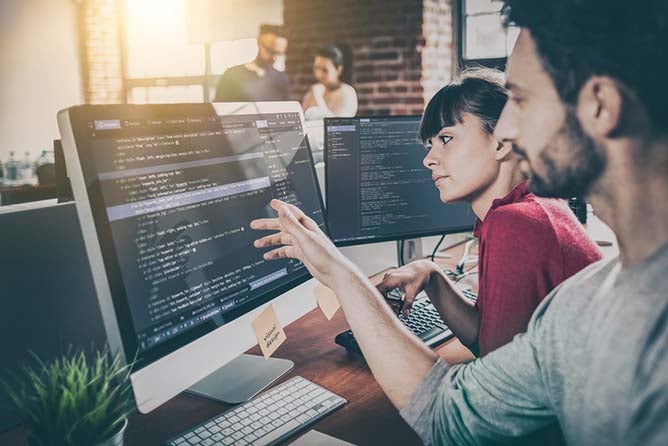 What Skills Does an Automation Architect Need?
Automation architects thrive when they can think outside of the box. They are at their best when they match their technical knowledge and understanding of the company with a creative approach to problem-solving. 
If you are considering a career as an automation architect, you will need to have some of the following skills: 
The ability to assess current business processes and to identify problems
The desire to start and maintain the automation process from start to finish, architecting the framework

Industry knowledge of automation options for a particular process 

Strong and effective communication skills, with an ability to delegate 

High attention to detail 

Determined problem solver 

Experience documenting flow charts, context diagrams, or other system-related architectures 

Cross-cultural and cross-functional working experience 
Familiarity with multiple software programs 

AWS and/or cloud learning knowledge
How Much Does an Automation Architect Make?
$101,114
According to Payscale, the median annual salary range for an automation architect is $101,114. You can expect a base pay much higher than more traditional fields, with a salary range starting around $81,000. With a higher learning degree—like an MSDA—automation architects set themselves up to lead cross-departmental initiatives, oversee large teams, and rank among C-suite executives. 
What is the Job Outlook for an Automation Architect?
Favorable
Automation architects find themselves in a developing field, as it is a fairly new role. While there isn't yet a substantial amount of data that verifies the job outlook for automation architects, as more and more corporations around the world automate their processes, these skilled leaders will find themselves in high demand.
How Long Does It Take to Become an Automation Architect?
4-7 Years