Computer Systems Manager Career Guide
How to Become a Computer Systems Manager
A computer systems manager is an IT professional who develops the technical skills needed to choose, deploy, manage, and scale computer and information systems. 
This demanding IT career requires the specialized ability to work with complex tools, but you also need an understanding of your employer's needs. 
Because this is a decision-making, management-level position that can affect the entire company's performance, most employers prefer applicants with a master's degree or MBA in IT management.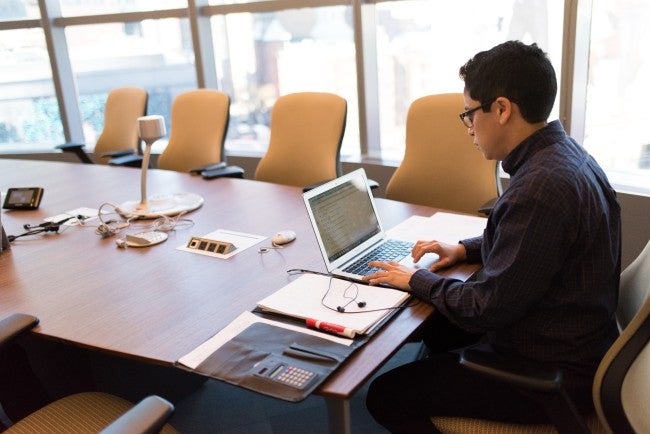 What Is a Computer Systems Manager?
A computer and information systems manager, also known simply as a computer systems manager, is responsible for overseeing the computer and data-related infrastructure for the organization. There may be other job titles that have similar responsibilities as computer systems managers.
IT managers and directors run information technology departments. However, in larger firms, these professionals may focus on a specific area, such as cybersecurity. Though all these job titles are different, the job descriptions of IT managers are similar in many ways, and most of the training required for this type of career is the same regardless of your area of focus.

What Does a Computer Systems Manager Do?
Because of the many subspecialties and differences in a company's size and needs, the duties of a computer systems manager can vary from place to place. Here are some of the most common tasks you might have to handle in this career.
IT Support: Depending on the organization's size and needs, you may be required to provide direct IT support to your colleagues. This may include training employees on how to use the software and digital devices, troubleshooting any issues that arise, and supervising IT in the organization.
IT Management: As a system manager, you will be in charge of an entire department at your organization. Depending on the company's size and industry, you may directly supervise daily operations or delegate different duties to others. In a large company, you will likely also be responsible for charting an overall IT strategy.

Network Management: No large-scale computer system can function without proper networking. As a computer systems manager, you may be required to design, implement, secure, and manage these networks. This includes wired and wireless internet access, cloud computing configurations, and data storage. In larger companies, you oversee network administrators who handle the day-to-day operations.

Project Management: As a systems manager, you will be in charge of the company's IT projects. These duties involve budgeting, planning, and researching new computer systems. You also oversee scaling, testing, and debugging whatever systems you choose.  
Below are other responsibilities you might have as a computer systems manager in some settings.
Researching new systems and networks
Evaluating system functionality and user needs so you can ensure your system meets them

Developing budgets for the company's IT projects and implementing them while ensuring cost-effectiveness

Organizing the purchase of software and hardware

Securing the company's network and data from attacks

Writing technical documentation and training material for the company's computer systems

Preparing reports for upper management on the state of current IT systems

Training and mentoring new employees in the IT department

Staying up-to-date on the latest computer technologies
This role is very versatile and highly dependent on context, so creating a strong base of skills and knowledge through education is important for success. 
What Education Does a Computer Systems Manager Need?
Due to the demands of this role, extensive formal education and industry experience is necessary, both to start and advance in this career. 
To get started on the path to becoming a computer systems manager, you'll need a bachelor's degree. A program focusing on IT management may be an ideal choice, as it will give you training on IT fundamentals, systems, and structures while also giving you valuable knowledge about the business side of IT, such as budgets and strategy.
In order to advance to a management position, you'll likely need an advanced degree. An MBA in IT management is a great option for those who want to advance into management level positions in the IT field. This type of degree program goes in-depth into important leadership and management skills, while also connecting those skills specifically to the IT field.
IT Management – B.S. Business Administration
IT managers are needed in nearly every organization:...
IT managers are needed in nearly every...
IT managers are needed in nearly every organization:
Time: 70% of graduates finish within 41 months.
Tuition and fees: $3,720 per 6-month term.
Some careers and jobs this business degree will prepare you for:

Vice president of risk management
Product security incident manager
Vice president of technical services
CTO and CIO
Director of IT
Key competencies of these online courses align with industry needs: management and leadership, networks and security, and information systems management.
College of Business
MBA Information Technology Management
Earn the online college degree that can move your career into IT...
Earn the online college degree that can move your...
Earn the online college degree that can move your career into IT upper management:
Time: Graduates can finish in 12 months
Tuition and fees: $4,675 per 6-month term.
Sample careers and jobs this business degree will prepare you for:

Chief technology officer
Director of IT services
Senior systems administrator
Management information systems director
Computer and information systems manager
Learn to navigate emergencies, execute strategies, and optimize systems with the competencies within this specialty MBA.
Compare with M.S. IT Management
College of Business
---
Our online university degree programs start on the first of every month, all year long.
No need to wait for spring or fall semester. It's back-to-school time at WGU year-round. Get started by talking to an Enrollment Counselor today, and you'll be on your way to realizing your dream of a bachelor's or master's degree—sooner than you might think!

---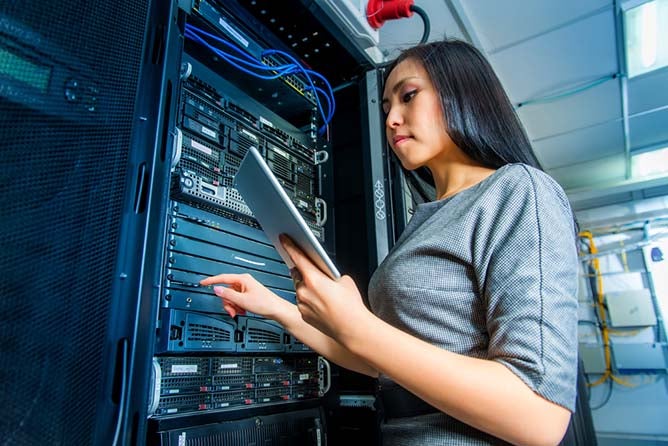 What Skills Does a Computer Systems Manager Need?
Computer systems management requires a diverse set of skills. To succeed in this career, you will have to be a well-rounded professional with both hard and soft skills. 
You will develop the necessary technical skills during your undergraduate and graduate-level studies. You also need to focus on honing soft skills during school and while in an entry-level job. 
Analytical Skills: You should be able to collect and analyze information and make decisions based on your analysis. As a computer systems manager, part of your work will be collecting data from different parts of the organization and using it to create strategies and find IT-related solutions that improve operations and enhance overall performance. 
Communication Skills: You will need good verbal and non-verbal communication skills to excel in this career. You will be required to prepare training material, reports, and company memos. You will also need to talk directly to upper management, colleagues, and subordinates.

Business Skills: Your work directly impacts the company's bottom line, and you will be in charge of forming strategies for the company's IT department, managing projects, preparing budgets, and figuring out ways to cut costs. 

Leadership Skills: You will lead an entire department and work with executive-level employees regularly. You need to build teams and get the best performance out of each employee. 
An advanced degree can also help you build the diverse skill set needed to thrive in this career. 
How Much Does a Computer Systems Manager Make?
$151,150
According to the U.S. Bureau of Labor Statistics, computer and information systems managers had a median annual wage of $151,150 as of May 2020. The top 10% earned more than $208,000, while the bottom 10% earned less than $90,430. Exact earnings depend on education, experience, industry, employer, and location. It is important to note that this job may require you to work more than 40 hours a week, especially when upgrading systems or overseeing other projects.
What is the Projected Job Growth?
10%
According to the U.S. Bureau of Labor Statistics, employment in this sector is expected to grow by 10% from 2019 to 2029. This growth in demand is more than double the national average for all jobs. As firms increasingly digitize their operations, demand for computer system managers will grow, especially since these systems need to be secured and utilize the newest technologies.
Where Do Computer Systems Managers Work?
Varies
Because of the reliance on computers in most industries, systems managers can work just about anywhere. Here are some of the most common places to find employment if you have a computer and information systems degree.
-Healthcare industry
-Insurance companies
-Banking and finance
-Manufacturing
-Educational institutions
-Government agencies
-Technology companies and IT consulting firms
This list is just the tip of the iceberg. You can find computer systems managers just about anywhere, including in relatively small companies and organizations.