How To Become an IT Manager
Do you love working with computers? Do you work well with people? If you answered yes to both questions, then you might want to consider pursuing a career as an IT manager.
You may think that a job in IT is like any other desk job. But it's actually a dynamic and challenging career choice. These days, innovative companies rely on their IT departments to stay competitive. With a 10% growth in the IT field projected over the coming decade, and lucrative salaries for those working in IT, now is an excellent time to start pursuing a career as an IT manager.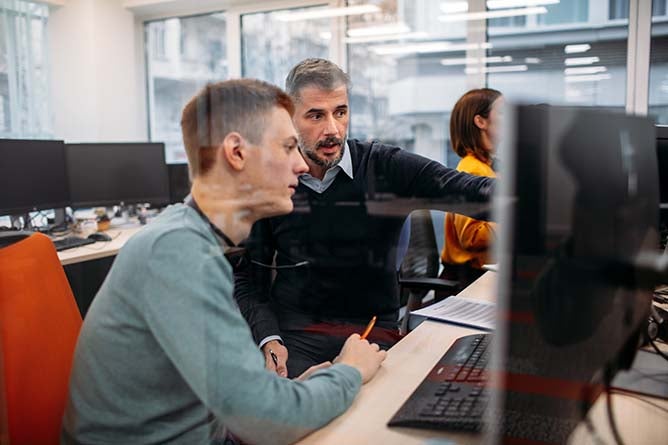 IT managers work in information technology in a managerial capacity. But IT isn't just tech support for a company's employees. The job is typically more varied than that. IT managers take the lead on projects, allocate work among team members, and make sure that the technological side of the company is running smoothly.
Forward-thinking and ambitious IT managers will also stay aware of new technological developments that can be utilized by the company. The fields of information technology and computer science are rapidly growing, and the most effective leaders in IT are those paying attention to emerging trends and technologies.
What Does an IT Manager Do?
As an IT manager, your role is to ensure your company's technological infrastructure is in good shape, and any IT projects in the company are being completed on schedule. This covers a wide variety of different tasks, such as:
Assigning work projects. As an IT manager, your job is to allocate your company's work projects to the teams working under you. You'll need to make sure teams are working well together and meeting their goals.
Ensuring team productivity. Part of an IT manager's job is to make sure that the company's employees can stay productive and on task. Depending on the company, an IT manager may also be expected to choose the company's software and hardware, and to keep everything up-to-date.

Maintaining company networks and servers. A good company stays connected. Employees need to be able to communicate with each other quickly and effectively, and they need to be able to do so without worrying about security breaches or network failures. An IT manager's job will deal with any server errors or security breaches swiftly.
How Do I Become an IT Manager?
Step One: Earn a bachelor's degree.
A fulfilling career starts with a good educational background, and if IT management seems right for you, apply for a bachelor's degree in Information Technology Management. This type of degree will be an important step in preparing to manage an IT department by giving you information and insight into how IT infrastructure works, enhancing your background understanding of information technology, and giving you some key leadership skills focused on technical teams.
Step Two: Get an advanced degree.
To stand out among your peers, consider getting a master's degree. Earning a graduate degree is a great way to boost your resume and keep your career propelling forward. You can apply for an MBA with a focus on information technology management or, if you prefer focusing on the technical side of things, a master's degree in information technology management will give your resume that something extra you've been looking for. Both of these degree programs will combine business and leadership skills with specific IT knowledge and strategy. This is key to preparing you for leading IT teams to success.
Step Three: Keep building your expertise.

A successful career, especially one in management, depends on a lifetime of learning. Try to keep learning new skills and areas of expertise even after you get hired; this will give you plenty of opportunities to keep growing and prove to your supervisors that you're hardworking and ambitious.
Step Four: Build your leadership skills.
A good IT manager must be comfortable managing a team, and that requires leadership skills. Take the lead on work projects whenever possible, and show initiative in all of your work. You can even look for resume-building activities outside of work that will help you grow as a leader.
Best Degrees for IT Managers
IT Management – B.S. Business Administration
IT managers are needed in nearly every organization:...
IT managers are needed in nearly every...
IT managers are needed in nearly every organization:
Time: 70% of graduates finish within 41 months.
Tuition and fees: $3,720 per 6-month term.
Some careers and jobs this business degree will prepare you for:

Vice president of risk management
Product security incident manager
Vice president of technical services
CTO and CIO
Director of IT
Key competencies of these online courses align with industry needs: management and leadership, networks and security, and information systems management.
College of Business
MBA Information Technology Management
Earn the online college degree that can move your career into IT...
Earn the online college degree that can move your...
Earn the online college degree that can move your career into IT upper management:
Time: Graduates can finish in 12 months
Tuition and fees: $4,675 per 6-month term.
Sample careers and jobs this business degree will prepare you for:

Chief technology officer
Director of IT services
Senior systems administrator
Management information systems director
Computer and information systems manager
Learn to navigate emergencies, execute strategies, and optimize systems with the competencies within this specialty MBA.
Compare with M.S. IT Management
College of Business
Information Technology Management – M.S.
A degree for experienced IT professionals ready to lead:...
A degree for experienced IT professionals ready...
A degree for experienced IT professionals ready to lead:
Time: 70% of graduates finish within 20 months.
Tuition and fees: $4,235 per 6-month term.
Included in your program—at no extra cost—is the opportunity to earn the valuable PMI Certified Associate in Project Management (CAPM) certification.
Maximize the opportunities that your IT career path has afforded you—earn your master's and keep moving up. 
College of I.T.
---
Our online university degree programs start on the first of every month, all year long.
No need to wait for spring or fall semester. It's back-to-school time at WGU year-round. Get started by talking to an Enrollment Counselor today, and you'll be on your way to realizing your dream of a bachelor's or master's degree—sooner than you might think!

---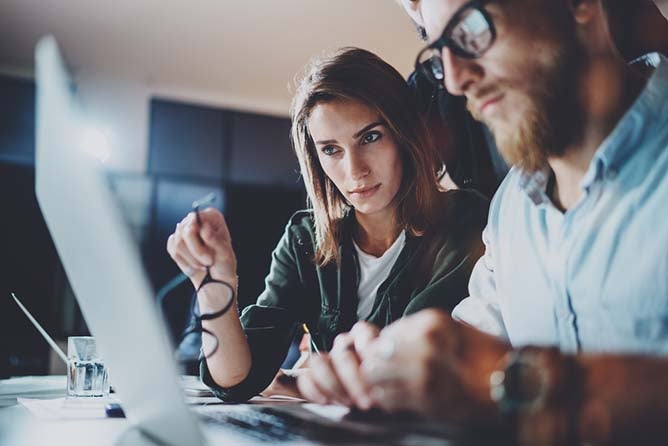 What Skills Does An IT Manager Need?
A strong background in computer science and information technology is certainly useful, but you'll also need to be good at working with people, organizing teams, and communicating effectively with colleagues. The following are some of the most important skills that you'll want to hone on your way to becoming an IT manager.
Computing skills and expertise
Information technology skills and expertise

Personnel and business management skills

Leadership skills

Organizational skills

Communication skills
Remember; there's always room to grow and improve your skills. IT is a diverse, exciting, and constantly evolving field. So keep your knowledge up-to-date.
How Much Does an IT Manager Earn?
$151,150
IT is a lucrative field, and as a manager, you can expect to earn more than the average IT employee. In 2020, the U.S. Department of Labor reported a median annual income of $151,150 for Computer and Information Systems managers. Ambitious IT managers who climb the ranks can expect to earn even more. The industry where you work will also impact your salary level.
What's the Job Outlook for IT Managers?
10%
The U.S. Department of Labor projects strong growth in this field in the coming decade: approximately 461,000 people were reported to be working in Computer and Information Systems Management in 2019, and the field is expected to grow by about 10% between 2019 and 2029. That means plenty of opportunity for anyone who's planning to enter the IT profession right now.
Where Do IT Managers Work?
Varies
IT managers are needed in virtually every industry, from government organizations to hospitals to businesses. Technology is critical to success in nearly every company and organization, so you can find a job as an IT manager pretty much everywhere. You can choose the type of industry where you want to work and take charge of their IT and technical side, helping them reach success.