Java Programmer Career Guide
What Is a Java Programmer?
Java is one of the most important computer programming languages out there. Used by large corporations across the world, Java was created in 1995 by Sun Microsystems. It's known for being easy to learn, but difficult to master. It's often used for web-based software and applications.
Netflix. Spotify. Uber. Airbnb. What do these all have in common? They're using Java in their tech stack. It's no exaggeration to say that Java is used by almost every kind of device out there; from smartphones, and smart devices to your computer and your car. If working on the latest applications and programs that make up the modern world sounds appealing, then consider a career in Java programming.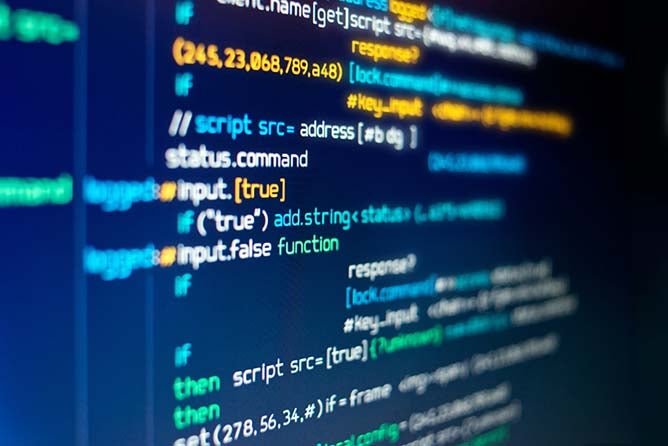 What Does a Java Programmer Do?
A Java programmer is responsible for writing and testing code that achieves the project goals. Of course, this will vary wildly depending on what type of company and product the programmer is working for. But here's a few common threads that run through the day-to-day of most Java programmers.
Writing Java. Being good at coding is the most important part of being a coder. Java programmers will spend most of their days at a computer writing code that gets the task done. That could be anything from online software, back-end tech, or even user interface development.
Analysis, testing, and debugging. Coding isn't easy. The smallest error can mess an entire job up, so a Java programmer requires a patient and logical mindset. They'll be trusted with debugging code, making sure it runs correctly with various browser settings and operating systems and ensuring the project comes out as expected from end to end.

Software Development. A Java programmer might even be involved in the development side of things. That includes collaborating with the rest of the creative team. Java programmers could be asked to set project parameters, help other members of the team understand technical limitations and ensure the project outcome is reached successfully.
How Do I Become a Java Programmer?
The most important requirement for becoming a Java Programmer is a high level of fluency and competency in writing Java code. The proof is in the pudding, as they say, but a good degree in a related subject is an excellent way to prepare for a career in programming. According to the U.S. Bureau of Labor Statistics, most programmers have a bachelor's degree, but some are hired with just an associate's degree.

While fluency in Java computer programming is the most important step, prospective programmers who want to land the best jobs in the field and stay relevant in the face of technological changes should focus on their education. Here are the steps we recommend for students who are serious about a career as a programmer.
Step One: Get a Bachelor's Degree
A solid bachelor's degree in software development will put students in good stead when it comes to job hunting. Students should pick a program that focuses on fluency in Java coding, seeing as that is the bulk of their chosen career. A good degree program will give candidates a strong background in data structure, IT, and web development. Students who want to stand out might consider using this time to learn a 2nd computer language (such as C#) to improve their chances when it comes to job hunting after they graduate.
The software development degree at WGU has two major tracts and students must decide whether they want to focus on Java or C#. It's worth bearing in mind learning multiple programming languages can be beneficial for your career, and in fact, is something that the majority of computer programmers do. 
Step Two: Certifications and Licenses
Getting as many certificates and licenses in computing as possible is highly recommended for students about to enter the competitive job market. Students should look to earn certificates such as; CIW User Interface Designer, CompTIA A+, ITIL, and more. Getting certified in specific languages is even a prerequisite for employment at some companies.
Step Three: Further Professional Development and Job Seeking
Java programmers with a degree and knowledge of various programming languages will be in the best positions when it comes to job hunting. IT is a rapidly changing field with Java receiving major updates every three to 12 months, so programmers are expected to stay on top of their languages and constantly improve their coding skills.
Best Degree for a Java Programmer
Software Development – B.S.
You're a creative and tech genius who wants the bigger...
You're a creative and tech genius who wants the...
You're a creative and tech genius who wants the bigger opportunities.
Time: 70% of graduates finish within 36 months.
Tuition and fees: $3,920 per 6-month term.
Certifications: several CIW and CompTIA included in this program.
Certified Internet Web certification included:
CIW User Interface Designer
CompTIA certifications included:
CompTIA A+
CompTIA Project +
Software development is the second-highest rated specialty within IT. Secure your future with a degree and additional certifications.
College of I.T.
---
Our online university degree programs start on the first of every month, all year long.
No need to wait for spring or fall semester. It's back-to-school time at WGU year-round. Get started by talking to an Enrollment Counselor today, and you'll be on your way to realizing your dream of a bachelor's or master's degree—sooner than you might think!

---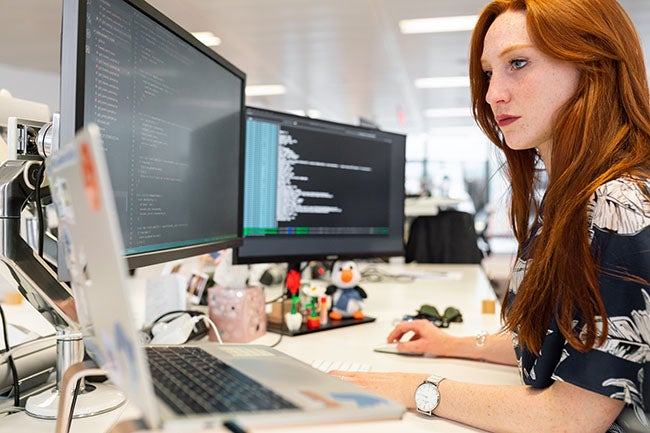 What Skills Does a Java Programmer Need?
To have a successful career as a Java programmer a few skills will come in handy. A programmer will need to be extremely patient - able to spend hours focusing on code to find any errors that might stop programs running as intended and deliver project outcomes on time.
Detail-oriented 
Excellent coding skills

Proficient technical abilities

Understanding of IT applications and systems

Highly-focused 

Ability to work both independently and as part of a team

Problem-solving and logical thinking skills
How Much Does a Java Programmer make?
$89,190
The BLS doesn't give exact information for Java programmers, classing them as computer programmers. Under this heading, a computer programmer can be expected to earn a wage of about $42.88 per hour or $89,190 per year. This will of course depend on one's experience in the field and the average cost of living in-state.
What is the Projected Job Growth?
22%
Application developers in general are expected to see a 22% job growth by the year 2029. As Java systems and applications grow and change every day, more qualified Java programmers are needed to keep up with the demands.

Where Does a Java Programmer Work?
Varies
The majority (38%) of computer programmers work on systems design across a wide variety of industries, as tech has become essential to almost every modern business. The industries they most often find work in are finance and insurance (8%), manufacturing (6%), software publishing (5%), or self-employed (3%).