Network Engineer Career Guide
How to Become a Network Engineer
Data science and network engineering are booming. Topping LinkedIn's Emerging Jobs Report even a number of years back, it's had 650% job growth in less than a decade and expects to add 11.5 million new jobs within the next few years. Now is the time to make your move into this thriving industry. Networking and engineering skills are in constant demand by employers looking to boost their systems.
If you want to know how to become a network engineer or have been wondering, "What does a networking engineer do?" then read this helpful guide covering the network engineer salary range, education requirements, and career path opportunities. With more open networking engineer positions than available candidates, networking is absolutely an occupation worth considering.  High salary levels, a positive job outlook, and high job satisfaction are just a few of the reasons why a network engineering career could be a great option for you.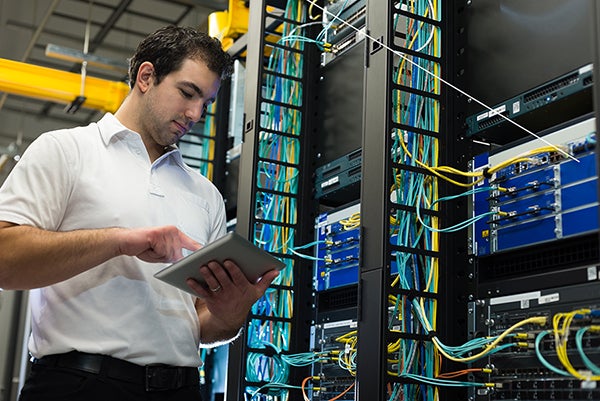 What Is a Network Engineer?
One of the best paying and most stable roles within networking is that of a network engineer. Working closely with other key IT roles, like network administrators, these networking engineers design, build, and maintain networks for optimal performance. And if you secure an engineering role in this burgeoning field, you'll be responsible for managing the foundation of your organization's IT networking system.
As a network engineer, you'll open the door to a world of benefits and opportunities. In addition to working with a diverse group of employees and departments, you'll be able to continue learning and growing as you stretch to think outside the box. Add to that the ability to earn a fantastic salary while working with technology (something you undoubtedly love), and you'll enter a profession that can provide a lifetime of stable, rewarding employment.
What Does a Network Engineer Do?
Nearly every business has a network that keeps it running. These networks can include an organization's phones, computers, routers, intranet, and extranet. It's the job of a network engineer or network administrator to plan, implement, and manage these business-critical systems—which is why it's such a valued, well-paying role.
As this kind of engineer, your daily activities and responsibilities will include:
Configuration—installing routers, VPNs, proxy servers, switches, WAN accelerators, and load balancers.
Maintenance—scheduling network updates, performing upgrades, and installing patches or service packs.

Performance—monitoring and troubleshooting network systems for new ways to improve performance.

Security—performing data backups, updating virus protection software, and implementing new network data security systems.

Optimization—working with external service and support vendors to ensure optimal network operation.
How Do I Become a Network Engineer?
Earn a Bachelor's Degree to Become a Network Engineer
For entry-level network engineer jobs, you'll first need to get your bachelor's degree in network operations, information systems, IT, or computer engineering. You can then gain critical on-the-job experience to become a valued member of your team and move up within your organization or onto other senior-level opportunities.
Since network technology changes quickly, you should also regularly take training and earn several information technology certifications (aka "certs")—many of which may be required by your employer or for future roles. Cisco offers the premier certification for network engineering. Cisco is well known in the IT realm for having top certification options for this career path and, depending on where you earn your bachelor's degree, some certs can be included with your coursework.
Certifications to Advance Your Career as a Network Engineer
Here's a list of certifications that can help advance your skills and career:
Cisco Certified Network Associate (CCNA)
LPI Linux Essentials

ITIL® Foundation Certification

CompTIA A+

CompTIA Cloud Essentials

CompTIA Network+

CompTIA Project+

CompTIA Security+

CompTIA IT Operations Specialist

CompTIA Secure Infrastructure Specialist

Amazon AWS SysOps Administration-Associate
Information Technology – B.S.
Award-winning coursework and value-add certifications make this...
Award-winning coursework and value-add...
Award-winning coursework and value-add certifications make this online program a top choice.
Time: 71% of graduates finish within 30 months.
Tuition and fees: $3,920 per 6-month term.
Certifications: Includes AWS, ITIL, LPI and CompTIA.
The LPI Linux Essentials and ITIL® Foundation Certification are central to this program. Included CompTIA certifications are A+, Network+, Security+, and Project+.
College of I.T.
Network Operations and Security – B.S.
For network operations and security professionals:...
For network operations and security professionals:...
For network operations and security professionals:
Time: 70% of graduates finish within 35 months.
Tuition and fees: $3,920 per 6-month term.
Certifications: several Cisco and CompTIA included in this program
Cisco certification included is the Cisco Certified Network Associate. CompTIA certifications included are A+, Network+, Security+, and Project+. This program will help you develop strong skills in network design, network operations, and security management.
College of I.T.
---
Our online university degree programs start on the first of every month, all year long.
No need to wait for spring or fall semester. It's back-to-school time at WGU year-round. Get started by talking to an Enrollment Counselor today, and you'll be on your way to realizing your dream of a bachelor's or master's degree—sooner than you might think!

---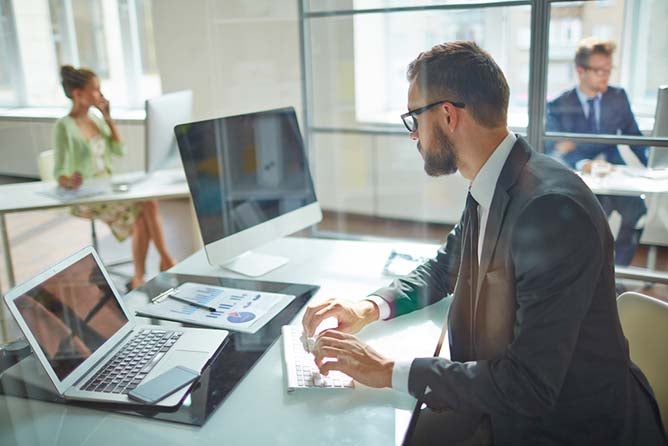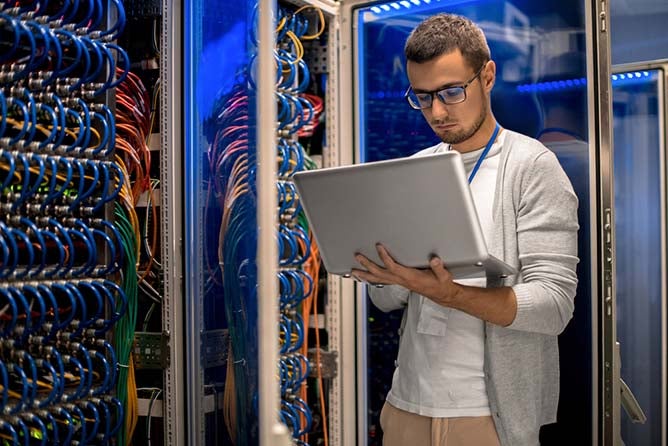 What Skills Does a Network Engineer Need?
Here's a list of skills a network engineer needs in order to be successful. 
Hard skills
As an extension of your education, on-the-job training, and certs, you'll need the following hard skills to be successful in network engineering:
Networking. Knowledge of how to integrate WAN, LAN, SD-WAN, SD-branch, and other networks and architectures is a must.
Programming. You should know popular scripting languages for enterprise-grade networks like Ruby, Python, and Perl. Automation-friendly languages are helpful too, like Java, Ansible, and Terraform, since many network functions are becoming automated.

An understanding of infrastructure. You'll be responsible for maintaining your network's infrastructure and advising on what hardware it will reside on.

Domain-name system expertise. The internet was built on DNS, as are most of today's enterprise networks, so you need to know how to troubleshoot it.

IoT knowledge. Some network architectures, like SD-branch, use Wi-Fi to support their loT ecosystems. And it's expected to significantly impact enterprise network security, infrastructure, and traffic.

An understanding of security and firewalls. While your organization may have an IT security officer, you'll still probably need to deploy and maintain network firewalls.

Virtualization abilities. You must be able to work with automated network functions like SD-WAN to optimize your network's resources.

Ability to work with an MPLS network. Even though it's being replaced by SD-WAN, working with an MPLS-exclusive (or hybrid WAN) network is still an essential skill.
You should also be well-rounded in other basic technical skills, like data research and data entry, since a lot of your job is centered on analyzing system performance.
Soft skills
Network administrators work on a variety of tasks and with a variety of people. So you'll need a broad set of soft skills, including:
Communication—to effectively describe your challenges and solutions to non-IT employees and management.
Organization—to handle multiple tasks and issues simultaneously.

Analytical thinking—to ensure your network and systems perform reliably and proactively identify new requirements as needs evolve.

Problem-solving—to resolve issues as fast as possible to minimize network damage or downtime.

Time management—to keep numerous projects on track and meet ongoing deadlines.
How Much Does a Network Engineer Make?
$87,248
In 2021, the average annual salary for a network engineer is over $87,000 with some lead network engineers making more than $124,000. As in most professions, more years of experience tend to translate to higher pay. Overall, the average salary is quite favorable when compared to most other positions in the market.
What is the Projected Job Growth?
5%
The job outlook for network engineers is positive. The number of positions for network and computer systems administrators is expected to grow by at least 5% from 2020 to 2030 according to the U.S. Bureau of Labor Statistics. The market for all computer occupations is projected to grow by 13%, so overall the field is experiencing notable growth.
How Long to Become a Network Engineer?
4 Years
Since most network engineer positions require at least a bachelor's degree, it usually takes around four years to become a network engineer. Many in this field also pursue a bachelor's degree and certifications to deepen their knowledge and value. Schools like WGU let you work at your own pace to earn degrees and certifications more quickly.