Network Security Analyst Career Guide
How to Become a Network Security Analyst
Almost every established business uses at least one computer. Computing programs help companies complete tasks efficiently, store information, and even sell products and services online. However, computers also expose companies to inherent cybersecurity risks. To protect against these threats, many companies employ network security analysts.
As a network security analyst, you protect a company's computer networks, phone systems, and any other devices with online connections that could be compromised. You'll help to identify and install programs that protect a company's data. You might even help IT teams develop custom programs that protect specific aspects of a company's network or online databases.
If you have a passion for technology and business, and you're looking for an opportunity to put developed research skills to use, the career of a network security analyst is ideal for you.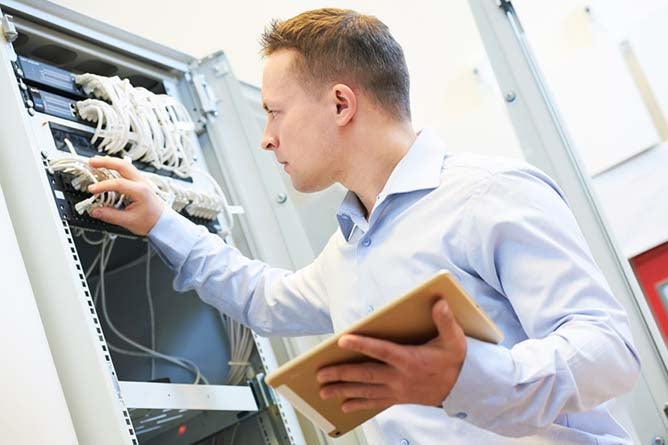 What Is a Network Security Analyst?
A network security analyst is an individual who protects a company's technology from cybersecurity risks. You will proactively analyze a company's hardware applications, software programs, phone lines, and any other resources with an online connection. In consulting with company executives and working alongside technology teams, you'll help to fortify a company's online presence.
Network security analysts typically need a technology-related undergraduate degree. You'll also need to develop a familiarity with current cybersecurity programs and protocols, which you can accomplish through certifications and experience in a related field.
What Does a Network Security Analyst Do?
One of several careers for IT students, a network security analyst spends time fulfilling a variety of responsibilities. On some days, you'll likely spend time communicating with company representatives to determine their exact technology needs. On other days, you'll spend time installing computer programs, firewalls, or other cybersecurity measures to proactively protect corporate computers, databases, networks, and phone systems.
The exact responsibilities of a network security analyst include:
Researching cybersecurity protocols that help protect a company's technology.
Consulting with company representatives to identify their cybersecurity needs and suggest ways to mitigate potential risks.

Installing firewalls and other protective programs across company networks and on employee devices.

Designing programs that reduce cybersecurity risks.

Implementing company policies that ensure all employees are taking steps to keep their own devices and data safe.

Monitoring online activity to identify any potential threats across active company networks.

Actively fighting back against any data breaches.
You'll take on these and other responsibilities in order to protect a company's hardware and software from online risks.
Where Do Network Security Analysts Work?
Network security analysts work for a variety of different organizations. Some network security analysts might be contracted through an independent IT provider to help fortify a company's networks. In other cases, network security analysts are employed internally by private businesses to fulfill a similar purpose.
As a network security analyst, you could work for:
Information technology providers
Technology research companies

Private businesses

Nonprofit organizations

Healthcare organizations

Educational institutions

Financial institutions
No matter where you are employed as a network security analyst, your daily responsibilities will remain largely the same. You'll help to protect your client's databases, devices, and software from cybersecurity threats, whether you work from a hospital or your own home.
What Education Does a Network Security Analyst Need?
Before you can begin a career as a network security analyst, you'll need to fulfill a few educational requirements. First, you'll need to complete a technology-related undergraduate degree to create a foundation of useful skills you will use in a full-time network security analysis role.
Some students choose to obtain a bachelor's degree in network operations and security. These students develop skills in security applications, programming, and scripting, all applicable in the professional world. This program also teaches you to operate some of the most popular operating systems, including Linux.
Other students elect to complete a cybersecurity or information assurance degree program, where they learn how to fight against modern cyber threats. These degree programs can teach you the specifics of web development, IT security, and risk measurement, along with a variety of hacking countermeasures that will help you keep a company's data safe.
Cybersecurity and Information Assurance – B.S.
Protect your career and earning potential with this degree....
Protect your career and earning potential with...
Protect your career and earning potential with this degree.
Time: 70% of graduates finish within 29 months.
Tuition and fees: $4,245 per 6-month term.
Some careers and jobs this degree will prepare you for:
Cyber crimes investigator
Director of cybersecurity
Chief of cyber counterintelligence
Cybersecurity engineer
Cyber operations planner
Certifications included in this program at no extra cost include:
Certified Cloud Security Professional (CCSP) - Associate of (ISC)2 designation
Systems Security Certified Practitioner (SSCP) - Associate of (ISC)2 designation

ITIL® Foundation Certification

CompTIA A+
CompTIA Cybersecurity Analyst Certification (CySA+)
CompTIA IT Operations Specialist
CompTIA Network+
CompTIA Network Vulnerability Assessment Professional
CompTIA Network Security Professional
CompTIA PenTest+
CompTIA Project+
CompTIA Secure Infrastructure Specialist
CompTIA Security+
CompTIA Security Analytics Professional
College of I.T.
Network Operations and Security – B.S.
For network operations and security professionals:...
For network operations and security professionals:...
For network operations and security professionals:
Time: 70% of graduates finish within 35 months.
Tuition and fees: $3,920 per 6-month term.
Certifications: several Cisco and CompTIA included in this program
Cisco certification included is the Cisco Certified Network Associate. CompTIA certifications included are A+, Network+, Security+, and Project+. This program will help you develop strong skills in network design, network operations, and security management.
College of I.T.
---
Our online university degree programs start on the first of every month, all year long.
No need to wait for spring or fall semester. It's back-to-school time at WGU year-round. Get started by talking to an Enrollment Counselor today, and you'll be on your way to realizing your dream of a bachelor's or master's degree—sooner than you might think!

---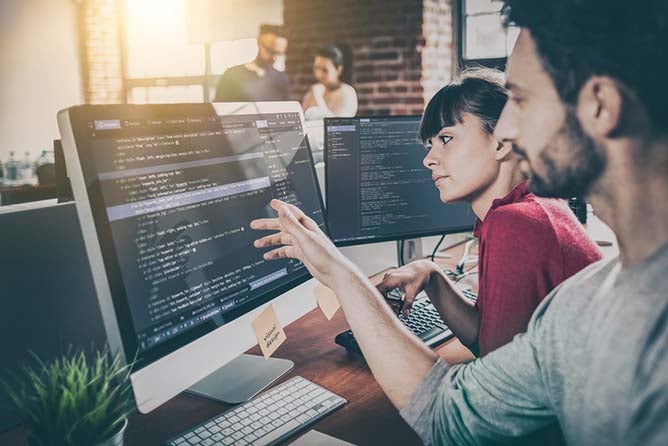 What Skills Does a Network Security Analyst Need?
Network security analysts depend on several skills each day. Whether they're designing security programs or communicating with company representatives, the skill set of a network security analyst helps them satisfy responsibilities.
The exact skills a network security analyst needs include:
Programming: The ability to use programming languages like Java and Python to create and install secure platforms.
Cybersecurity: The ability to implement specific security protocols that keep a company's hardware and software safe from external threats.

Network management: The ability to manage a company's active networks, while allocating appropriate user permissions to each employee.

Troubleshooting: The ability to identify and solve potential issues with a company's networks and programs, eliminating problems before they escalate.

Optimization: The ability to tailor a company's hardware and software according to their preferences, updating them whenever their needs change or new issues arise.

Interpersonal communication: The ability to correspond effectively with technology team members, company representatives, or executives.

Data analysis/reporting: The ability to collect, analyze, and report on a company's data in ways that allow decision-makers to draw productive conclusions.

Research: The ability to identify improvements or advancements in modern cybersecurity and implement those strategies for the benefit of your own company.

Instruction: The ability to teach a company's employees about ways to protect their own devices, information, and login credentials.
These skills and others help network security analysts serve as cybersecurity advocates for their own company, keeping networks and devices continually safe for use.
How Much Does a Network Security Analyst Make?
$72,260
The exact income of a network security analyst varies based on factors that include your employer, employer's location, your years of experience, education, and active certifications. On average, the annual salary of a network security analyst is $72,260, with a range of roughly $45,000 to $105,000.
What is the Projected Job Growth?
31%
Do Network Security Analysts Need Certifications?
Yes
Network security analysts sometimes need to obtain a few certifications. These certifications help keep your technology skills fresh, and can help to separate you from other applicants during the hiring process.
You'll benefit from the following certifications:
-Amazon Web Services (AWS) certifications