Open-Source Intelligence Investigator Career Guide
How to Become an Open-Source Intelligence (OSINT) Investigator
Picture this: you're a business, organization, or individual, hoping to learn more about a person, a competitor, or a ne'er-do-well. Who can you turn to for publicly-acquired intelligence on your target? Who should you turn to? A private investigator, or a professional perfectly attuned to the rigor of the craft as it relates to cybersecurity?
Businesses and other groups alike all rely on OSINT investigators to help them research one target or another using information accessible through the public domain.
OSINT is short for "open-source intelligence"—essentially, the practice of professionally utilizing  publicly available knowledge, data, and documents to gather information. An OSINT investigator is an educated, certified professional hired by police departments, journalists, cybersecurity groups, private citizens, and others to research a person or group of interest, providing insight into incidents of fraud, illicit trade, malicious cybercrime, and similar activities. Usually, these experts will be assigned to a case, by their client, by some body of authority, or by the organization they've been hired to protect with their findings; from there, you'll be asked to build upon the foundation provided, identifying any missing pieces and gaps in knowledge.
What Is an OSINT Investigator?
An OSINT investigator may be called on to assist a number of different types of organizations—corporate clients, individuals, law enforcement, lawyers, and even nonprofits. This type of position exists squarely in the sector of cybersecurity; essentially, an OSINT specialists is the curator of publicly available evidence, curating, interpreting, and presenting everything found, creating a solid foundation from which colleagues will be able to act accordingly.
An open-source intelligence investigator specializes in case or news story development using their employer's dedicated resources alongside open-source intelligence tools and strategies. The investigator is hired by police departments, journalists, cybersecurity groups, private citizens, and others to supplement an investigation or public research project, gather evidence, and create or add to a criminal profile of their suspect. Social media, websites, government records, and even identifying information like IP addresses can all be used to sleuth out the truth. Libraries are also utilized extensively by these experts; books, newspapers and journals, TV and radio broadcasts, photographs, and more can all be used to get closer to the target in question, often bridging gaps that might otherwise be totally out of reach.
You're an OSINT investigator's duties will include collecting information and intelligence, organizing and analyzing it, putting reports together on any relevant findings, and connecting the dots. This intelligence will usually include people, places, organizations, events, and crimes.
What Does an OSINT Investigator Do?
Open-source data collection techniques, including interviewing subjects, conducting academic research, web mapping, and database analysis, are all used to inform an investigation in supplementation of other case evidence as the investigator looks into the people, places, and organizations involved. 
The OSINT investigator may work alongside law enforcement professionals, within a company or group, or even within their own private practice, performing important tasks such as:
Planning a course of action from day one.
Authoring thorough reports on every relevant piece of the puzzle.

Cross-referencing information gathered with other resources, databases, and data sets.

Briefing stakeholders and other leaders, presenting findings clearly and meaningfully.

Writing memos, presentations, and white papers detailing what they've found.

Providing recommendations based on their findings.
How exactly is this work carried out? Active OSINT collection involves making direct contact with the target in question, whereas passive OSINT collection instead relies on third-party sources alone. With experience, you'll become attuned to the accepted conventions and best practices associated with this profession, providing value as both an investigator and a navigator in this world.
Usernames, images, videos, public records and data sets, geolocation, and other public accounts are all fair game within this realm. 
How Do I Become an OSINT Investigator?
If you've already got a bachelor's degree in analysis, intelligence, or cybersecurity, you're well on your way to any of several rewarding OSINT investigator jobs. We recommend pursuing a master's degree in intelligence or cybersecurity if you aspire to go far in this profession. Why?
Senior-level and executive-level careers in cybersecurity usually demand some form of higher education or certification, especially when not directly related to a boots-on-the-ground skill such as hard coding or development. With a master's degree in cybersecurity, you'll be given access to a wealth of resources, mentors, seminars, and other forms of enrichment and first-hand experience
Aside from these fields, open-source intelligence certification can be obtained from a number of reputable foundations, including the National Initiative for Cybersecurity Careers and Studies. An OSINT training course can usually be found locally or online—at a nearby community college, through companies operating in the industry, and through networking events. It's a great way to get started if you're completely new to the profession.
Experience and supplemental certification can boost your income in this field significantly. Other useful certifications include those in CEH (Certified Ethical Hacker), CISSP (Certified Information Systems Security Professional), SANS (SysAdmin, Audit, Network and Security), CCNA (Cisco Certified Network Associate), GCIA (GIAC Certified Intrusion Analyst), and ISC (Interagency Security Committee). 
Best Degrees for a Malware Analyst
Cybersecurity and Information Assurance – B.S.
Protect your career and earning potential with this degree....
Protect your career and earning potential with...
Protect your career and earning potential with this degree.
Employer approval: 74% of graduates finish within 18 months.
Tuition: $3,950 per 6-month term.
Some careers and jobs this degree will prepare you for:
Cyber crimes investigator
Director of cybersecurity
Chief of cyber counterintelligence
Cybersecurity engineer
Cyber operations planner
Certifications included in this program at no extra cost include:
Certified Cloud Security Professional (CCSP) - Associate of (ISC)2 designation
Systems Security Certified Practitioner (SSCP) - Associate of (ISC)2 designation

ITIL® Foundation Certification

CompTIA A+
CompTIA Cybersecurity Analyst Certification (CySA+)
CompTIA IT Operations Specialist
CompTIA Network+
CompTIA Network Vulnerability Assessment Professional
CompTIA Network Security Professional
CompTIA PenTest+
CompTIA Project+
CompTIA Secure Infrastructure Specialist
CompTIA Security+
CompTIA Security Analytics Professional
College of I.T.
Cybersecurity and Information Assurance – M.S.
Become the authority on keeping infrastructures and information...
Become the authority on keeping infrastructures...
Become the authority on keeping infrastructures and information safe.
Time: 76% of graduates finish within 24 months.
Tuition and fees: $4,295 per 6-month term.
Certifications: cost of two EC-Council certs, included.
The curriculum is closely aligned with the National Initiative for Cybersecurity Education (NICE) Workforce Framework, plus includes the opportunity to earn these certifications:

EC-Council Certified Ethical Hacker

EC-Council Computer Hacking Forensic Investigator (CHFI)

This program was designed in collaboration with national intelligence organizations and IT industry leaders, ensuring you'll learn emerging technologies and best practices in security governance.
College of I.T.
---
Our Online University Degree Programs Start on the First of Every Month, All Year Long
No need to wait for spring or fall semester. It's back-to-school time at WGU year-round. Get started by talking to an Enrollment Counselor today, and you'll be on your way to realizing your dream of a bachelor's or master's degree—sooner than you might think!

---
What Skills Does an OSINT Investigator Need?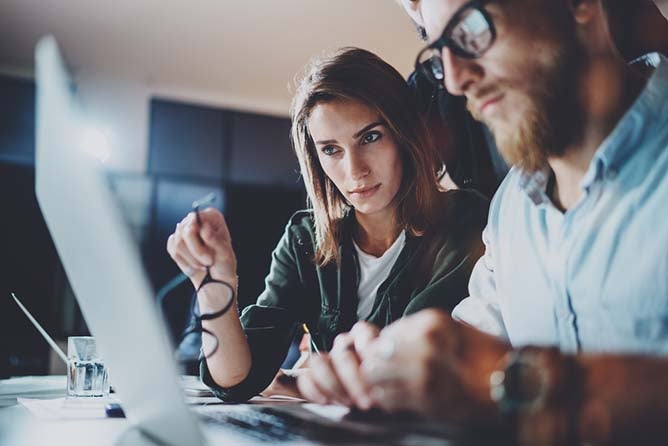 If you're a curious and diligent researcher, then open-source intelligence investigation could be an ideal career path for you. Mastery of the many tools you'll be expected to use is one set of skills to acquire, in addition to:
A very strong understanding of IT, networks, and cybersecurity processes
A keen eye for detail and potentially missing case elements

An analytical, detail-oriented mind

The power of observation—that is, making relevant, real-world connections true to the intelligence gathered

An understanding of the judicial and law enforcement system

Great communication skills, both written and verbal

A historical knowledge of famous exploits and notable cyber criminals

Knowledge of foreign relations and international diplomacy
As with any career in cybersecurity, a passion for justice and an endless desire to get closer to the truth will both serve you well in this profession.
How Much Does an OSINT Investigator Make?
$102,600
On average, OSINT investigator jobs may earn you around $102,600 annually, or approximately $49.33 per hour. This figure accounts for those working with a bachelor's degree alone. With a master's degree, an OSINT investigator salary can be well over $150,000 per year.
What Is the Projected Job Growth?
25%
Experts expect that more than 129,700 OSINT investigator jobs will be available by 2030—unsurprising, as jobs in tech are some of the fastest-growing over the last decade. The U.S. Bureau of Labor Statistics estimates a projected 25% increase in OSINT opportunities, making this line of work one of the most secure in its niche.
Where Does an OSINT Investigator Work?
Varies
OSINT investigator jobs are nothing if not exciting—you may be called to assist fraud investigators, businesses, cybersecurity analysts, journalists, and even agents of the law. Those living in urban areas or other areas of commerce will have no trouble finding work nearby.
At least 62% of U.S. OSINT investigators are able to work from home, although some situations and cases may involve travel or close contact with others on your team.