Risk Manager Career Guide
How to Become a Risk Manager
Many companies use technology to improve their operations. Modern technology can allow any company to communicate effectively, store information, recruit employees, and collect analytics on customer behaviors.
However, the increased use of technology can also put companies at an increased risk for data breaches and cybersecurity concerns. Risk managers help to mitigate these cybersecurity concerns, creating and implementing strategies that minimize an organization's risk of losing sensitive information.
If you have a passion for protecting a company's online interests, in addition to a strong interest in IT and cybersecurity, then the role of a risk manager may be a fulfilling career option.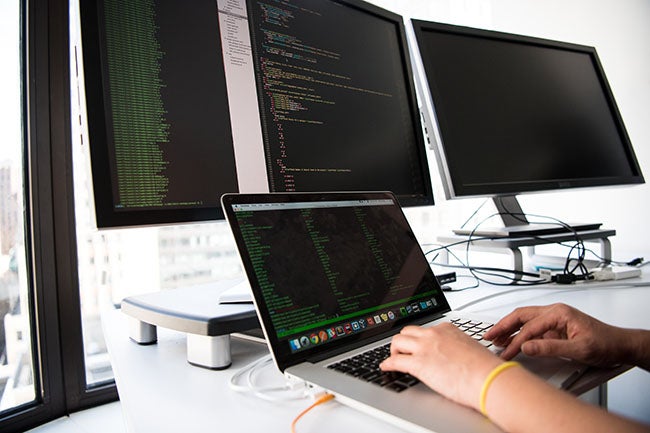 A risk manager is an individual familiar with risk management protocols. They help protect company data, analytics, files, and other sensitive information stored online. As a risk manager, you help to mitigate any potential threats to an organization's digital content. In collaboration with IT technicians and other company representatives, risk managers optimize a company's programs to provide optimal data protection.
The role of a risk manager is one of several careers that require a master's degree in cybersecurity. In addition, risk managers typically need a few years of experience in the cybersecurity field, and sometimes need to obtain a few IT certifications.
What Does a Risk Manager Do?
Risk managers perform a wide variety of tasks. Whether implementing data protection policies or updating an organization's online safety protocols, risk managers work hard to keep a company's data safe.
The responsibilities of a risk manager can include:
Implementing data protection policies that keep all of an organization's data safe and protect against potential cybersecurity breaches.
Researching the latest developments in IT and data privacy.

Optimizing a company's online platforms regularly, to keep all programs safe as cybersecurity threats evolve.

Teaching company representatives how they can take steps to protect their data.

Monitoring the efficiency of existing data protection protocols.

Auditing a company's cybersecurity structures to ensure that they offer sufficient protection for a company's data.

Providing user-friendly risk management reports to executives and other interested company representatives.
What Education Does a Risk Manager Need?
Before you can begin a career as a risk manager, you'll need to complete a few educational requirements. First, you'll need to obtain a bachelor's degree in cybersecurity and information assurance, or in a closely-related field.
This undergraduate degree program helps you develop a familiarity with cybersecurity practices including web development, network security, and data management. These and other learned IT fundamentals transition well into a risk management career.
Risk managers also benefit from a master's degree in cybersecurity and information assurance. You'll further develop your understanding of information security and secure network design as you complete all academic requirements for a risk management career.
What Degrees are Best for a Risk Manager?
Cybersecurity and Information Assurance – B.S.
Protect your career and earning potential with this degree....
Protect your career and earning potential with...
Protect your career and earning potential with this degree.
Employer approval: 74% of graduates finish within 18 months.
Tuition: $4,265 per 6-month term.
Some careers and jobs this degree will prepare you for:
Cyber crimes investigator
Director of cybersecurity
Chief of cyber counterintelligence
Cybersecurity engineer
Cyber operations planner
Certifications included in this program at no extra cost include:
Certified Cloud Security Professional (CCSP) - Associate of (ISC)2 designation
Systems Security Certified Practitioner (SSCP) - Associate of (ISC)2 designation

ITIL® Foundation Certification

CompTIA A+
CompTIA Cybersecurity Analyst Certification (CySA+)
CompTIA IT Operations Specialist
CompTIA Network+
CompTIA Network Vulnerability Assessment Professional
CompTIA Network Security Professional
CompTIA PenTest+
CompTIA Project+
CompTIA Secure Infrastructure Specialist
CompTIA Security+
CompTIA Security Analytics Professional
College of I.T.
Cybersecurity and Information Assurance – M.S.
Become the authority on keeping infrastructures and information...
Become the authority on keeping infrastructures...
Become the authority on keeping infrastructures and information safe.
Time: 76% of graduates finish within 24 months.
Tuition and fees: $4,555 per 6-month term.
Certifications: cost of five industry certifications included
The curriculum is closely aligned with the National Initiative for Cybersecurity Education (NICE) Workforce Framework, plus includes the opportunity to earn these certifications:

CompTIA Cybersecurity Analyst (CySA+)
CompTIA PenTest+
CompTIA Advanced Security Practitioner (CASP+) Optional Voucher
ISACA Certified Information Security Manager (CISM) Optional Voucher
(ISC)² Certified in Cybersecurity (CC)
This program was designed in collaboration with national intelligence organizations and IT industry leaders, ensuring you'll learn emerging technologies and best practices in security governance.
College of I.T.
---
Our Online University Degree Programs Start on the First of Every Month, All Year Long
No need to wait for spring or fall semester. It's back-to-school time at WGU year-round. Get started by talking to an Enrollment Counselor today, and you'll be on your way to realizing your dream of a bachelor's or master's degree—sooner than you might think!
---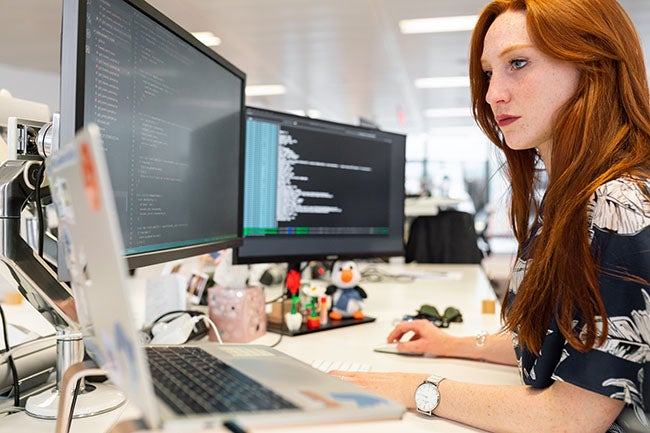 What Skills Does a Risk Manager Need?
Between auditing company platforms and implementing cybersecurity protocols, risk managers need a variety of IT skills. Used well, the IT skill set of a risk manager can help secure an organization's data.
The individual skills that a risk manager needs can include:
Risk assessment. The ability to review a company's online platforms, programs, databases, web applications, and cloud-based applications to identify and eliminate any potential data security concerns.
Auditing. The ability to review an organization's current data protection measures, helping them identify opportunities to keep their information even more secure.

Cybersecurity. The ability to implement proven IT strategies that mitigate potential risks to a company's sensitive information.

Technological proficiency. The ability to operate all devices, online platforms, databases, and cloud services required in a risk management position.

Interpersonal communication. The ability to correspond effectively with all IT department staff members and company representatives.

Problem-solving. The ability to troubleshoot and overcome any potential issues that a company's platforms might face.
Data analysis. The ability to collect and assess a company's data sets to identify trends that can improve a company's operations.

How Much Does a Risk Manager Make?
$89,506
The exact income of a risk manager can vary based on several factors, including your employer, employer's location, years of experience, education, and obtained certifications. On average, the salary of a risk manager is $89,506, with a range of roughly $58,000 to $131,000 earned each year.
What Is the Projected Job Growth?
33%
Risk managers are expected to experience a favorable job outlook over the next decade. Employment for all information security analysts is expected to grow 33% from 2020 to 2030, a growth rate well above the average across all occupations. Risk managers should find themselves busy for years to come as the demand for IT analysts continues to grow. Increases in cybersecurity threats are causing many businesses to evaluate their own data security needs before hiring independent or internal risk management staff.
Where Do Risk Managers Work?
Varies
Risk managers can work in a variety of different locations, depending on the preference of their employer. Many risk managers are employed specifically at financial institutions, where they often work in tandem with internal IT teams to keep user data safe. Other risk managers work with various government agencies, protecting sensitive federal information.
Risk managers can work in the following locations:
-Banks
-Credit unions
-Accounting firms
-Financial planning and wealth management companies
-Insurance agencies
-Government buildings
-Federal investigative agencies
Ultimately, your working environment as a risk manager is often determined by your employer.