Scrum Master Career Guide
A scrum master is responsible for implementing scrum practices within a project team. They also form a bridge between the scrum team and those who work outside of the team. 
Scrum masters need to have strong leadership skills to provide the guidance and direction needed for their team to complete technology projects. They also need to be able to mentor and foster an environment of independence where their team members can develop solutions without relying on a manager to resolve issues.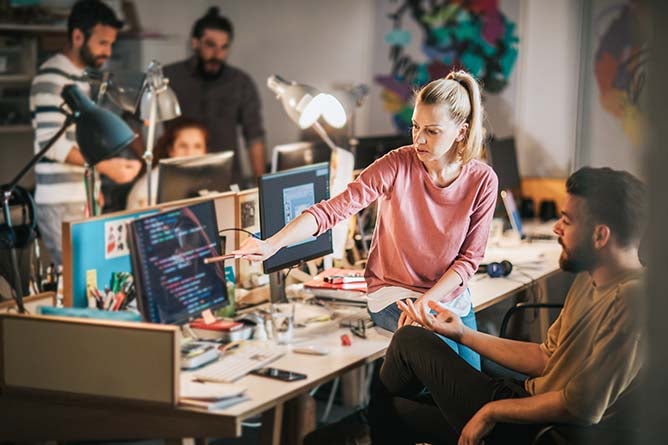 What Does a Scrum Master Do?
A scrum master helps manage information exchange among team members, but is not the leader of the team. Instead, they facilitate exchanges and interactions with the team. Scrum masters build consensus on next steps, keep everyone on task following agreed-upon rules, and do everything they can to maximize the team's performance.
Scrum masters in various industries share common duties:
Work with team members to establish timelines for project stages called "sprints"
Ensure their team has the resources needed to complete tasks

Remove obstacles that could slow down a timeline

Schedule and attend a variety of meetings, referred to as "ceremonies"

Ensure the team follows best scrum practices throughout a project

Hold meetings after sprints to review progress and setbacks

Encourage a positive working environment for all team members
How Do I Become a Scrum Master?
Scrum masters need a combination of education, training, and certifications to develop the skills needed for their roles. A bachelor's and master's degree can be extremely beneficial in preparing someone for a role as a scrum master.
Most scrum masters will begin their career by earning a bachelor's degree to be a competitive candidate in the field. A specialization in information technology can be a great fit, giving candidates the opportunity to learn about information technology fundamentals as they prepare for a role focused on tech. 
Because scrum masters are often managers leading teams and implementing processes, It's also often useful to have a master's degree in information technology management to up the chances of being hired for this role. An IT management degree focuses on combining the business, strategy, and organizational elements of IT to help students be well-versed in leadership of IT teams.
After getting a degree and gaining work experience, most enter this career through a recognized scrum certification program, such as: 
The certification program and exam covers scrum principles and practices, including project management, team building, sprints, release planning, progress reporting, and scalability. 
Once you pass the exam, you'll receive a copy of the certificate to become an official scrum master. Scrum master certifications expire every two years. To remain a recognized scrum master, you'll need to pay a fee to renew your certificate. 
Scrum masters receive training on the job where they learn about their company's policies and procedures and about the product or service they create. They typically undergo ongoing education and training to ensure they maintain their current knowledge and to learn new techniques. Ongoing training can include courses, scrum conferences, or conferences in their industry. 
Best Degrees for a Scrum Master:
Information Technology – B.S.
Award-winning coursework and value-add certifications make this...
Award-winning coursework and value-add...
Award-winning coursework and value-add certifications make this online program a top choice.
Time: 71% of graduates finish within 30 months.
Tuition and fees: $3,920 per 6-month term.
Certifications: Includes CIW, ITIL, LPI and CompTIA.
The CIW User Interface Designer, LPI Linux Essentials and ITIL® Foundation Certification are central to this program. Included CompTIA certifications are A+, Network+, Security+, and Project+.
College of I.T.
Information Technology Management – M.S.
A degree for experienced IT professionals ready to lead:...
A degree for experienced IT professionals ready...
A degree for experienced IT professionals ready to lead:
Time: 89% of graduates finish within 24 months.
Tuition and fees: $4,235 per 6-month term.
Included in your program—at no extra cost—is the opportunity to earn the valuable PMI Certified Associate in Project Management (CAPM) certification.
Maximize the opportunities that your IT career path has afforded you—earn your master's and keep moving up. 
College of I.T.
---
Our Online University Degree Programs Start on the First of Every Month, All Year Long
No need to wait for spring or fall semester. It's back-to-school time at WGU year-round. Get started by talking to an Enrollment Counselor today, and you'll be on your way to realizing your dream of a bachelor's or master's degree—sooner than you might think!

---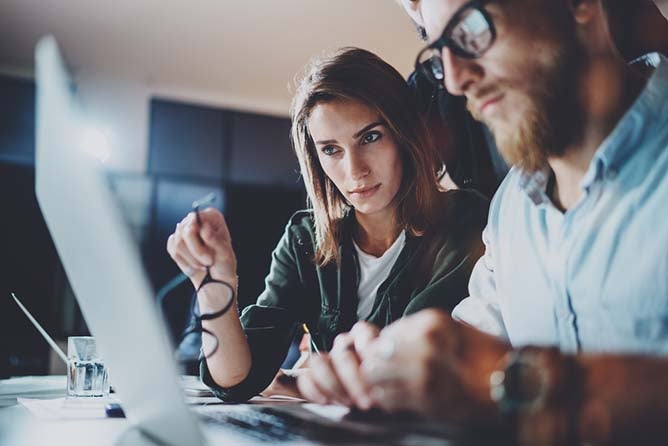 What Skills Does a Scrum Master Need?
Scrum masters need to develop certain skills to be successful in their roles. These include: 
Communication. Scrum masters need to communicate effectively with all team members and stakeholders to ensure a project's success. They facilitate and take part in team meetings throughout a project's progress. They also serve as a liaison between project teams and stakeholders. 
Time management. Scrum masters are the facilitators of project timelines and sprints. They communicate with their teams to gather requirements. They coordinate achievable sprints to maintain consistent progress throughout projects. 

Organization. Scrum masters ensure their team completes each part of a project. They review each step and ensure team members have the necessary resources to perform their duties. They also remove obstacles that could prevent their team from working. 

Computer skills. Scrum masters use time-management software to plan meetings and schedules. They often communicate and manage projects through online platforms. 
How Much Does a Scrum Master Make?
$92,632
Scrum masters are some of the most highly paid professionals in any field. Salaries can vary by region and metropolitan area. The average salary for certified professionals in this field range from $92,632 to $118,353. 
-Glassdoor: $96,625
-Payscale: $92,632 
-ZipRecruiter: $118,353 
What is the Projected Job Growth?
10%
According to the Bureau of Labor Statistics, employment of computer and information systems managers will grow 10 percent from 2019 to 2029. This much faster than the average for all occupations. Demand for computer and information systems managers will grow as firms expand their business to digital platforms.
Where Do Scrum Masters Work?
Varies
Server architects will work in a wide variety of locations, depending on the nature of their employer. Because they are responsible for much of the early-stage server development, many server architects regularly maintain communication with clients from a project's onset. Every industry relies more on technology now more than ever, and server architects who work in an IT team to help create the best infrastructure for an organization's technical needs are key.