How To Become a Server Technician
If you're interested in building computers and fixing tech problems, then becoming a server technician might be the career for you. 
This job involves analyzing, troubleshooting, and fixing server problems, all while minimizing any disruption to the company you work for. The specifics of your role will vary from position to position, but a strong background in IT is a must.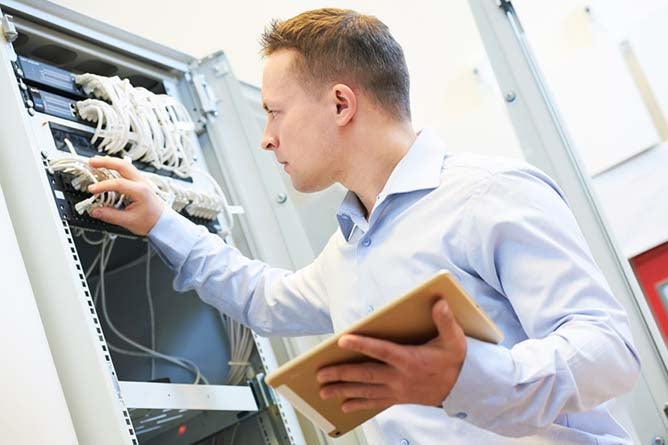 What Is a Server Technician?
A server technician makes sure an organization's server systems are running smoothly. They do this by running periodical maintenance, fixing any problems, and integrating new servers into the network. This type of position is suited to those who like problem-solving and don't mind the pressure of a company's entire network resting on their shoulders.
What Does a Server Technician Do?
A server technician will spend most of their time working in the office. It's a key role in the IT industry, and one with a fair variety of scope. So let's dive into what some common aspects of the job might be.
Server maintenance and troubleshooting. Maintaining the smooth running of an organization's server system is the most important task for a Server Technician. You'll be checking disk usage, updating the operating systems, managing RAID alarms, checking for hardware errors, and whatever else might be necessary to make sure the network is functioning as intended.
Creation and Integration. A server technician has to know computer hardware inside and out. You might be asked to build a server from scratch and integrate it into the existing network. The more servers on a system, the better you can optimize the network's overall performance. Plus having additional servers means you can assign specific tasks to each one. So when something does go wrong, the troubleshooting process is streamlined and far easier to sort out. The server integration process usually happens after business hours, in order to minimize any company downtime. You might be called in at night to replace a server, download all the updates, and make sure everything is working as it should.
Support and Assistance. Despite the job title, you might not just be handling servers. Your job could include managing support for desktop computers across the organization you work for. If a PC is having trouble on the network, your job will be to find the source of the problem and fix it. Being a great server technician means the company will barely know you're there—because everything is running so smoothly.
"After I graduated from WGU, I quickly got a much better job and nearly doubled my salary." Eric Gardner
B.S. Information Technology

How Do I Become a Server Technician?
A server technician is a good entry-level career. You need a solid foundation in computer knowledge and a thorough understanding of all the technologies involved in server maintenance. A BS in IT would be a great choice to set you up for your new career. 
Most employers would expect you to show a keen understanding of computers and IT, and perhaps even proof of experience in this field. Some server technicians might even pursue an MS in IT, in order to boost their chances when applying for managerial positions.

Another way to pad out your resume when applying for a role as a Server Technician is doing an internship at a company, or studying for certificates in different types of system protocols. Essentially you'll want to show a prospective employer that you're always able to stay on top of the ever-changing world of IT.

Best Bachelor's Degrees For Server Technician:
Information Technology – B.S.
Award-winning coursework and value-add certifications make this...
Award-winning coursework and value-add...
Award-winning coursework and value-add certifications make this online program a top choice.
Time: 71% of graduates finish within 30 months.
Tuition and fees: $3,920 per 6-month term.
Certifications: Includes CIW, ITIL, LPI and CompTIA.
The CIW User Interface Designer, LPI Linux Essentials and ITIL® Foundation Certification are central to this program. Included CompTIA certifications are A+, Network+, Security+, and Project+.
College of I.T.
---
Our online university degree programs start on the first of every month, all year long.
No need to wait for spring or fall semester. It's back-to-school time at WGU year-round. Get started by talking to an Enrollment Counselor today, and you'll be on your way to realizing your dream of a bachelor's or master's degree—sooner than you might think!

---
Top Certifications For Server Technicians
Certifications combined with a degree can make you even more qualified for server technician roles. Certifications demonstrate to your employer that you have top-industry skills that will directly be applicable to your daily work. The online degree program at WGU offers these top industry certifications along with your degree at no extra cost. This helps you boost your résumé before you even graduate. Some of the best certification options for server technicians include: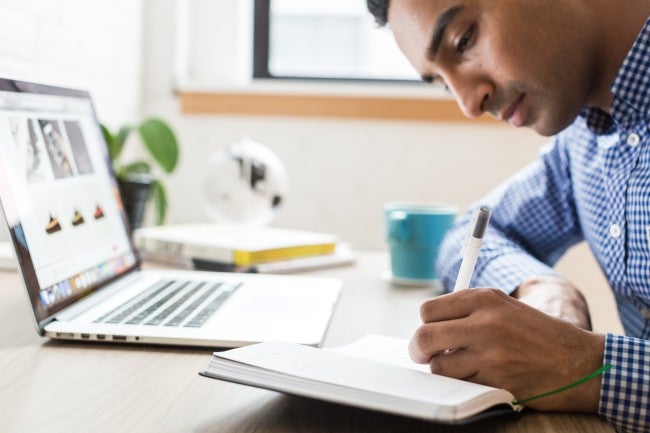 What Skills Does a Server Technician Need?
A good server technician needs a range of skills to prosper at work. While computer skills are a given, you'll also need to be skilled at solving problems under pressure, and have a flexible attitude to working hours. You need:
Problem-solving skills

A high rate of computer literacy (Windows, Apple, Linux)

An eye for detail

An aptitude for technical writing

Clear communication skills

The ability to work in a team

How much does a Server Technician make?
$55,110
According to BLS, a server technicians median wage is about $55,110 per year. If you're an experienced technician you could be able to earn a significant amount more—the top 10% of server technicians make around $110,450 every year. Although this will of course vary depending on what state you're living in, and your level of experience.
What is the job outlook for a Server Technician?
8% Growth
The outlook is rosy, with jobs in this sector expected to grow 8% during the 2019-2029 period. Companies are always upgrading their I.T. systems, meaning the demand for qualified technicians to oversee these processes is steadily rising.
And with the COVID-19 pandemic, there's been an increased demand for these types of services from the healthcare industry as a whole. Any qualified server technician with decent experience should have a bright future ahead of them.
Where does a Server Technician work?
Varies
A server technician can usually be found in the company or office. While many of them do work the 9-5 shift, server maintenance is a top priority. So whenever there is a problem, you might be on call. That means you should be comfortable with working weekends or nights. Server technicians are needed in virtually every industry because every organization utilizes tech to help enhance their organization and meet their goals. So server technicians are required to troubleshoot and fix any issues that could arise.