Transportation Planner Career
How to Become a Transportation Planner
Have you ever stopped to wonder what makes traffic lights operate like clockwork to keep the vehicles on your city's streets flowing smoothly? We benefit from the precision of traffic signals, road signs, pedestrian crosswalks, bike lanes, and more on a daily basis, but who exactly keeps these things running?
 Traffic control is just one of many aspects in city planning and management. Urban design spans a multitude of complex systems and policies that affect the daily lives of city residents. When it comes to completing your morning commute to work or meeting your weekly cycling goal, you have transportation planners to thank.
Transportation planners—sometimes known as "trip planners"—are responsible for developing and applying transportation strategies to meet road users' needs. They play a key role in planning streets, designing public bus routes, maintaining parking lots, and more. Perhaps even more importantly, transportation planners seek to realize the transportation system of the future. It's a broad field, too, with areas covering the design, location, implementation, and maintenance of public and private transportation routes and facilities.
What Is a Transportation Planner?
A transportation planner is a type of urban planner who specializes in creating safe, efficient transportation systems that can stand the test of time. These planners work closely with city management and local government leaders to research ways to get the most out of city land use, solve traffic problems, survey road users, analyze transportation data, and more.
 For example, a transportation planner might use computer software to test a proposed roadway to minimize potential traffic congestion. Or a team of transportation planners may coordinate with civil engineers to develop a plan for a light rail system, taking into account a city's population and layout. Many transportation managers work for the government while others work with private companies or organizations.
Those looking to become professional transportation planners will find a variety of specialized roles in the industry with job responsibilities that put their analytical, mathematical, and communication skills to good use.
What Does a Transportation Planner Do?
Transportation planners keep busy with a wide range of day-to-day tasks. These include the following:
 Studying and interpreting proposed transportation projects, weighing strengths against weaknesses.
Evaluating the legality of current and future transit infrastructure.
Drafting reports that outline research findings, including how to resolve transportation problems.
Accepting, rejecting, or modifying proposed plans.
Researching ways to improve transportation efficiency, reduce environmental impact, lower project cost, and implement other improvements.
Designing plans for new projects like parking lots, bus facilities, and bike lanes.
Using software-based planning programs and geographic information systems (GIS) for coordinating proposed transportation projects.
Presenting plans to legislative groups and advocating for cooperation.
Submitting bids and writing grants to secure project funding.
Overseeing project development and implementation.
Adhering to project timelines and budgets.
How Do I Become a Transportation Planner?
To prepare for a career in transportation planning, you should determine which related degree program would suit your interests most and decide how far you'd like to take your education.
Earn a bachelor's degree in supply chain and operations management, data analytics, civil engineering, geography, environmental science, or a similar field. Be sure to identify which field of study interests you the most since many undergraduate programs could serve as good foundations for transportation planning. You might choose a degree program with an emphasis in business, engineering, social science, or a blend of all three.
Obtain certification. Some states require that you get certified or licensed before you begin a transportation planning career. Even if not required, some planners choose to earn a certificate in order to stand out to potential employers. Common certifications include the Certified Transportation Planner and Certified Urban Designer certifications as well as the Advanced Specialty Certification in Transportation Planning.
Consider getting a master's degree for managerial roles. A master's degree can give you the skills needed for the research you'll conduct as a transportation planner. It could also qualify you for a senior transportation planner position with a higher salary. Relevant master's programs might include environmental management, urban and regional planning, strategic management, and data analytics.
Apply for transportation planner jobs. When applying for a job in this industry, remember to draft an effective résumé and cover letter that describe your education background and internship or work experience. You might also use a social networking app like LinkedIn to help narrow down your job search.
Best Degrees for a Transportation Planner
Supply Chain and Operations Management – B.S.
This online supply chain and operations management program will...
This online supply chain and operations...
This online supply chain and operations management program will prepare you for real-world experiences in business.
Time: 70% of graduates finish similar programs within 42 months.
Tuition: $3,575 per 6-month term.
Courses: 41 courses in this program.
Some careers and jobs this business degree will prepare you for:

Operations Manager
Facilities Manager
Industrial Production Manager
Distribution Manager 
Buyer/Purchasing Agent
Project Management Specialist
With incredible growth opportunities in supply chain and operations management, this program helps prepare student to meet industry needs and become credentialed experts.
College of Business
Lean into data, and walk away with a cutting-edge online degree:...
Lean into data, and walk away with a cutting-edge...
Lean into data, and walk away with a cutting-edge online degree:
Time: 70% of graduates finish within 37 months.
Tuition and fees: $3,735 per 6-month term.
Courses: 39 total courses in this program.
Certifications in this program at no additional cost include:
AWS Cloud Practitioner
CompTIA Data+
CompTIA Network+
Udacity Nanodegree—a unique, highly recognized credential designed to prepare you for a career in data analytics
MSI Change Management (Optional Certification)
Certiprof Design Thinking Professional Certificate (Optional Certification)
There are many job titles a degree in data management and data analytics will prepare you for, including:
Data Scientist
Automation Architect
Business Analyst
R Programmer

AI Trainer
Tableau Report Developer
QA Analyst
Python Programmer
Analytics Manager
Data Analyst
Database Administrator
Statistician
College of I.T.
---
Our Online University Degree Programs Start on the First of Every Month, All Year Long
No need to wait for spring or fall semester. It's back-to-school time at WGU year-round. Get started by talking to an Enrollment Counselor today, and you'll be on your way to realizing your dream of a bachelor's or master's degree—sooner than you might think!

---
What Skills Does a Transportation Planner Need?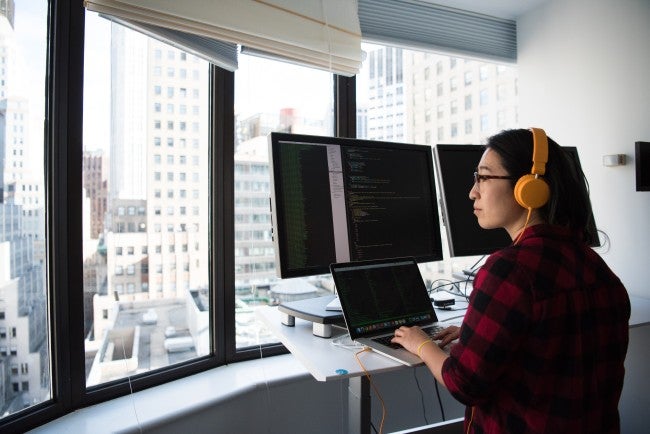 Transportation planners work in a space that requires a varied skill set. They should acquire skills in areas like business, environmental science, math, and more. These skills include:
Excellent oral and written communication. Most, if not all, transportation planners need to write out project plans, research findings, and financial proposals for legislative and engineering leaders. They also must negotiate with these individuals to persuade them to greenlight projects. That's why it's crucial that these planners possess above-average communication skills. 
Thorough understanding of governmental transport and planning policies. To take initial project concepts to completion, transportation planners should be familiar with how their local or state government approaches city management. This understanding can facilitate and encourage cooperation between government leaders and planners.
Ability to model and analyze traffic flows using mathematics and computer applications. Nowadays, transportation planning relies heavily on computer programs that can help predict traffic patterns and identify potential problems. But to use these programs effectively, planners should have a firm grasp of mathematics—especially calculus.
Analytical skills. A transportation planner should develop good analytical skills in general so that they don't miss crucial details that could make or break a project's success.
Interpersonal skills. Whether in entry-level roles or management roles, transportation planners need to be able to communicate well with coworkers, leaders, and team members so that everyone stays on the same page.
Negotiation skills. Planners won't get far with certain projects if they're unable to negotiate budgetary and resource concerns with other managers and leaders.
Organizational skills. Transportation planners can focus on doing good work when they keep their workspace clean and organized.
How Much Does a Transportation Planner Make?
$78,500
According to the U.S. Bureau of Labor Statistics (BLS), transportation planners made an average annual salary of $78,500 in May 2021. The highest-paying transportation planning jobs in that year were in federal government while the lowest-paying jobs were in local government.
What Is the Job Outlook for a Transportation Planner?
4%
The number of jobs in urban and regional planning is projected to grow by 4% from 2021 to 2031, according to the BLS. Additionally, about 3,800 openings for urban and regional planners are projected each year between 2021 and 2031.
Where Does a Transportation Planner Work?
Varies
Usually, transportation planners work alongside government agencies at the local, state, and federal levels. Many also work in the private sector for architectural and engineering firms or other consulting firms. Regardless of the setting, transportation planners share the same goal—developing, improving, and maintaining transportation infrastructure.
As you ready yourself for a transportation planning career, consider WGU for a bachelor's or master's program that can point you in the right direction. WGU offers accredited, online programs in supply chain and operations management and data analytics designed to prepare you for a long-term career in transportation planning or a similar field.
All of our programs are flexible, with no set log-in times for coursework and assessments. Plus, with a competency-based education model that lets you progress as quickly as you master the material, you could reach your dream transportation planning career faster.