The total number of female athletes competing in track and field at the high school level in the US during the 2016-7 academic year.
Percentage of female US high school track and field athletes who go on to compete at college at any level.
Percentage of female US high school track and field athletes who go on to compete at NCAA Division I Schools.
Running toward something better.
From her time as a college-level track and field athlete to the challenges of earning a graduate degree as a wife, mother, and working professional, Connie Washington has always relied on her competitive mindset to defy expectations and achieve success on her own terms.
Connie (Kelly) Washington, 1983.
"My dad was a runner in high school, and he thought I was pretty quick (for a kid)," recalls Connie Washington, former NCAA track and field athlete and Western Governors University alumna. "That's how it all started for me, as a little 7- or 8-year-old girl in these little AAU (Amateur Athletic Union) meets around Salt Lake City, Utah."
In the years that followed, the promising young athlete gained one victory after another.

Soon, Connie's weekends were spent on the road with her dad—traveling to neighboring states in the pursuit of more opportunities to compete. Her confidence and talents grew. Yet, Connie never fully understood her potential for greatness until her freshman year in high school.

"My very first meet was up at the University of Utah, an invitational, which is a meet that all the high schools in the state go to. I didn't have the greatest form, but somehow, some way I won the first invitational I was at in the 200 meters," Connie says.
"So, that's kind of when I realized that I might be able to compete at a level that many people don't get to. I thought, Holy cow, maybe I can do this!"
Honored as a Women's Indoor Track M.V.P.
Connie continued to break records and receive accolades as a high school track star—including district and state championships. Her efforts would not go unnoticed.
She would receive an athletic scholarship from Weber State, an NCAA Division 1 school in the Big Sky Conference.
The year was 1982. And Connie pushed herself even further. In college, she was now a member of an elite group of athletes—each a high school star in their own right—brought together from different parts of the country to compete as one singularly focused team.

"My sophomore year, we actually won the first championship … the first women's (conference) championship that (the) Weber State team won. We weren't supposed to win that meet. We won the indoor championship. And I had amazingly won the long jump at that meet, won the 400, and we won the 400-meter relay. And so that was pretty exciting. It was nice to get the individual wins, but we were really pleased as a team."

As her track and field career progressed, Connie garnered her share of "Most Valuable Athlete" awards and nominations at a number of intercollegiate conferences and regional invitationals. Looking back, one event still leaves an impression on Connie today 34 years later.
"We found ourselves on the track with the U.S. Women's Olympic Team which was … awe-inspiring. It had Alice Brown, Florence Griffith-Joyner, also known as 'Flo Jo.' She was the anchor on the relay. And I was the anchor on the relay. We competed in the same race. I will say that they finished quite a bit ahead of us. But it was just exciting to be in the presence of some of those Olympic runners. So that was one of the highlights of my running career."

She would leave college that next year with an associate's degree—drawing her running career to a close. In short time, Connie would begin a new chapter in her life: becoming both a wife and a mother. As the years went by, she vowed not to lose sight of the one goal that eluded her at Weber State: completing a bachelor's degree in business.

It would take 30 years for Connie to recognize an opportunity to pick up where she left off. And she took it. "I'd been considering going back to school because my two youngest children were about to graduate from college and I decided I needed to have my bachelor's. I did some research. WGU was very affordable, and I'd heard some good things about it. I found that it was the best bang for my buck and the best program for where I was in my life at that time."
In retrospect, she attributes her success at WGU to her experiences as a competitive runner. 
"Running has taught me so many valuable lessons. I was a sprinter. So I like to move quickly. I like to get things done. That's my mindset."
Olympian Florence "Flo Jo" Griffith-Joyner
"I wasn't a long-distance runner. I wasn't the type of person who could go for a long run and clear my head. I want to get in there, compete, get it done, and go on to the next thing."
Using this no-nonsense approach, Connie completed her bachelor's degree within a year's time. Then, earned her master's degree in management and leadership in less than four months. 

"It's interesting when I think about what running taught me and how I was able to carry that over into my schooling to get my degree (at WGU). I learned that it's on you...it's individual goals…it's on me to get it done. And finish strong. That's the same thing I did during my time at WGU. There were people to support me. But, it was me getting up in that office (to study) when maybe I didn't want to. So there were a lot of parallels to being motivated, being self-driven, and to have a mindset that this is on me to get done, so I'm going to do it."

Although Connie no longer runs competitively, she does coach track for youth athletes in her community. She's also a featured Hall of Fame athlete at her alma mater: West High School.

Not that Connie is one to dwell on the past. Always striving to achieve her personal best, she's already planned her next move— earning an MBA at WGU. A goal which already was achieved by her own husband, who was inspired in part, by Connie's example as a model WGU student.

If an air of competition exists between Mr. and Mrs. Washington, it starts and ends in the classroom. Not on the track.

"Yeah, the days of sprinting around the track are over for me. (But) I've got him beat by miles. He didn't get that gene. Don't tell him I told you that!" she laughs. 
Women who made Olympic history.
---
American sprinter Betty Robinson becomes the first women's 100m Olympic champion.
---
Alice Coachman is the first black woman to win an Olympic gold medal in the high jump.
---
American sprinter Wilma Randolph earns the gold in the 100m, 200m, and 4 x 100m relay.
---
American sprinter Florence Griffith Joyner sets a world record in the 200m at 21.34 seconds.
---
Allyson Felix becomes the most decorated U.S. woman in Olympic history with 7 career medals.
---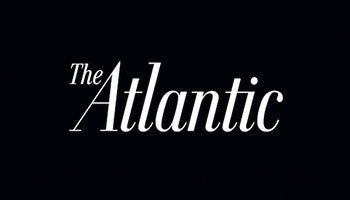 The Atlantic celebrates "A College without Classes."
Competency-based education is changing the way students think about education in the 21st century—and WGU pioneered it more than two decades ago. The Atlantic takes a look at how this innovation is improving opportunities for more students.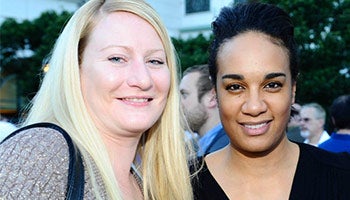 WGU's uniquely supportive faculty model scores high.
The Chronicle of Higher Education examines WGU's track record of extraordinarily high marks for providing students with personalized faculty support and the way WGU "connects students and mentors with surprising success."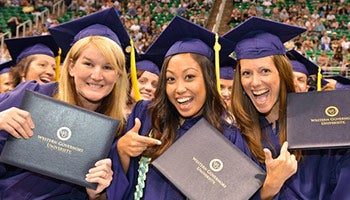 Changing higher ed by changing individual lives.
"Disruptive innovation" is all about rethinking the way we've always done things—and offering something better. LinkedIn observes that WGU is doing that in the higher education industry by "helping people disrupt themselves."
---
Four colleges, one university.
All of our degree programs are carefully chosen with employment and success in mind. Our special model of online-learning is designed for the working adult, and our commitment to keep costs down means better ROI for our graduates.