NASHVILLE — Two Metropolitan Government of Nashville and Davidson County employees, Nancy Douglas and Nicole Buchanan, have been awarded $10,000 scholarships from WGU Tennessee, covering up to 80 percent of the cost of their degrees.
Douglas and Buchanan are the first to receive the state-endorsed university's Tenn-K scholarships this year. Douglas is an ASL interpreter at Hillsboro High School who is working toward a Bachelor of Science degree in management. Buchanan is in operations at Napier Elementary School pursuing a master's degree in management and leadership.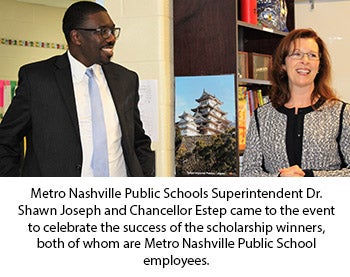 "We applaud WGU Tennessee's commitment to providing high-quality education to Metro employees and thousands of Tennesseans," said Metro Nashville Public Schools Director of Schools Dr. Shawn Joseph. "The online university offers our employees the opportunity to earn quality degrees, which enable them to infuse the latest best practices and industry standards into district and school operations and enhance the educational experience of our students."

WGU Tennessee, for the third year in a row, is offering the Tenn-K scholarship to up to 10 Tennesseans across the state. Douglas and Buchanan already qualify for a 5 percent tuition discount through WGU Tennessee's partnership with Metro Nashville Public Schools, and they will now significantly benefit from the highly-competitive $10,000 scholarship.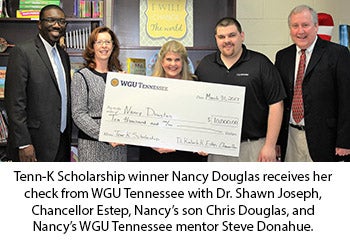 "It's always great to able to help working adults in our state earn a degree," WGU Tennessee Chancellor Dr. Kimberly Estep said. "We are impressed with Tennesseans like Nancy and Nicole who work hard to continue their educations."
The scholarship, which covers more than 80 percent of WGU Tennessee's already-low tuition of $3,000 per term for most programs, is awarded based on the student's academic record, readiness for online study, and demonstrated financial need. The deadline to apply is April 3.