SALT LAKE CITY — Western Governors University (WGU), one of the nation's leading nurse educators, has been recognized by the Nurses on Boards Coalition (NOBC) as a Founding Healthcare Leadership Organization Strategic Partner for its work in improving the health of communities through the service of nurses on boards.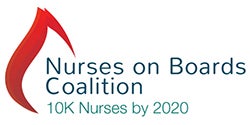 "The Nurses on Boards Coalition is delighted to welcome WGU as a Founding Strategic Partner," said Kimberly J. Harper, NOBC's Board Chair-Elect. "Clearly, both organizations share a similar mission—to get the nursing voice to decision making tables across America. By working together, WGU students and graduates will further develop skills and competencies needed for successful board placement and service."
The mission of NOBC is to improve health in communities across the nation through the service of nurses on boards. The Robert Wood Johnson Foundation and AARP joined forces to form NOBC in 2014. With 26 coalition members and growing, the goal is to help ensure that at least 10,000 nurses are on boards by 2020; as well as raise awareness that all boards would benefit from the unique perspective of nurses to achieve the goals of improved health, and efficient and effective health care systems.
"WGU is committed to advancing nurse leadership opportunities, and this partnership with NOBC will do just that," said Dr. Jan Jones-Schenk, WGU's Academic Vice President for the College of Health Professions and Chief Nursing Officer. "In addition, this partnership will also help us to provide students and alumni with ongoing professional development, specifically in regards to governance skills for nurses."