SALT LAKE CITY — For the 10th consecutive year, Western Governors University (WGU) has been awarded Utah's Best of State medal for best online education. WGU's Provost and Chief Academic Officer Dr. Marni Baker Stein accepted the medal at the Best of State Awards Gala at the Salt Palace Convention Center on May 17th.

Presented annually, the Best of State medals recognize outstanding organizations and businesses in Utah. Nominations are reviewed by more than 100 judges and are evaluated based on three areas: achievement in the field of endeavor, innovation or creativity, and contribution to improving the quality of life in Utah.
Since its founding in 1997 by 19 U.S. governors, including former Utah Governor Mike Leavitt, WGU has grown into a nationally recognized online university with 98,000 students and more than 110,000 graduates in all 50 states.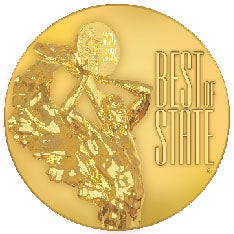 The university provides employment and higher education opportunities for thousands of Utah residents, with 1,600 employed, 8,500 graduated, and more than 6,500 students currently enrolled in the Beehive State.
WGU's promise is to help students achieve their dreams for a degree and career success by providing a personal, flexible, and affordable education based on real-world competencies. Over the past 21 years, the Utah community has played a key role in providing the talent and support that has fostered this promise and WGU's growth. With its roots firmly planted in Utah, WGU will continue to be an active corporate citizen, providing employment and educational opportunities to the state.