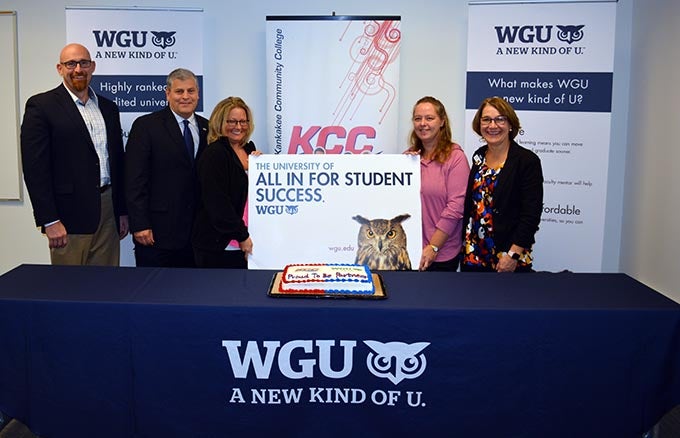 Michael, John, Elizabeth Steffens (KCC grad and WGU Nursing Student – not quoted in the article), April Lyons, and Christy Seawall at the scholarship announcement
KANKAKEE, IL — Kankakee Community College (KCC) and Western Governors University (WGU) launched a new partnership aimed at assisting KCC graduates earn their bachelor's degree at WGU. Offering a fully online, competency-based curriculum, WGU was created to expand access to higher education for working adults and offers accredited bachelor's and master's degrees in four high-demand fields: business, K-12 teacher education, information technology, and health professions, including nursing.
KCC President Dr. John Avendano, Dr. Michael Boyd, KCC's vice president for Instructional and Student Success, and the KCC advising team joined Christy Seawall, Strategic Relations Manager for WGU in Illinois, today to announce the partnership.  
"I greatly appreciate WGU's model," said Avendano. "It's focused on accessibility, affordability, and competency-based education. Their programs and services demonstrate a strong support for the success of students. We're proud to partner with WGU."
WGU will ensure strong transfer of credits through their generous articulation pathways of like degrees. Additionally, WGU will offer KCC graduates, faculty, and staff a 5% tuition discount for up to four academic terms, and make scholarships available through WGU Community College Partnership funds.
WGU currently has 2,500 enrolled students and 2,700 graduates in the state of Illinois. Among them is April Lyons, a KCC graduate who recently earned her bachelor's degree in nursing from WGU and is now pursuing her master's degree in nursing at WGU.  "WGU has helped me obtain a degree while being able to support my family," Lyons said. "It's affordable, fit my circumstances, and the support staff have been wonderful. Pursuing my degree has been a rewarding experience that has helped me to grow as a nurse and develop maturity in the workplace."
All WGU degree programs are competency-based, a proven learning model that focuses on measuring student learning rather than class time. Ideal for busy adults, competency-based learning allows students to study and learn on their own schedules, moving quickly through what they already know so they can focus on what they still need to learn. They have 24/7 access to learning resources and regular individualized faculty support, advancing as soon as they demonstrate mastery of course materials by writing papers, making presentations, and passing exams.
Kristen Swanson, another KCC graduate who continued on to WGU and completed her teaching degree last year also spoke highly of her experience. "Earning my degree has allowed me to do what I always dreamed I would: show my kids that persistence and motivation pays off, and instills a sense of personal pride," said Swanson. "I needed a school like WGU that would let me learn at my own pace, while offering the support needed if I lost my focus."
For many students, WGU's learning model makes it possible to complete a degree faster—the average time to complete a bachelor's degree is less than three years.  Tuition is charged at a flat rate of less than $6,500 per year for most bachelor's degree programs and about $7,500 per year for most master's programs, regardless of the number of courses taken. Students may begin their terms on the first day of any month.
About WGU
WGU is an online, competency-based university established to expand access to higher education for working adults. The university offers more than 60 undergraduate and graduate degree programs in the fields of business, K-12 teacher education, information technology, and health professions, including nursing.
Degrees are granted under the accreditation of Western Governors University (WGU), which is accredited through the Northwest Commission on Colleges and Universities (NWCCU). WGU's College of Business is accredited by the Accreditation Council for Business Schools and Programs (ACBSP), Teachers College programs are accredited by the National Council for Accreditation of Teacher Education (NCATE), and nursing programs are accredited by the Commission on Collegiate Nursing Education (CCNE*). More information is available at www.wgu.edu or by calling 866.225.5948. 
About KCC
Kankakee Community College is an accredited two-year college which awards associate degrees and certificates of completion. KCC prepares students both to transfer to four-year colleges and to enter the workforce. The college also offers continuing education courses and certification training, literacy programs, English as a Second Language and GED preparation. The KCC mission is "Enhancing quality of life through learning." The college has a Riverfront Campus in Kankakee, South Extension Center in Watseka, North Extension Center in Bradley and Manufacturing and Industrial Technology Center in Kankakee. More information is available at www.kcc.edu or by calling 815-802-8100.