INDIANAPOLIS — Gallup, Inc. and the Indiana Commission for Higher Education released results today from the statewide Gallup-Purdue Index, a survey of college and university alumni from 12 schools across the state. WGU Indiana performed well above the national average for traditional and nontraditional students in key areas, including alumni attachment, work fulfillment and workplace engagement.
"For these 12 campuses and the Commission, the results from the second Gallup-Indiana Survey provide insights we can use to improve the postsecondary experience for all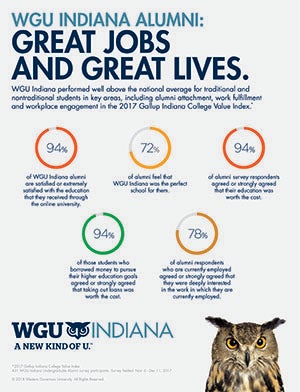 Hoosier students," said Indiana Commissioner for Higher Education Teresa Lubbers. "I commend the colleges that stepped up to be survey participants and will continue to encourage Indiana colleges to participate in this biennial survey."
Survey data for WGU Indiana alumni revealed that 94 percent are satisfied or extremely satisfied with the education they received through the state's non-profit online university. Additionally, 72 percent of WGU Indiana alumni feel that WGU was the perfect school for them, compared to 34 percent of college graduates nationally. Of the WGU Indiana alumni respondents who are currently employed, 78 percent agreed or strongly agreed that they were deeply interested in their work.

"The Gallup survey results validate WGU Indiana's innovative approach and student-centric focus," said WGU Indiana Chancellor Allison Barber. "Our unique approach to online higher education creates a positive educational experience for our students that translates into career satisfaction, as graduates apply their education to their professional work."
On financial matters, 94 percent of WGU Indiana alumni survey respondents agreed or strongly agreed that their education was worth the cost.
Higher education institutions in Indiana participated in the Gallup-Indiana survey, supported by both the Strada Education Network and the Indiana Commission for Higher Education. To see the full report, including more information about WGU Indiana's scores, visit the Commission for Higher Education's website.