CINCINNATI — WGU Ohio has awarded Helena Hill, a teacher at Cincinnati's Fairview-Clifton German Language School, a $2,500 WGU Ohio Scholarship toward her master's degree in learning and technology at the university. With WGU's already low tuition and fees, the scholarship represents about a 20 percent savings each term.
"I think that technology is a great tool that can be used to enhance the classroom experience and help reach any and all learners in new ways," Hill said.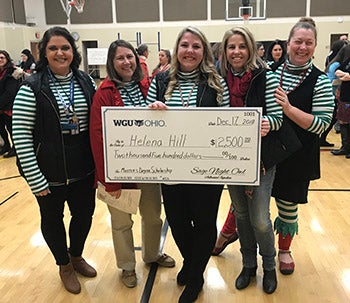 "We live in a world that has new and exciting technology that makes it possible for all learners to reach their full potential, offer new skills, and new ways of practice/learning that I feel should be brought into the classroom. This master's program will allow me to learn about new/best ways and practices of technology that I can use in my classroom to better reach and teach all of my students."
Hill is the second teacher at Fairview-Clifton German Language School to be awarded a WGU Ohio Scholarship this month. First-grade teacher Abigail Weitzel also earned a $2,500 award toward a master's in learning and technology.
WGU tuition is about half the cost of most other online universities, helping students graduate with little or no student debt. Additionally, the university maintains a robust program of scholarships made available to qualified students.
WGU offers bachelor's or master's degrees through a unique, competency-based approach to education -- an ideal match for busy, working adults who need a degree to advance their careers. Competency-based learning is ideal for adult learners, who enroll in college with different levels of knowledge as well as a wide variety of learning styles, because it allows them to move quickly through material they already know so they can focus on what they need to learn – saving them time and money.