NASHVILLE - Twenty-five Tennesseans recently earned degrees from WGU Tennessee and 10 traveled to Washington, D.C., last week to receive their diplomas at the university's summer commencement.
Graduates included Knoxville resident Kathleen Bian, Chattanooga resident Laura Cupp, Kodak resident Hilary Farley (pictured), Memphis resident Angela Michelle Knox, Oliver Springs resident James Miller and Bristol resident Zachary Rasnake. 
WGU Tennessee is an online, nonprofit university formed through a partnership between the state of Tennessee and nationally recognized Western Governors University as part of Gov. Bill Haslam's Drive to 55 effort. Graduates are welcome to attend any of the WGU commencements held around the country.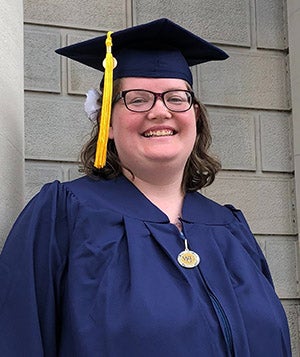 "Earning a degree is a huge accomplishment and one that should always be recognized. We are very proud of our Tennessee graduates for crossing the finish line and achieving their academic goals," said Dr. Kimberly K. Estep, chancellor of WGU Tennessee. "I always admire our students as they juggle family lives, careers and their academics. It's wonderful to see them walk across that stage with smiles on their faces recognizing their hard work and dedication to succeed."
In July, the state-endorsed university celebrated its fifth anniversary. As of today, more than 4,100 students are enrolled in the university, which has conferred nearly 3,000 degrees since launching.
"To me, graduation was not an end point; but it capped off my accomplishment," Farley said. "At graduation, I sat with people who had all done the same things I had, and we were able to celebrate our success together."