CHATTANOOGA — WGU Tennessee — a nonprofit, online university endorsed by the state — surprised a Dallas Bay Church preschool teacher by awarding her a $10,000 scholarship.
Teacher Natalie Fiddler learned that she was the recipient of the scholarship during a midday gathering of students and teachers at Dallas Bay Preschool on Tuesday, Feb. 6. Preschool Director Dawn Noles joined WGU Chancellor Kimberly K. Estep to present the scholarship.
"Our mission is to help hardworking Tennesseans achieve their educational and career goals," Estep said. "It's always an honor to present this scholarship to deserving students like Natalie, and we look forward to awarding more Tenn-K Scholarships in the coming weeks."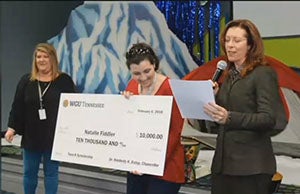 Fiddler, a single mother of two, wants to earn a Bachelor of Arts degree in Interdisciplinary Studies at WGU Tennessee, and the Tenn-K Scholarship will cover almost all of her tuition for that degree. Fiddler is just the third Tennessean chosen for the 2018 WGU Tennessee Tenn-K Scholarship. The scholarship — which covers more than 80 percent of WGU Tennessee's already-low tuition of approximately $6,500 per year for most programs — is awarded based on students' academic records, readiness for online study, and demonstrated financial need. Up to 10 scholarships will be awarded this year, and the deadline to apply is March 15.