Cate is the president and founder of Stones River Group, a Nashville-based public affairs firm with statewide and national reach. At Stones River Group, he advises a broad base of clients on government relations, strategic communications and effective issue advocacy. Previously, Cate served as chief of staff for Gov. Bill Haslam and was an integral part of the development and launch of the Drive to 55 initiative and WGU Tennessee.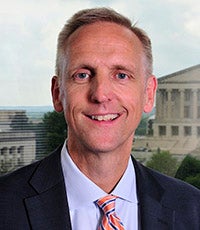 "I've been a believer in WGU Tennessee since day one," Cate said. "WGU's model for higher education gives working adults the opportunity to efficiently continue their education and pursue a postsecondary credential without disrupting their lives. I'm honored to join the advisory board and look forward to supporting WGU's continued success in Tennessee and beyond."
In 2016, Cate was the keynote speaker at WGU Tennessee's commencement ceremony. He is the chairman of the Governor's Books from Birth Foundation, an active board member for Junior Achievement of Middle Tennessee and a Tennessee Achieves mentor.
"Mark's integral involvement with Drive to 55, WGU Tennessee and the higher-education landscape in our state makes him a great asset for our board," said Dr. Kimberly Estep, WGU Tennessee's chancellor. "He's been an advocate for WGU Tennessee from the start, and will undoubtedly help us expand access to affordable, quality degrees to more adult learners in Tennessee."
Other members of WGU Tennessee's Advisory Board include:
John Ingram (Chairman), Chairman, Ingram Industries, Nashville
Tim Attebery, President, Holston Valley Medical Center, Kingsport
Shannon Brown, Senior VP/Chief Human Resources and Diversity Officer, FedEx Express, Memphis
David A. Golden, Senior VP, Chief Legal Officer, and Corporate Secretary, Eastman, Kingsport
Carol Ross-Spang, Senior VP, Human Resources, Methodist Le Bonheur Healthcare, Memphis
Ralph Schulz, President and CEO, Nashville Area Chamber of Commerce, Nashville
John Steele, Senior VP, Human Resources, HCA, Nashville
Karen Ward, Senior VP/Chief Human Resources Officer, BlueCross BlueShield of Tennessee, Chattanooga