NASHVILLE – Jackson-Madison County School System (JMCSS) and nonprofit, online university WGU Tennessee have signed a partnership agreement to help JMCSS employees earn master's and bachelor's degrees while continuing to work full time.
Employees of WGU Tennessee's partner organizations are eligible for special scholarships, and the university works with its partners to build course curriculum that directly addresses workplace needs in key industries. 
"At WGU, we believe the way to ensure our state's future is to invest in our education system now," said Dr. Kimberly Estep, WGU Tennessee chancellor. "Our new partnership with JMCSS addresses this need by giving teachers and other school system employees the opportunities to further their own educations while continuing to educate others."
Under the terms of the partnership, Jackson-Madison County School System employees are eligible on an ongoing basis to apply for $2,000 scholarships through WGU's Institutional Partner Fund. WGU Tennessee's flat-rate tuition is already affordable, at approximately $7,000 per year for most programs.
To kick off the partnership, WGU Tennessee has also launched a special $2,000 scholarship campaign exclusively for JMCSS employees. Up to 15 Jackson-Madison County School System Scholarships will be awarded to employees in the coming year. Additionally, the first 10 JMCSS employees who enroll with WGU Tennessee will receive $200 off their first term's tuition. 
"Our partnership with WGU Tennessee is one I hope every member of Jackson-Madison County schools will have the opportunity to take advantage of, especially given the time constraints many of our employees are under," said Eric Jones, Ed.D., superintendent of the Jackson-Madison County School System. "We understand the need to further our employees' training, education, and careers as we work tirelessly to provide the children of Jackson-Madison County with the best education possible."
WGU's innovative approach, known as competency-based learning, is a big reason it has seen early success – including now having students in all 95 counties across the state –especially among working adults with busy schedules. The school's online model measures competencies rather than time spent in a classroom, allowing students to move at a quicker pace. On average, master's degree candidates graduate in 19 months. The average completion time for bachelor's degree candidates is 27 months.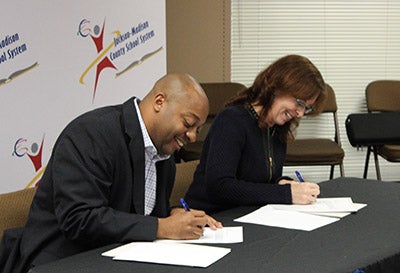 Dr. Eric Jones, superintendent of Jackson-Madison County School System (JMCSS), and Dr. Kimberly Estep, chancellor of WGU Tennessee, sign a partnership agreement to expand higher education access to JMCSS employees.