NASHVILLE — WGU Tennessee, a nonprofit, online university formed through a partnership with the state, has announced the launch of its Fulfilling the Promise initiative. The campaign will encourage spring and summer community college graduates to sustain their academic momentum and pursue bachelor's degrees.
To jump-start the initiative, the university is offering a new scholarship — called the Fulfilling the Promise Scholarship — to provide up to 20 students with $2,000 toward a bachelor's degree program at WGU Tennessee. Additionally, all spring and summer community college graduates who enroll with WGU Tennessee will receive a 5 percent tuition discount and $200 off tuition for their first terms.
"The first class of Tennessee Promise students is graduating from community colleges this year, and due to the proposed expansion of the program to all adults in Tennessee, we expect the community college pipeline to expand quickly," said WGU Tennessee Chancellor Dr. Kim Estep. "Our goal is to extend Gov. Haslam's Tennessee Promise by giving those students an affordable opportunity to earn bachelor's degrees, and we hope our Fulfilling the Promise initiative becomes an annual campaign that does just that."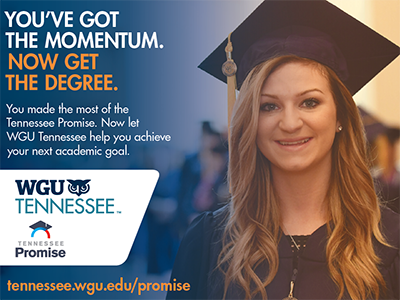 Students with associate degrees can typically obtain bachelor's degrees from WGU Tennessee in three terms, or 18 months. Due to the nonprofit university's already-low tuition of approximately $3,000 per six-month term, Tennessee Promise graduates who go on to finish a bachelor's degree at WGU Tennessee would spend roughly $10,000 total.
The Fulfilling the Promise scholarship will be awarded to 20 students who obtain an associate degree from any of Tennessee's 13 community colleges in the spring or summer of 2017. For more information and to learn how to apply, visit tennessee.wgu.edu/promise.