NASHVILLE — WGU Tennessee — a nonprofit, online university endorsed by the state — surprised a TriStar Summit Medical Center nurse by awarding her a $10,000 scholarship.
Registered nurse Melody Johnson learned that she was the recipient of the scholarship as she was wrapping up her shift on Thursday, Jan. 18. Johnson received the surprise announcement during a Summit "Good News Break" assembly. Chief Nursing Officer Mary Ann Angle joined WGU Chancellor Kimberly K. Estep to present the scholarship.
"Our mission is rooted in helping hardworking Tennesseans achieve their educational and career goals," Estep said. "It's an honor to present this scholarship to deserving students like Melody, and we look forward to awarding more Tenn-K Scholarships in the months ahead."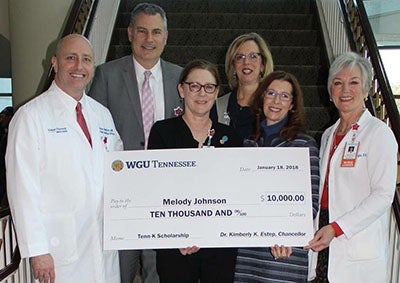 Johnson has more than 25 years of experience in health care, and recently enrolled in WGU Tennessee to earn her Bachelor of Science degree in nursing. This fulfills a lifelong ambition for Johnson, who put her dreams on hold to spend more time with her young children and then again to support her young adult son through a difficult battle with cancer. The scholarship, combined with a tuition discount offered to HCA employees by WGU Tennessee, will cover most if not all of the cost of her degree. TriStar Summit Medical Center is a member of TriStar Health, a division of HCA which employs over 500 employees currently enrolled at WGU Tennessee.
"TriStar Summit is happy to celebrate this honor with Melody and her nursing family. We are thankful that WGU selected such a worthy recipient as she continues to give so much of herself to her patients and our hospital. TriStar Summit is committed to providing a positive work environment where our nurses can flourish," stated Mary Ann Angle, Chief Nursing Officer at TriStar Summit Medical Center.
Johnson is just the second Tennessean chosen for the 2018 WGU Tennessee Tenn-K Scholarship. The scholarship — which covers more than 80 percent of WGU Tennessee's already-low tuition of approximately $6,500 per year for most programs — is awarded based on students' academic records, readiness for online study, and demonstrated financial need. Up to 10 scholarships will be awarded this year, and the deadline to apply is March 15.