l-r, Meridian School Superintendent Rick Fernandez, WGU Texas Community Relations Manager Jim Johnson, scholarship recipient Kaylene Rudd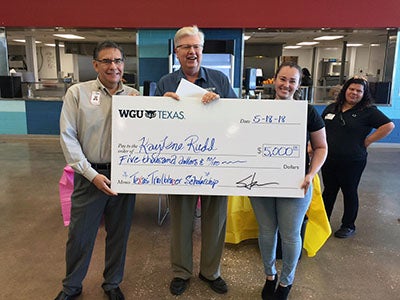 Pictured l-r, Meridian School Superintendent Rick Fernandez, WGU Texas Community Relations Manager Jim Johnson, scholarship recipient Kaylene Rudd
GEORGETOWN — Kaylene Rudd, a Middle Years Program (MYP) Coordinator and art teacher at the nationally renowned Meridian School in Round Rock, began her career as an internationally represented product designer, editorial illustrator and art director – creating works for educational publications, novels, editorial pieces and public murals around the world.
During the height of her career, her love for helping children inspired her to embark on a career in education. Kaylene, who had worked with and advocated for community youth while pursuing her BFA at Ringling College of Art Design, decided to receive an alternative certification and work in one of Florida's largest high needs high schools, teaching art to students who badly needed a creative outlet.
This prompted her to begin her current line of work: helping educators use creativity to improve their teaching practices and enhance student relationships in order to create the very best community of learners, which she currently does in her role as MYP Coordinator for the Meridian School, a public charter school in Round Rock – named the top high school in Texas and sixth best charter school in the nation by U.S. News and World Report.
 
Kaylene is currently pursuing her Master of Education Instructional Design with WGU Texas to continue improving her school's programs and to help her reach her long-term goal of becoming an International Baccalaureate (IB) Educator, which would allow her to travel around the world visiting schools and providing professional development opportunities to other educators.

This past May, WGU Texas helped her get one step closer to making her dream a reality with a $5,000 Trailblazer Scholarship, a highly competitive scholarship awarded based on a candidate's financial need, academic record, readiness for online study at WGU, current competency, and other considerations.

 "This degree perfectly aligns with my professional focus and would help me become better at assisting the staff at my school, which in turn directly impacts students," Kaylene said. "I wanted to pursue this degree for several years but was waiting to pay off my student loans, which I eventually realized wasn't practical because this is knowledge will be highly beneficial for my career growth now. WGU Texas' convenience and affordability is allowing me to take those necessary steps without overburdening me financially, and I am so grateful for their generosity."

WGU Texas' competency-based learning model is ideal for adult learners who want to continue pursuing their education because it accommodates different learning styles, time constraints and a wide range of existing knowledge and skills. In 2017, WGU Texas awarded degrees to 1,995 students from 129 counties across the Lone Star State. Since the university's launch in Texas in 2011, more than 8,500 graduates have earned their undergraduate or graduate degrees through a variety of academic offerings, helping to address the state's critical workforce needs in high-demand fields such as IT, healthcare, business, and education.