SAN ANTONIO — Enrique Garcia started his career in healthcare 14 years ago, following family members who share a long history of service in the medical field. Along the way, he found a passion for creating positive patient experiences and a desire to advance his career into management. To help with this, Garcia earned his bachelor's degree in healthcare administration and enrolled in WGU Texas to pursue his MBA in Healthcare Management.

On May 2, WGU Texas surprised Garcia with a $2,500 Healthcare Partners Scholarship during a presentation at Metropolitan Methodist Hospital in San Antonio.
"My MBA in Healthcare Management degree from WGU will allow me to advance into a leadership role, where I can help mold others and provide exceptional care for those in my community," said Garcia. "Now is the perfect time to pursue my degree and I thank WGU Texas and their healthcare partnership for providing the opportunity to continue my education."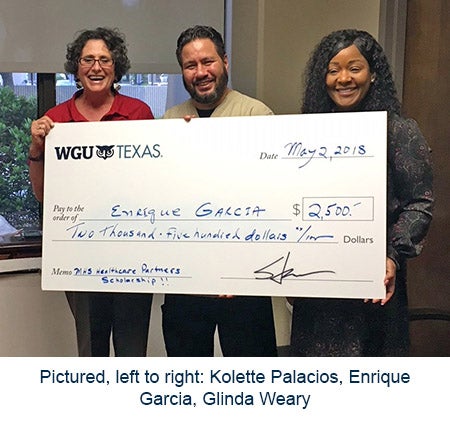 Garcia credits his employer and supervisor for encouraging him to achieve his goals to complete this academic milestone. "We're so very proud of Enrique. He is a valued employee with lots of compassion, drive, and ambition," said Glinda Weary, Nursing Director of Cardiovascular Transitional Services (CVTS) and Garcia's supervisor. "We're elated to have him on our CVTS team."
Metropolitan Methodist Hospital is a WGU Texas educational partner institution. Through this partnership, employees are eligible for tuition discounts and the WGU Texas Healthcare Partners Scholarship.
WGU Texas' competency-based learning model is ideal for adult learners—because it allows students to take advantage of their knowledge and real-world experience to move quickly through material they already know so they can focus on what they still need to learn. Students who devote additional time to their studies can often accelerate their programs, saving both time and money. WGU Texas mentors work one-on-one with students, offering guidance, support, and individualized instruction.