KENT — Molly Helmuth Racing and WGU Washington announced today a partnership through the 2018 stock car season. In addition to races across the nation, driver Molly Helmuth will compete in the super late model series at Evergreen Speedway, beginning this Sat., May 26 in the Mark Galloway 150 Presented by Shoreline Community College.
A Seattle native and rising star in the racing community, Helmuth graduated from WGU Washington with a bachelor's degree in marketing management. In addition to wearing the online, nonprofit university's logo on her fire suit, the partnership includes a joint effort to encourage more Washingtonians to pursue their dreams of a college education.
"I am delighted that WGU Washington has partnered with Molly Helmuth Racing for the upcoming season," said Helmuth. "WGU Washington was the perfect route for me to earn my degree. Though it was challenging, the university's model allowed me to fast-track toward graduation while remaining focused on my racing career. With the university's support, I look forward to greater success on the track, while becoming established with a brand that has impacted my life greatly."
"Molly is an excellent example of our university's dynamic students and alumni," said Dr. Tonya Drake, Chancellor of WGU Washington. "She's an ambitious self-starter with big goals — and, as a WGU Washington student, she approached her studies with the same intensity she demonstrates on the track. We're thrilled to support Molly Helmuth Racing, and, in turn, help show our state how amazing our students and graduates are."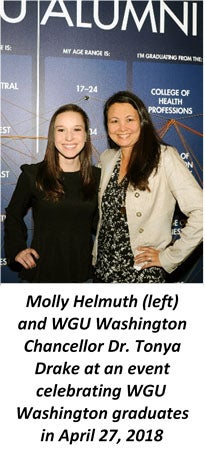 Helmuth is a three-time recipient of Evergreen Speedway's Most Popular Driver award and is currently a finalist of the Kulwicki Driver Development Program – a program created to help promising athletes develop and succeed in the top levels of the sport. In 2017, she enjoyed one her most successful seasons behind the wheel, winning her second, career Trophy Dash and registering eight top ten finishes and one top five finish. Her goals include competing in a NASCAR Camping World Truck race by the end of 2018 and advancing further in the NASCAR circuit (Camping World Truck, XFINITY, or Monster Energy Cup Series) in the next two years. A believer in the importance and power of education, Helmuth earned an associate degree from Shoreline Community College before enrolling with WGU Washington.
WGU Washington uses an innovative approach to learning called competency-based education, which focuses on measuring learning rather than time spent in class. Students earn their degrees by demonstrating mastery of the subject matter they need to be successful and real-world competencies developed in collaboration with employers.