KENT – For her work helping military personnel transition into the civilian workforce, WGU Washington inducted Lauren Finnegan into the university's Sage Society. Like a Hall of Fame, the Sage Society honors women and men dedicated to helping others pursue and achieve their educational goals.
Finnegan, a program specialist for Troops to Teachers, helps service members and veterans become teachers in communities across Washington.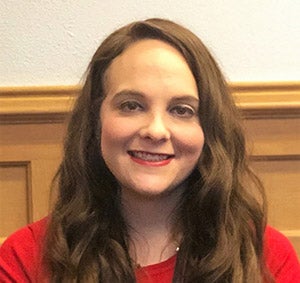 Specifically, she identifies appropriate educational pathways, provides counseling, and ensures participants understand the necessary steps to secure jobs as teachers. Finnegan also serves on the Interagency Committee for State Employed Women.
"Quite simply, Lauren is superb in all aspects of her job," said Rear Admiral (Ret.) Doug Asbjornsen, coordinator of the Washington chapter of Troops to Teachers. "Her efforts have been instrumental in the successful growth of our program, both in reputation and in helping provide quality teachers for K-12 education. Lauren is exceptionally well-deserving of this award."
"As an experienced educator and member of the military community, Lauren has a valuable perspective and insight to assist prospective teachers to earn the credentials they need," said Constance Kronlund, strategic partnerships manager at WGU Washington. "With a kind, professional demeanor, she helps shine a light on the path to rewarding careers as teachers."
Since it launched in 1993, Troops to Teachers has helped more than 20,000 veterans nationally transition into new careers as K-12 teachers in public, charter and Bureau of Indian Affairs schools. The program provides counseling and referral services for participants to meet education and licensing requirements – and subsequently earn employment as teachers. Troops to Teachers is funded by the Department of Defense and, in Washington, is operated in partnership with the Office of the Superintendent of Public Instruction.
Finnegan was inducted into WGU Washington's Sage Society during a brief ceremony this morning at the Office of the Superintendent of Public Instruction in Olympia.