RALEIGH —Aranzazu "Ari" Conklin, a clinical documentation specialist with WakeMed Health & Hospitals, earned her Bachelor of Science in Nursing degree from Western Governors University (WGU) in 2012. After setting her sights on a master's degree, Ari was recently awarded a WGU Alumni Scholarship from WGU North Carolina, the state affiliate of the national nonprofit online university.

A native of Mexico, Conklin came to the United States as an exchange student and earned her Nursing Diploma from Saint Luke's School of Nursing in Bethlehem, Pennsylvania. Throughout her career, she has worked as a critical care nurse at Cedars-Sinai Hospital in Los Angeles, Duke University Hospital in Durham, and WakeMed. As a clinical documentation specialist at WakeMed, Conklin is part of the health system's Quality Analytics team, which reviews and monitors patient care across WakeMed's inpatient units and emergency departments, and reports core quality measures for the system.
Conklin is working toward her Master of Science in Nursing degree in leadership and management, and will use the scholarship to help offset the cost of tuition. The scholarship includes a $500 credit per term, renewable for up to four terms. Her parents, who were visiting from Mexico, were on hand to help her celebrate earning the scholarship.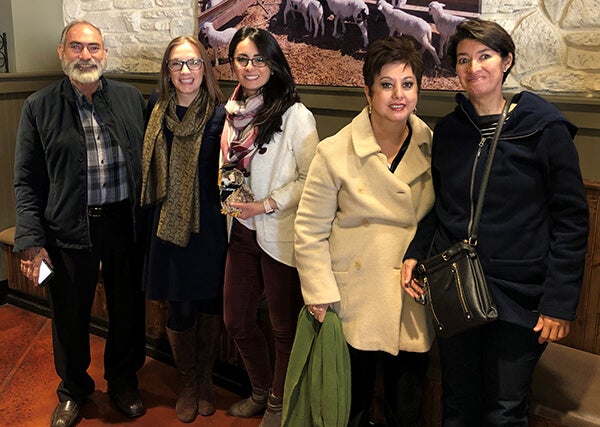 Aranzazu "Ari" Conklin (center), pictured with her family, received an Alumni Scholarship from WGU North Carolina.
WGU is an accredited online university offering more than 60 bachelor's and master's degree programs. The university has more than 110,000 students enrolled nationwide, including nearly 3,000 in North Carolina. Tuition is around $3,225 for most degree programs.
"I know I want to be a leader in my profession, inspire others, and promote change and innovation to improve the care and well-being of patients," said Conklin. "My plans involved obtaining a master's degree to gain the knowledge and skills I need to be an outstanding leader."
"I was so happy to meet Ari's family and help them share in the good news," said WGU North Carolina Strategic Partnerships Manager Lynne Barbour, who presented the scholarship. "Her professionalism and dedication to the nursing profession are clearly apparent, and we are proud to recognize her with this scholarship."
For more information about WGU North Carolina, visit https://northcarolina.wgu.edu/.

About WakeMed Health & Hospitals.
Serving the community since 1961, WakeMed Health & Hospitals is a nationally recognized, private, not-for-profit health care organization founded and based in Raleigh, N.C. The largest health system in Wake County, WakeMed exists to improve the health and well-being of our community by providing outstanding, compassionate, patient- and family-centered care to all. The 941-bed system comprises a network of facilities throughout the Triangle area, delivering health and wellness services that bring added value to the communities we serve. WakeMed is a leader in cardiac and vascular care, women's and children's services, emergency medicine and trauma care, physical rehabilitation, orthopedics and neurosciences.
Specialty facilities include the WakeMed Heart Center, Children's Hospital, Women's Pavilion and Birthplace, Women's Hospital at WakeMed North, WakeMed Rehabilitation Hospital, Adult and Children's Emergency Departments and a Level I Trauma Center. WakeMed's team of more than 9,100 employees, 1,500 volunteers, 1,300 affiliated physicians, and the more than 300 physicians employed by WakeMed Physician Practices use the most advanced technologies along with the best minds and the biggest hearts to ensure the finest quality in health care and community health.
For more information, visit www.wakemed.org or find WakeMed on Facebook and Twitter.