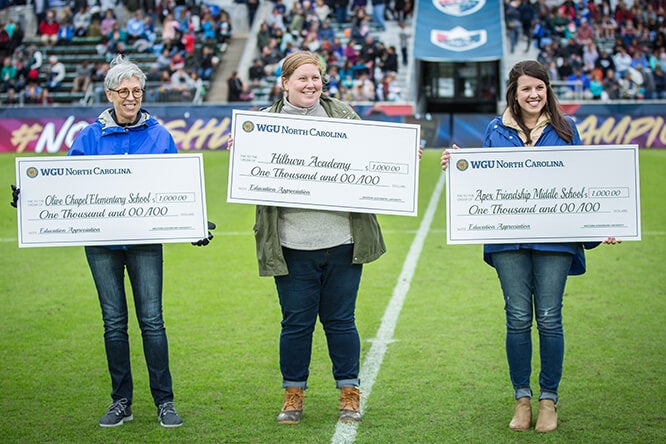 Pictured left to right: Ruth Steidinger, Catie Burnette, Lindsey Evans (photo courtesy of the North Carolina Courage)
RALEIGH – When the Wake County Public School Systems' Principal, Assistant Principal and Teacher of the Year were invited to the North Carolina Courage's playoff game at WakeMed Soccer Park on Oct. 20, little did they know that a surprise awaited them. While being recognized on the field at halftime for their recent accolades, each was surprised with a $1,000 donation from WGU North Carolina to their respective schools. 
The 2019-2020 award recipients are:
Ruth Steidinger, Principal of the Year, Olive Chapel Elementary School

Catie Burnette, Assistant Principal of the Year, Hilburn Academy

Lindsey Evans, Teacher of the Year, Apex Friendship Middle School

WGU North Carolina Chancellor Catherine Truitt and North Carolina Courage owner Steve Malik escorted the honorees onto the field where they were cheered by the crowd and presented with commemorative checks. As the presenting partner of the game, WGU North Carolina hosted 80 WCPSS semifinalists for the annual awards. 

The soccer game capped a busy week in Wake County for WGU North Carolina, as the organization had also served as a sponsor of the WakeEd Partnership's Stars of Education Gala on Oct. 16. 

WGU North Carolina, an affiliate of the accredited competency-based Western Governors University, recently received approval from the North Carolina State Board of Education for all of its initial teacher licensure preparation programs and an advanced program in educational leadership. The school is the only fully online nonprofit university approved by the Board to offer programs that allow prospective teachers to earn a degree or participate in a Residency License (RL) program, previously known as lateral entry.

"It was an honor to recognize these amazing Wake County educators and give back to their schools," said Truitt. "It was a great way to celebrate their achievements, and on top of that, the Courage won their playoff game!"