WRIGHT-PATTERSON AFB — WGU Ohio has awarded U.S. Air Force Senior Master Sergeant Peyton Hobbs, a medical services flight superintendent, a Military Appreciation Scholarship to pursue his master's in management and leadership at the university.
Hobbs has been on active duty in the Air Force for 24 years and has been deployed several times, including a year in Saudi Arabia. During that time, he managed not only members of the U.S. military but also military members of coalition countries.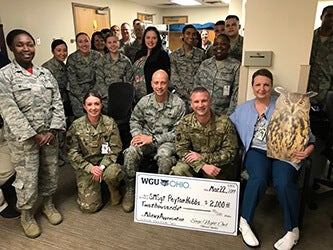 "One of the demanding traits associated with military service is the ability to be flexible when obstacles are presented. As a member of the United States Government, obstacles are a way of life, and if you haven't mastered the skills and traits to overcome them, you will not be successful," Hobbs said. "I tell my Airmen when they in-process with me, that I'm not a YES man, but I believe in getting to yes if it's feasibly possible. I love new ideas and will try anything if I think it will increase efficiency, manpower, effectiveness without diminishing the mission."
Nationally, more than 2,500 active duty members of the military are enrolled with WGU, with nearly 8,000 veterans and 3,200 military spouses or dependents. The university has been named among the Top Military-Friendly Colleges and Universities for 10 consecutive years.
In addition to the WGU-exclusive Military Appreciation Scholarship, all degree programs offered at Western Governors University are approved by the Department of Veterans Affairs for all education benefits offered under the GI Bill®. Education benefit options are available for veterans and active duty servicepersons, dependents, and those with service in the National Guard and Reserves. WGU Ohio is also approved for the Ohio National Guard Scholarship Program.