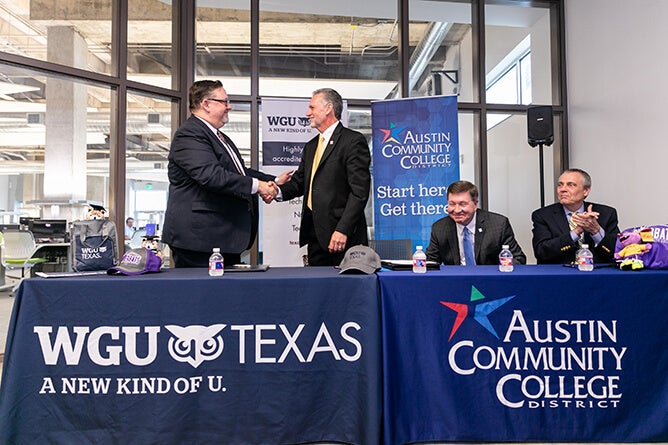 L to R: WGU Texas Chancellor Steven Johnson, ACC President Richard Rhoads, ACC Provost Dr. Charles Cook and ACC VP for Instruction Mike Midgley
AUSTIN – WGU Texas and Austin Community College (ACC) launched a new articulation agreement Monday, June 3, to create seamless transfer pathways for ACC students, employees, and graduates seeking a bachelor's or master's degree at WGU Texas. 
"This collaboration creates an important new educational pathway for ACC graduates,"says Dr. Richard Rhodes, ACC president/CEO. "Working together with four-year institutions, we can remove barriers  students face in the transfer process and build a culture of education in Central Texas."
ACC opened in 1973 and has grown to become one of the largest colleges and universities in the nation with 11 campuses. The college is ranked top in the state for university transfer, according to successfulstudent.org, with more than 65 percent of transfer students earning their bachelor's degree within four years. Through the agreement with WGU Texas, ACC graduates, faculty, and staff may select among the more than 60 accredited bachelor's and master's degree programs in information technology, business, health professions and teaching. ACC transfer students also receive special benefits including:
5 percent discounted tuition at WGU Texas,
Exclusive partner scholarships, valued at up to $2,000,
Comprehensive transfer policy. 
"WGU Texas is thrilled to partner with Austin Community College to provide more ACC students a seamless pathway to completing their bachelor's degree and preparing them to enter some of the state's most in-demand careers," said Dr. Steven Johnson, Chancellor, WGU Texas. "Community colleges enroll almost half of all students in the state—over 700,000 students," said Johnson. "This partnership creates an opportunity to link those students to accessible, affordable, high-quality educational opportunities that lead to great outcomes."
WGU Texas' current enrollment is more than 12,500 students, with students enrolled in 233 of the state's 254 counties, including the counties served by ACC. Nearly 700 active students are transfers from Austin Community College.
For more information about WGU Texas' community college partnerships and scholarship opportunities, visit texas.wgu.edu/cc.
About ACC
Austin Community College is a nationally recognized two-year college serving Central Texas. ACC is focused on student success and providing affordable, flexible pathways to help students reach their education goals, learn new job skills, or advance their career. The college currently enrolls more than 70,000 students annually.