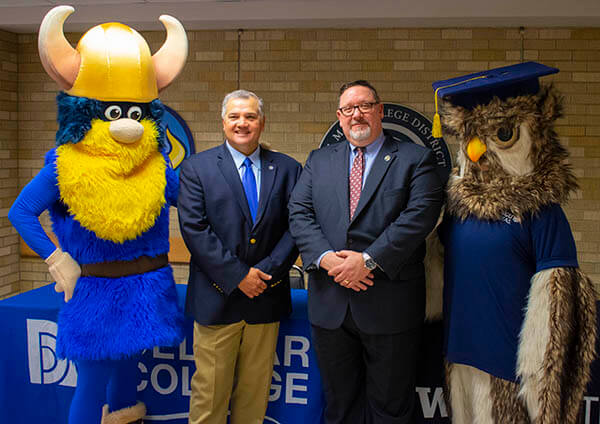 Del Mar President Escamilla and WGU Texas Chancellor Johnson, flanked by the two university mascots, celebrate the signing of a new partnership.
CORPUS CHRISTI – WGU Texas and Del Mar College announced today the signing of an agreement that creates pathways for students and employees to work toward a bachelor's or master's degree and further their education at WGU Texas.
"With this agreement, we are committed to maximizing the transferability of coursework and credits from Del Mar to WGU Texas, said Dr. Mark Escamilla, Del Mar College President and CEO. "More students than ever before are choosing to continue their education through online degree programs like those offered by WGU Texas. These are often the best choice for students balancing work, family and school commitments."
Del Mar College students [and employees] will receive a 5% discounted tuition at WGU Texas, exclusive partner scholarships, valued at up to $2,000, and can select from more than 60 accredited bachelor's and master's degree programs in information technology, business, health professions and teaching.
"WGU Texas is thrilled to expand its presence in the Coastal Bend by providing more Del Mar students a seamless pathway to completing their bachelor's degree and preparing them to enter some of the state's most in-demand careers," said Dr. Steven Johnson, Chancellor, WGU Texas. "Our goal for this partnership is to ensure that students have a smooth transition into our programs and that they receive one-on-one guidance and support throughout their educational journey."
WGU Texas' current enrollment is nearly 12,000 students, Johnson said. He added that more than 80 of those students are from Nueces County, and half of those are transfers from DMC.
Xena Mercado, a DMC graduate and marketing management major at WGU Texas, described at today's ceremony the ease with which she transferred between institutions. "When I transferred to WGU Texas last year, the last thing in the world I needed were obstacles," she said. "Thankfully, WGU Texas staff walked me through the whole thing. It was so easy, and most of my credits from Del Mar transferred. To the leaders here today, thank you, because any step toward making the transfer process easier for students is a good step."
This is the second transfer agreement between DMC and WGU Texas. The first was signed in 2014 and streamlined the process for DMC graduates pursuing a bachelor's degree in nursing at WGU Texas.