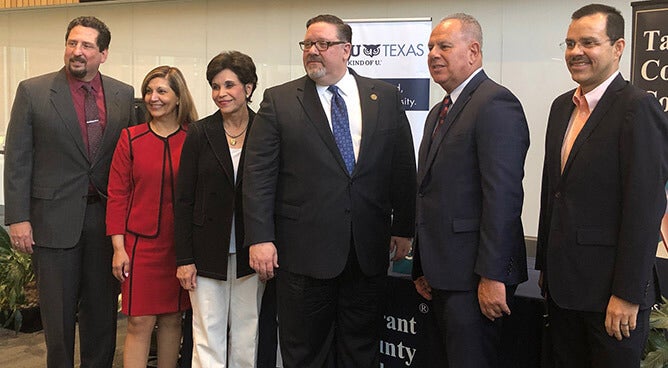 Tarrant County College District and WGU Texas officials pose for a photo after signing a new partnership agreement.
FORT WORTH – WGU Texas, and Tarrant County College District (TCCD) announced today the signing of an agreement that creates pathways for students, employees and graduates to work toward a bachelor's or master's degree and further their education at WGU Texas.
"Thanks to this new transfer option, TCC students now have a seamless, cost-effective pathway to earn a bachelor's degree through WGU Texas and enter the workforce," said TCC Chancellor Eugene Giovannini. "WGU has an ongoing commitment to excellence that is imperative to our students, including efficient course alignment between the two institutions."
TCCD graduates, faculty and staff will receive a 5% discounted tuition at WGU Texas, exclusive partner scholarships, valued at up to $2,000, and can select from more than 60 accredited bachelor's and master's degree programs in information technology, business, health professions and teaching. Students transferring from TCCD can expect a comprehensive transfer policy. Information about WGU Texas' community college partnerships and scholarship opportunities is available at texas.wgu.edu/cc.
"WGU Texas is thrilled to expand its presence in Tarrant County by providing more TCCD students a seamless pathway to completing their bachelor's degree and preparing them to enter some of the state's most in-demand careers," said Dr. Steven Johnson, Chancellor, WGU Texas. "Our goal for this partnership is a smooth transition into our programs and that all students will receive one-on-one guidance and support throughout their educational journey."
WGU Texas' current enrollment is more than 12,250 students, Johnson said. He added that more than 1,200 of those students are from Tarrant County, with students enrolled in 233 of the state's 254 counties.