KENT – WGU Washington's Senior Public Relations Manager Jake Riddell moderated and emceed the Association of Washington Business' 2019 Workforce Summit today in Bellevue, Washington. The day's theme was "Leading with Employee Culture" and explored solutions to many of the key challenges facing the state's workforce and employers.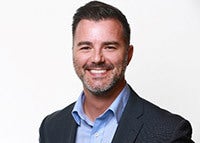 The 2019 Workforce Summit featured multiple panel discussions and small group activities. The specific topics encompassed mental and financial wellness, childcare and healthcare challenges, and legal considerations for workplace practices. Contributors from different industries – including manufacturing, education, and financial services – and employers across the state provided practical insight and expertise.
"There's so many talented individuals working to keep Washington a great place to work and do business," said Riddell. "To bring those folks together, share ideas and experiences, and learn from one another creates an event greater than the sum of its parts. To host that event and represent WGU Washington is an honor."
The 2019 Workforce Summit was organized by the Association of Washington Business (AWB) and held at the Hilton Bellevue. The event's purpose was to share with participants – business owners, human resources professionals, and influencers – best practices to attracting and retaining talented workers and building a healthy, productive employee culture. WGU Washington has been a significant contributor to the Workforce Summit since it launched in 2017.
To help address the statewide skills gap, lawmakers in Olympia created WGU Washington in 2011 to expand access to first-rate bachelors and master's degree programs for – primarily – busy, midcareer adults. As the state's only legislatively-endorsed online university, WGU Washington utilizes the most advanced, distance-learning technology to educate skilled professionals in high-demand fields.
Sharing that story is an important part of Riddell's role as a communications professional at the private, nonprofit institution. Prior to taking leadership of the university's public relations and marketing efforts, he spent nearly ten years as a broadcast journalist. Riddell is a member of the AWB's Leadership Washington Class of 2017.