SALT LAKE CITY – Western Governors University (WGU) has named Sean Atkins as Senior Vice President and Executive Dean of its College of Business. Atkins, who brings experience driving growth of consumer-oriented media and technology businesses with global companies Bertelsmann and Viacom (among others), will lead the College of Business into new growth as WGU continues its journey to be the most student-centric university in the world. 
"Although I'm new to higher education, I come from a family of educators and know this is a tremendous opportunity to impact the lives of so many individuals.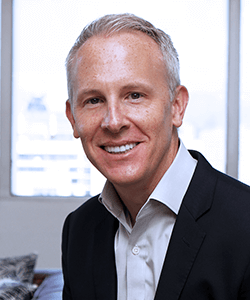 "What excites me most is that much like when I first entered media and consumer business, education is in the midst of disruption and growth," Atkins said. "WGU has been leading that charge since its inception." 
WGU's College of Business currently serves more than 42,000 students nationwide. This year alone, it has awarded more than 12,000 degrees. In a 2019 Harris Poll, 97% of surveyed employers said WGU grads met or exceeded their expectations, in stark contrast to a 2014 Lumina Foundation report that found only 11 percent of business leaders strongly agreed higher education institutions prepared students with the skills and competencies needed for their businesses. This is a testament to WGU's dedication to preparing grads for the workforce and focus on matching education to market demand.
"Sean's background in innovation and growing customer focused brands by building new products will be instrumental in WGU's mission to connect all individuals with the opportunity higher education affords," said WGU Provost and Chief Academic Officer Marni Baker Stein. "His business leadership combined with WGU's academic rigor and standards are integral to the future of business education."

In addition to Bertelsmann and Viacom, Atkins has led transformative growth initiatives at several of the world's leading brands, including Discovery, Warner Media, Yahoo!, and Disney. He also has served as an Advisor or Board Member for several organizations, including LinkedIn, Bain Consulting, BDMI, and Evolution Media Partners. 

Atkins earned his MBA with a focus on Entrepreneurship and New Ventures from the University of Southern California's Marshall Graduate School of Business, and his interdisciplinary B.A. in Film/TV Production and Marketing from California Lutheran University.