KENT – Today, WGU Washington announced Steven Maheshwary, Governor Inslee's director of economic development and lead for the state's information and communication technology (ICT) sector, as the newest member of the university's advisory board. Maheshwary brings experience in the tech industry and passions to bear by focusing on developing a well-trained and diverse workforce—positioning Washington for continued success in the worldwide marketplace.
"The important work Steven does on behalf of the state and the tech industry aligns seamlessly with the mission of our university," said Dr. Tonya Drake, Chancellor of WGU Washington and Regional Vice President.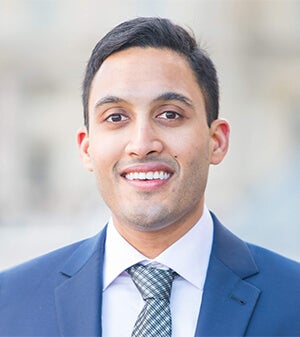 "He will provide a vital perspective as WGU Washington serves students and strengthens communities. I'm excited to have his expertise on the board."
Maheshwary became Washington state's director of economic development for the ICT sector earlier this year. In his current role, he leads strategy and economic growth efforts, including promoting public-private partnerships, enhancing sector growth and sustainability, and supporting the development of a 21st-century tech workforce, especially for underrepresented and underserved communities.
Before joining Governor Inslee's staff, Maheshwary served as Amazon's program lead for underserved populations, focusing on building products and services for low-income customers and underserved communities. He also worked in program ownership, partnerships, finance and marketing roles across Amazon, Microsoft and several startups. Maheshwary also served as a Fulbright Scholar in Malaysia teaching English and social entrepreneurship. He graduated from Harvard University with a degree in sociology and economics.
"To keep Washington's tech industry strong, we need innovative training solutions," said Maheshwary. "WGU Washington is built on the principles of equity, access and innovation and is an effective solution to the challenges we face economically and societally. I'm proud to join the advisory board and contribute to the important impact WGU Washington is making in this state."
WGU Washington's advisory board helps guide the growth and development of Washington's only legislatively endorsed, online university. In addition to Maheshwary, the board consists of:
Marty Brown, Retired Executive Director, Washington State Board for Community and Technical Colleges (SBCTC)
Al Davis, Principal, Revitalization Partners
Dr. Michael Dunn, Superintendent of NorthEast Washington Educational Service District 101
Phyllis Gutiérrez Kenney, Former State Representative, VP of Leadership and Economic Development, Sea Mar Community Health Centers
Dr. Jean Hernandez, President Emeritus, Edmonds Community College
Heather Lewis, Managing Partner, Red Maple Strategies
Steve Mullin, President, Washington Roundtable
Bill Poppy, Senior Vice President and Chief Information Officer, Virginia Mason Medical Center
Dr. Kathleen Ross, President Emeritus, Heritage University
Mike Schindler, CEO Operation Military Family Cares and Co-Founder at Integrated Telehealth Solutions WA