SALT LAKE CITY – Western Governors University (WGU) once again has been named one of the best universities in the nation by Military Friendly® Schools, earning Top Ten status for 2021–2022 and ranking third in the online/vocational category. Created to increase access to high-quality postsecondary education that meets students where they are, WGU has ranked on the nationwide list 11 consecutive years.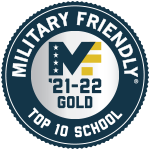 Institutions earning the Military Friendly® School designation were evaluated using both public data sources and responses from a proprietary survey. Over 1,200 schools participated in the 2021-2022 survey, with 747 earning the designation.
Competency-based, affordable, portable, and relevant to today's workforce, WGU offers student-centered, personalized support, giving students—including veterans, active-duty military personnel, their spouses, and their children—the opportunity to further their careers with higher education in a way that fits their unique and often unpredictable circumstances. As of December 31, 2020, some 13% of WGU's enrolled students were military members, veterans, spouses, or dependents.

Learn about how WGU serves military students at wgu.edu/military. To see WGU's Military Friendly listing, visit militaryfriendly.com/western-governors-university.

About Military Friendly® Schools.

The Military Friendly® Schools list is created each year based on extensive research using public data sources for more than 8,800 schools nationwide, input from student veterans, and responses to the proprietary, data-driven Military Friendly® Schools survey from participating institutions. The survey questions, methodology, criteria and weighting were developed with the assistance of an independent research firm and an advisory council of educators and employers. The survey is administered for free and is open to all postsecondary schools that wish to participate. Criteria for consideration can be found at militaryfriendly.com.
About Viqtory.
Founded in 2001, VIQTORY is a service-disabled, veteran-owned small business (SDVOSB) that connects the military community to civilian employment, educational and entrepreneurial opportunities through its G.I. Jobs® and Military Friendly® brands. VIQTORY and its brands are not a part of or endorsed by the U.S. Dept of Defense or any federal government entity. Learn more about VIQTORY at viqtory.com.